Why Elminating Waiting Appointments and Closing Saturday Changed My Business [RR 828]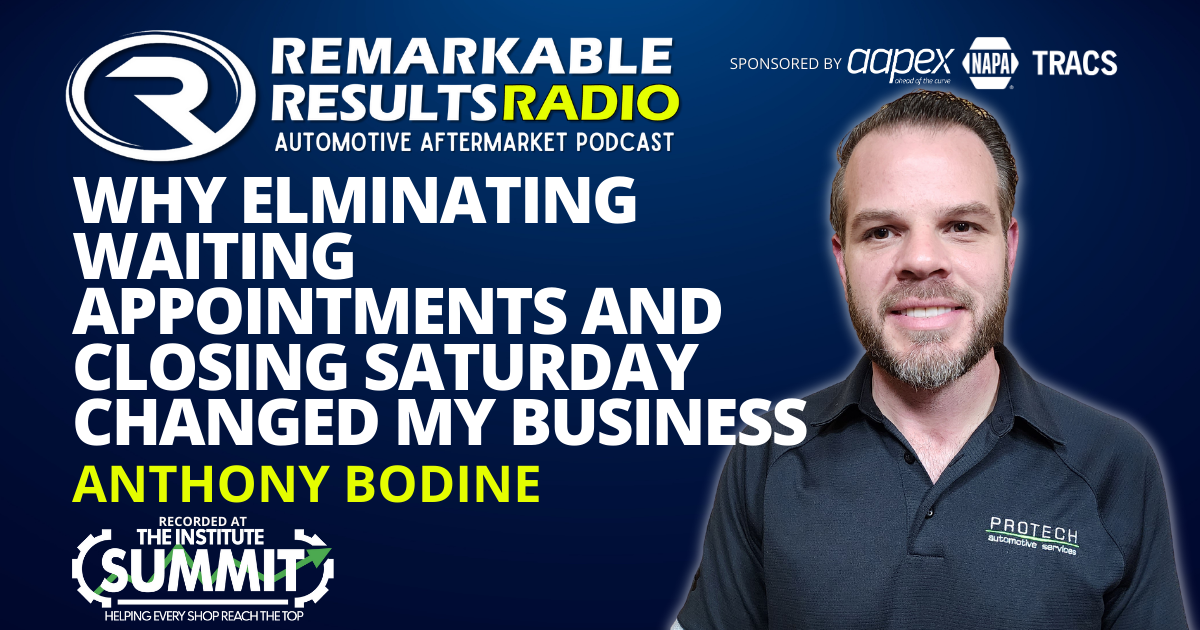 Transforming your business doesn't happen overnight, but it starts with committing to one small change. Recorded live at the 2023 Institute Summit, Anthony Bodine shares his remarkable journey of trusting his coach and how it changed his business.
Anthony Bodine, Protech Automotive Services, Johnston, RI.
Show Notes
You must understand your numbers.  Grew ARO from $287 to $800 with the help of coaching. You need somebody to hold you accountable. Trust the process and trust that what's the worst that can happen?

Commit to making small changes.

A big pivot in the business is getting a coach to change the things that hold your business back from making a profit.

Understanding KPI's 

Big change in business- went from having waiting appointments to no waiting appointments. Closed Saturday's

Have a success plan

Paying a premium for exceptional customer service- to feel important, to feel like your business matters. From a customer standpoint, what can they expect from our shop, and what should they expect?

Trust your employees; they have the brains, knowledge, ability, and moral compass to do the right thing. 

One of the most memorable things is when you take a situation where you've let somebody down and completely turn that around. 

Don't compare yourself to other shops; compare yourself with where you were yesterday and last year.
Thanks to our Partners, AAPEX and NAPA TRACS.
Set your sights on Las Vegas in 2023. Mark your calendar now … October 31 – Nov 2, 2023, AAPEX – Now more than ever. And don't miss the next free AAPEX webinar. Register now at AAPEXSHOW.COM
NAPA TRACS will move your shop into the SMS fast lane with onsite training and six days a week of support and local representation. Find NAPA TRACS on the Web at NAPATRACS.com
Connect with the Podcast:
-Join our Insider List: https://remarkableresults.biz/insider
-All books mentioned on our podcasts: https://remarkableresults.biz/books
-Our Classroom page for personal or team learning: https://remarkableresults.biz/classroom
-Buy Me a Coffee: https://www.buymeacoffee.com/carm
-The Aftermarket Radio Network: https://aftermarketradionetwork.com
-Special episode collections: https://remarkableresults.biz/collections
Check out today's partners: