First Ever General Service Technician Academy at Vision KC [RR 832]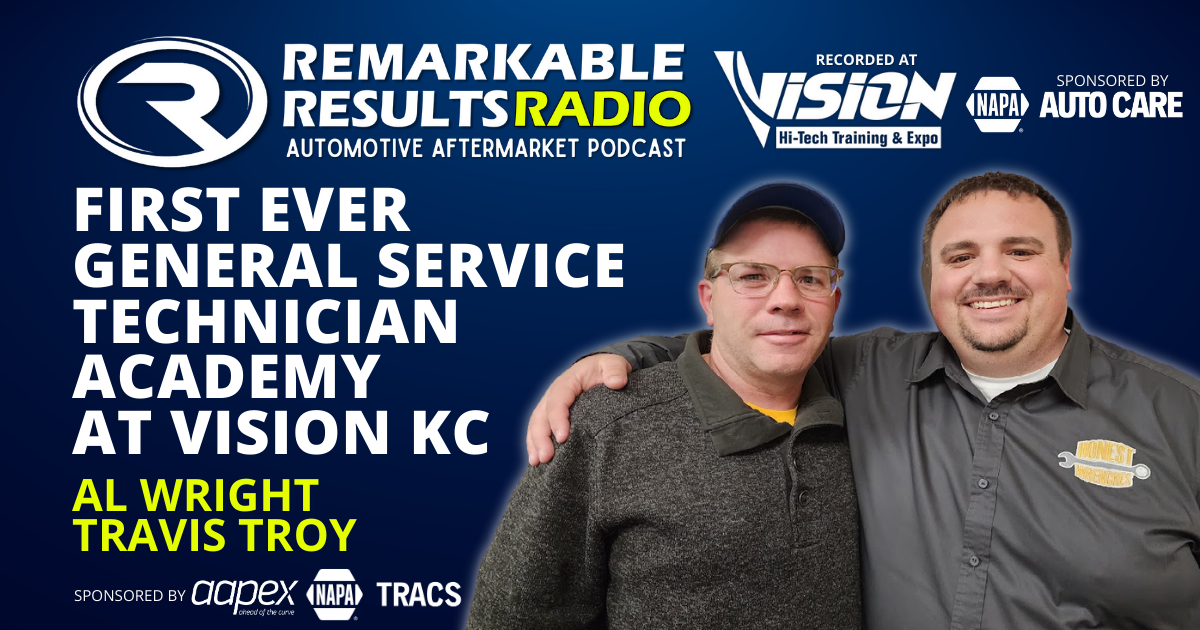 Recorded Live at Vision 2023, Al Wright and Travis Troy discuss the benefits of joining MWACA's S.O.S. (Shop Owner's Support) Group. When we can support and learn from other shop owners, we continue Advancing the Aftermarket and raising the bar for the industry. Travis also gives us an overview of Vision's newest class for general service technicians.
Al Wright, John's Automotive, Cedar Rapids, IA. Al's previous episodes HERE
Travis Troy, Honest Wrenches, Akeny and Des Moines, IA. Listen to Travis' other episodes HERE
Show Notes
Travis Troy- 21 team members attending Vision 2023

MWACA SOS Shop Owner's Support- What is an S.O.S. Group? Think of it as your advisory board. Our S.O.S. Groups consist of no more than 10 shops that meet on a monthly basis. Meetings are similar to "twenty groups" without the intense financial focus or expensive monthly commitment. Groups meet monthly at a participating shop to discuss relevant issues, set and review goals, and evaluate the hosting shop.   

Be vulnerable, and be transparent, not as a business owner but as a friend. We are not each other's competition. 

Learning from others, raising the bar for the Automotive industry 

FTI- failure to implement, the number one failure for shop owners. Debrief after the SOS meeting with a list of items to work on and change. 

Elevate before you grow.

GSTA General Service Technician Academy – 2-day course. This program benefits the technician and the shop with increased efficiency, knowledge, and safety, as well as cost-savings by helping prevent beginning mistakes. Certifications will come from Tire Industry Association (TIA), Automotive Lift Institute (ALI), and Mobile Air Conditioning Society (MACS). 

GTSA will cover- Tire Safety – hands-on mounting and dismounting, repair procedures and balancing, Tire pressure monitoring basics, Lift safety – Including Information access for proper lift placement, OSHA and shop safety training, Alignment basics, Intro to Air Conditioning, Electricity Fundamentals, Introduction to Digital Vehicle Inspections – a systematic approach to test drives, inspections, photos and videos and the benefits to the tech and to the shop of performing the DVI.
Thanks to our Partners, AAPEX and NAPA TRACS.
Set your sights on Las Vegas in 2023. Mark your calendar now … October 31 – Nov 2, 2023, AAPEX – Now more than ever. And don't miss the next free AAPEX webinar. Register now at AAPEXSHOW.COM
NAPA TRACS will move your shop into the SMS fast lane with onsite training and six days a week of support and local representation. Find NAPA TRACS on the Web at NAPATRACS.com
Connect with the Podcast:
-Join our Insider List: https://remarkableresults.biz/insider
-All books mentioned on our podcasts: https://remarkableresults.biz/books
-Our Classroom page for personal or team learning: https://remarkableresults.biz/classroom
-Buy Me a Coffee: https://www.buymeacoffee.com/carm
-The Aftermarket Radio Network: https://aftermarketradionetwork.com
-Special episode collections: https://remarkableresults.biz/collections