Managing Comebacks and Quality Control [THA 319]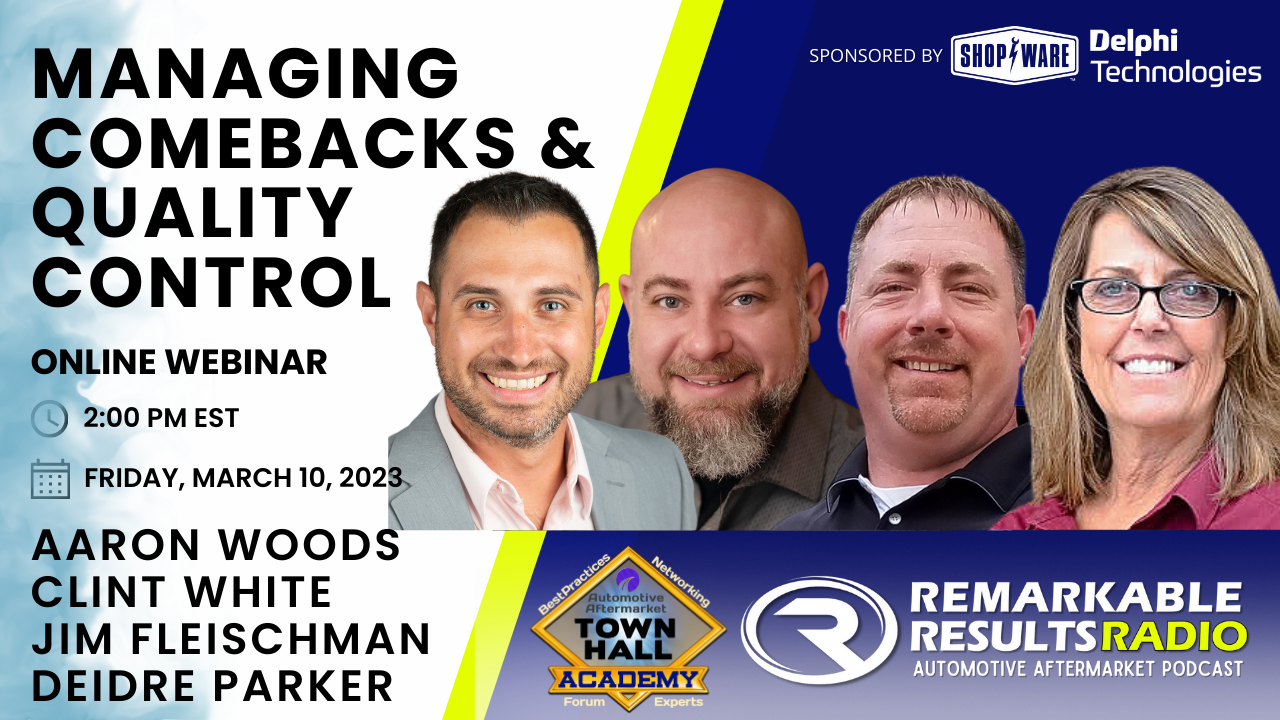 It's time to shift your mindset on comebacks! Consider comebacks as a second opportunity to learn, make it right with the customer, have a training moment with your employees, and document and discover ways to improve your quality control.
Watch Episode HERE
Aaron Woods, X-tra Mile Auto Care, Stillwater, OK. Listen to Aaron's previous episodes HERE
Clint White, Service Advisor Coach & Shop Consultant with CWI and currently holds multiple ASE certifications. Clint's previous episodes HERE
Jim Fleischman, Automotive Alley, Arcade, NY. Listen to Jim's previous episodes HERE.
Deidre Parker, Chloe's Auto Repair, Woodstock, GA.
Show Notes:
 It's your second opportunity!
Address the issue promptly:

When a customer returns with a complaint or problem, the repair shop should address the issue promptly and efficiently. This includes communicating clearly with the customer about the problem and what steps will be taken to resolve it.

Re-diagnose as a Team:

The original technician and another technician/manager/Forman should thoroughly verify and diagnose the issue TOGETHER to determine the cause of the problem and the appropriate solution. Another misdiagnosis or underdiagnosis will damage the repair shop's reputation and further destroy the client's trust.

Prioritize the repair:

Comebacks should be prioritized over other work to ensure the customer's vehicle is repaired immediately. This demonstrates the repair shop's commitment to customer satisfaction.

Analyze the root cause:

When a comeback occurs, the repair shop should analyze the root cause of the problem to identify any areas for improvement. This includes reviewing the repair process, technician training, and parts selection. Implementing changes to address the root cause can help prevent future comebacks.

It may not be your fault, but it is your problem- empathy, resolve, and quickness. Evidence will be the evidence, but there is an opportunity to have integrity.

Establish a healthy culture of accountability.

Assume derived from the individual, but what about your processes? Communication error? What is your definition of a comeback at your shop?

Documentation of the initial visit

What is the greatest prevention tool? Final QC process 

"Cherish the Customer" allowance for customers

Aaron Woods: We define comebacks as any reason a customer has to return due to an error in communication or workmanship. Each technician is responsible for ensuring their comebacks are at or below 2% of their total car count. We display each technician's scorecard at our weekly Monday morning production meeting and discuss all numbers as a group. This also helps establish peer-to-peer accountability as well.
QC CHECKLIST:
Test drive the vehicle and verify that the PRIMARY CONCERN has been resolved.

Visually check that all other work has been completed according to the repair order.

Inspect the vehicle to ensure that there are no new scratches, dents, or other new damage (See Intake Pictures in the DVI for reference)

Verify that the vehicle has been cleaned and is free of any debris or grease marks/stains.

Verify that all peripheral components that were removed during the repair have been reinstalled and are functioning correctly (i.e. Engine Covers, Air Filter Box, Oil Caps, Lids, etc)

 

Check that all fluids have been topped off to the correct levels whether they were serviced or not. NO FLUID LEAVES LOW

 

Inspect the tires to ensure they have been properly inflated.

 

Manually retorque lug nuts if wheels were removed for any reason.

Check that all warning lights and error codes have been cleared and are not displaying unless previously declined by the customer.  VERIFY ALL MONITORS HAVE RUN/PASSED

Verify the LOF sticker is present and ACCURATE
Reset the Oil Life Monitor -or- Maintence/Service Reminder.
Vacuum floors, clean windshield inside and out, and refresh wipers if not replaced.
Park vehicle in Launch Pad, remove seat cover & floor mat and place "gift" for customer on the dash or in plain sight.
Thanks to our Partners Shop-Ware and Delphi Technologies
Shop-Ware: More Time. More Profit. Shop-Ware Shop Management getshopware.com
Delphi Technologies: Keeping current on the latest vehicle systems and how to repair them is a must for today's technicians. DelphiAftermarket.com
Connect with the Podcast
-Join our Insider List: https://remarkableresults.biz/insider
-All books mentioned on our podcasts: https://remarkableresults.biz/books
-Our Classroom page for personal or team learning: https://remarkableresults.biz/classroom
-Buy Me a Coffee: https://www.buymeacoffee.com/carm
-The Aftermarket Radio Network: https://aftermarketradionetwork.com
-Special episode collections: https://remarkableresults.biz/collections
Support our partners: