"Profitable Fleet Management for Small and Medium Businesses" Bill Deboer [RR 831]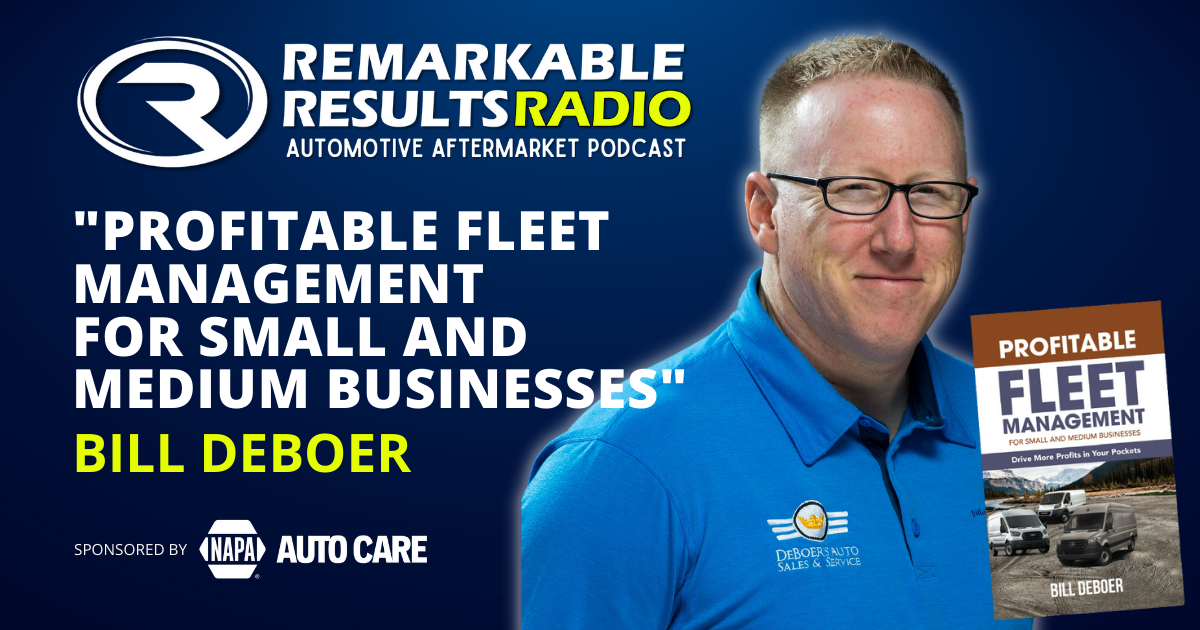 "Keep a cool quarter of a million? Or give it away….
You'd think that was self-evident, but usually, companies are unintentionally giving it away. If you're like most of our clients, you've got enough worries on your plate when it comes to making sure everything in the business is running smoothly. You don't have the bandwidth to take on another project, especially one this large—that has the probability of costing the company thousands of dollars in repairs, overages, gas…the list goes on.
Recently we helped a company drive down the cost per mile from 48 down to 36 cents per mile by showing them how they can run their vehicles longer for more mileage and reduce their total investment in that vehicle, therefore, lowering the cost per mile. They were replacing their vehicles every hundred thousand miles. We showed them how much they can save by extending the mileage to double and triple which…came out to a cool quarter of a million dollars. That's where we come in. We help businesses just like yours run more smoothly with less breakdowns, less downtime, and more profit in their pocket at the end of the year." Bill Deboer
Bill DeBoer, DeBoer's Auto Sales & Service. Listen to Bill's podcast episodes HERE.
Show Notes
Growing with fleet and retail- had office space next to the current location, rezoned it highway commercial to be recycled and added 6 bays.

Wrote the book to try to speak to those people so that we can acquire more fleets and bring people into their wheelhouse, but also help out those people that aren't to the point where needing a fleet management team, but they're just trying to survive on their own. Downloadable PDF- cost per mile, vehicle maintenance tracker spreadsheet etc

"The fractional fleet management program, where they can hire us, we can manage their fleet for a fraction of the. Because we're doing it on a fractional-time basis, they don't need that full-time management. But at the same time, they get all the same perks and benefits."

Get 30 vehicles collected with only one or two contact points. So now you're not making 30 individual calls; you're making one phone call. You get a good relationship going with the key stakeholders and the decision-makers in those fleets. 

Telematics- all that data gets pulled into our fleet management program as we set up these vehicles on the maintenance schedules as they hit their miles.

Share it with their prospects for fleets
Thanks to our Partner, NAPA AUTO CARE
Learn more about NAPA AUTO CARE and the benefits of being part of the NAPA family by visiting www.NAPAAutoCare.com
Connect with the Podcast:
-Join our Insider List: https://remarkableresults.biz/insider
-All books mentioned on our podcasts: https://remarkableresults.biz/books
-Our Classroom page for personal or team learning: https://remarkableresults.biz/classroom
-Buy Me a Coffee: https://www.buymeacoffee.com/carm
-The Aftermarket Radio Network: https://aftermarketradionetwork.com
-Special episode collections: https://remarkableresults.biz/collections