Shop Owner is a Coach and Her Clients' Biggest Cheerleader [RR 835]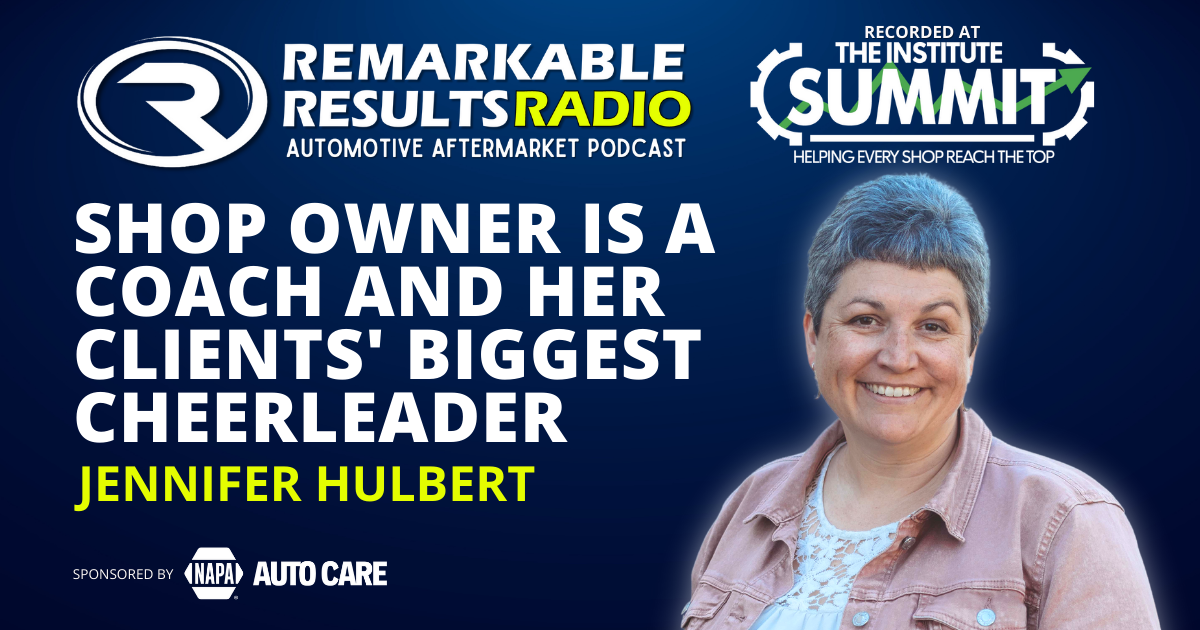 Recorded Live at the 2023 Institute Summit, shop owner turned coach Jennifer Hulbert discusses the value of joining a coaching group. Find out what it's like to be in a coaching group with the Institute, and why she is passionate about celebrating other people's accomplishments.
Jennifer Hulbert, Service Plus Automotive, Calcium, NY. Facilitator for the Institute for Automotive Business Excellence.
Show Notes
Has 3 coaching clients- discovering finances, gross profit, structuring segments of business, increasing billable hours, and implementing a parts matrix.

Facilitating- a group usually consists of 18 to 20 shop owners. They are assigned a partner, they have an individual accountability partner along with access to their facilitator coach. Have three in-person meetings a year. Part of those in-person meetings is to evaluate the whole shop. Go in,  do a full evaluation of the shop, and give the owner feedback on areas for improvement. The other time is spent with training, and reviewing financial numbers, because if you don't know your numbers, you're never going to grow your business. In between, they have a couple of Zoom meetings as an entire group, and then the facilitator does reach out individually once a month. 

Never be the smartest person in the room

If you're not learning, you're not growing

Celebrate other people's accomplishments

Joining a coaching company- understand profits, understand the structure of a business, understand your numbers, and structure your finances to make a profit. 

"Mama Bear of the Team"- Jennifer wants to see individual employees and their families succeed. Ensuring whatever decision you are making about the company is going to benefit your employees

Women can do anything that a man can do

Read the book "Traction: Get a Grip on Your Business"- communicate clear goals, build a leadership team, and hold each other accountable. Increased sales by 38% 
Thanks to our Partner, NAPA AUTO CARE
Learn more about NAPA AUTO CARE and the benefits of being part of the NAPA family by visiting www.NAPAAutoCare.com
Connect with the Podcast:
-Join our Insider List: https://remarkableresults.biz/insider
-All books mentioned on our podcasts: https://remarkableresults.biz/books
-Our Classroom page for personal or team learning: https://remarkableresults.biz/classroom
-Buy Me a Coffee: https://www.buymeacoffee.com/carm
-The Aftermarket Radio Network: https://aftermarketradionetwork.com
-Special episode collections: https://remarkableresults.biz/collections