The Automotive Industry: Does the Public Really Know What We Do? [RR 836]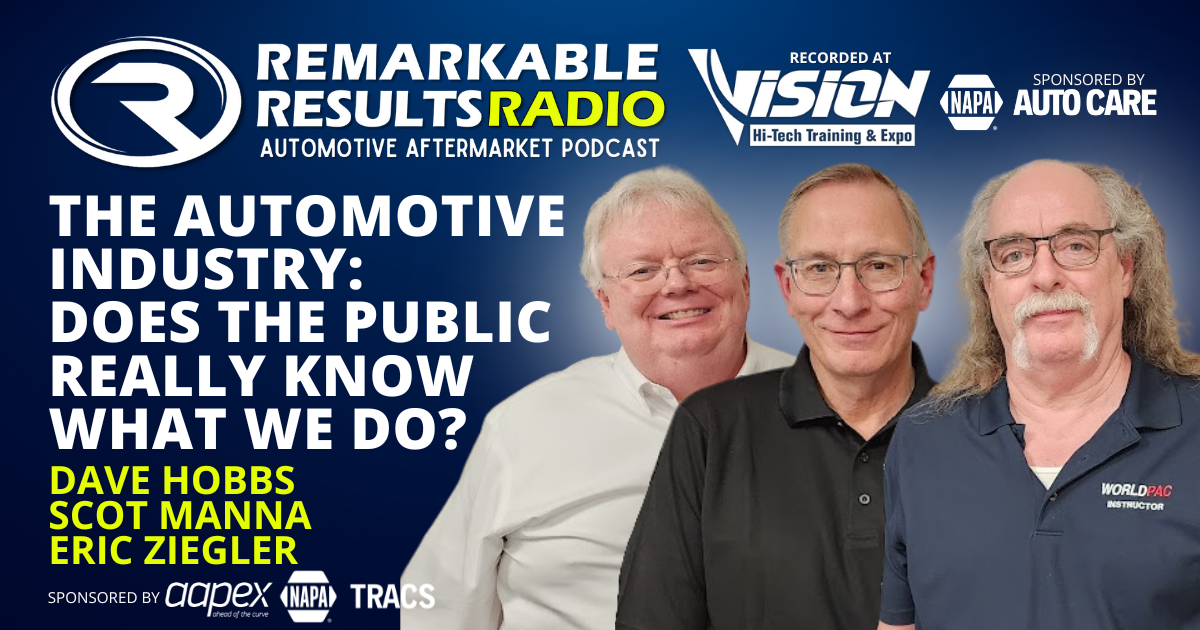 Recorded Live at Vision 2023, Dave Hobbs, Scot Manna, and Eric Ziegler have an open discussion on the importance of training, leading to the question, "Does the public really know what we do?"
Watch Video Episode: HERE
Dave Hobbs, senior technical trainer and curriculum developer for Delphi Technologies. Dave's previous episodes HERE.
Scot Manna, Trainer, ACDelco Technician of the Millennium. Scot's previous episodes HERE.
Eric Ziegler, EZ Diagnostic Solutions.  Eric's previous episodes HERE.
Show Notes
"What scan tool should you buy?" Class at Vision 2023 with 6 trainers

They don't care how much you know until they know how much you care

The outside of class experience is just as important or maybe more important. You're going to create connections that are going to serve you for almost your entire career

As long as you continue learning, your mind stays young

You must read the service information!

The people that need the training, aren't in the training classes.

Some people don't go to updated training, struggle to get out of their shop, and don't network with other shops.

How many vehicles are on the road that needs ADAS calibration? 70%?

Critical thinking is root problem solving.

The public does not know what it takes and the tireless amount of dedication to do this career.

We're all in this industry together. If you raise the lake, everybody's boat floats higher. 

Do the job. Do the job right. Everything else will take care of itself.
Thanks to our Partners, AAPEX and NAPA TRACS.
Set your sights on Las Vegas in 2023. Mark your calendar now … October 31 – Nov 2, 2023, AAPEX – Now more than ever. And don't miss the next free AAPEX webinar. Register now at AAPEXSHOW.COM
NAPA TRACS will move your shop into the SMS fast lane with onsite training and six days a week of support and local representation. Find NAPA TRACS on the Web at NAPATRACS.com
Connect with the Podcast:
-Join our Insider List: https://remarkableresults.biz/insider
-All books mentioned on our podcasts: https://remarkableresults.biz/books
-Our Classroom page for personal or team learning: https://remarkableresults.biz/classroom
-Buy Me a Coffee: https://www.buymeacoffee.com/carm
-The Aftermarket Radio Network: https://aftermarketradionetwork.com
-Special episode collections: https://remarkableresults.biz/collections