From HVAC to Thermal System Management: Opportunities and Challenges [RR 845]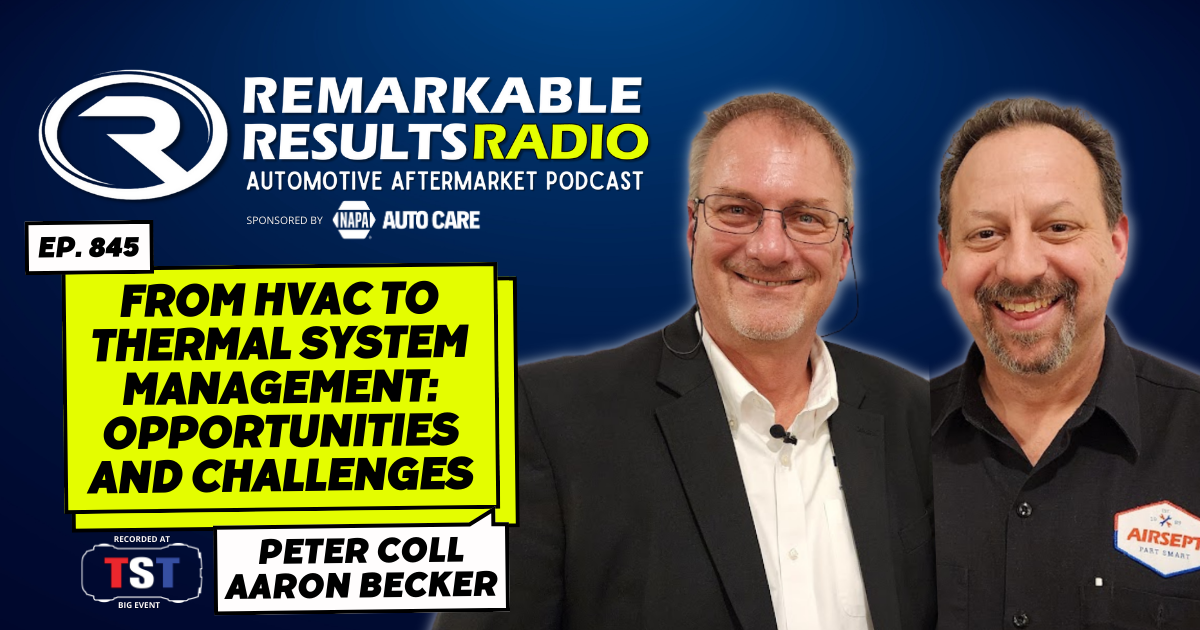 Recorded Live at the TST Big Event 2023, with Aaron Becker, President of AirSept and Peter Coll, President and COO of the Mobile Air Climate Systems Association (MACS). They discuss the government's involvement in the automotive industry, the importance of having a mentor, the development of new products, the challenges of complying with EPA regulations, and the impact of COVID-19 on the industry.
Peter Coll, President and COO, Mobile Air Climate Systems Association (MACS). Peter's previous episodes HERE
Aaron Becker, President, AirSept. Aaron's previous episodes HERE
Show Notes
Watch Full Video HERE
(00:03:47) The American Innovation and Manufacturing (AIM) Act, signed in December 2020, and how it affects Section 609, which deals with recovering and recycling refrigerant onsite at the point of service.
(00:04:53) Discussion of government regulations on refrigerants and compliance challenges.
(00:08:08) The impact and passing of Myron Stein, AirSept cofounder
(00:11:08) The history of AirSept
(00:12:26) Myron was recognized for his contributions to the industry with a Pioneer Award, and how he mentored and pushed others.
(00:13:52) The importance of having mentors and bouncing ideas off of trusted individuals.
(00:14:24) The importance of listening to learn and learning to listen is discussed, as well as the need to interpret what someone is saying in order to move the conversation forward.
(00:17:42) The importance of innovation and respectful debates in moving the industry forward, and the need for mutual respect in these conversations.
(00:20:40) Aaron and Peter discuss how they develop innovative products by listening and learning from the problems people are having in the industry.
(00:22:35) Peter talks about how the COVID-19 pandemic affected the supply chain and how they overcame the supply chain issues.
(00:27:12) The importance of inventing and developing in the automotive industry, including the use of existing materials and tools to prove a concept.
(00:28:30) HVAC in the automotive industry and the expanded role of thermal management in electric vehicles.
(00:32:21)The challenges of cooling electric vehicles and the need for more efficient technology.
(00:32:53) The potential for new technologies and opportunities in the electric vehicle market.
Thanks to our Partner, NAPA AUTO CARE
Learn more about NAPA AUTO CARE and the benefits of being part of the NAPA family by visiting www.NAPAAutoCare.com
Connect with the Podcast:
-Join our Insider List: https://remarkableresults.biz/insider
-All books mentioned on our podcasts: https://remarkableresults.biz/books
-Our Classroom page for personal or team learning: https://remarkableresults.biz/classroom
-Buy Me a Coffee: https://www.buymeacoffee.com/carm
-The Aftermarket Radio Network: https://aftermarketradionetwork.com
-Special episode collections: https://remarkableresults.biz/collections