Building Trust and Rapport: The Art of Being a Service Advisor [THA 326]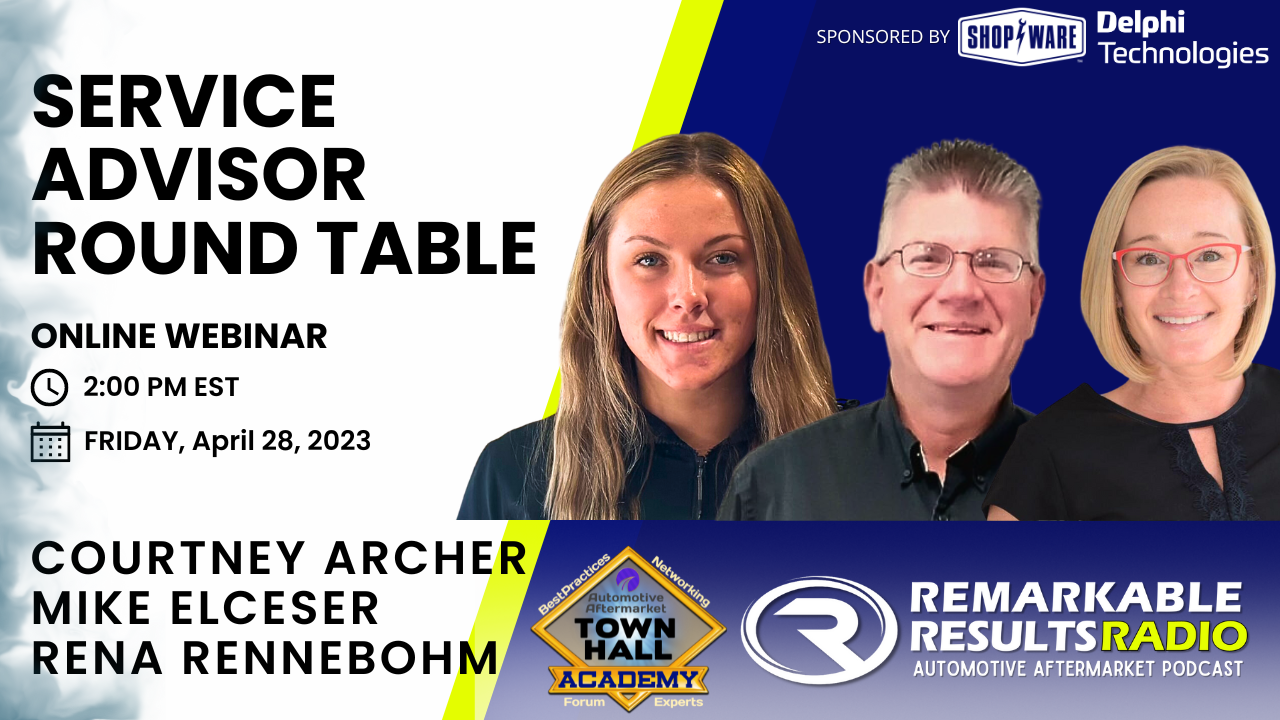 "The service advisor is the face of the brand and the first point of contact for customers." Join our round table discussion as our panel shares their experiences and strategies of successful service advisors, highlighting the importance of communication skills, creating a positive customer experience, and building customer trust and rapport. It's also essential to be an educator rather than a salesman and help customers understand how to maintain their vehicles to avoid breakdowns. The discussion also emphasizes the need for investment in service advisor training and development.
Courtney Archer, Service Advisor, Global Car Care, Wenatchee, Washington.
Mike Elceser, Service Advisor, D&K Automotive Repair.
Rena Rennebohm, CEO Empowered Advisor. Listen to Rena's previous episodes HERE.
Show Notes:
Watch Video Episode HERE
(00:03:11) The importance of tonality and creating a positive first impression when answering the phone to potential customers.
(00:05:31) Mike and Courtney discuss their different backgrounds and how they became service advisors.
(00:07:31) The important traits of a service advisor include listening, customer service, and technical knowledge.
(00:08:48) Mike and Rena discuss the importance of listening to customer concerns and solving their problems, rather than just focusing on the car repair.
(00:12:14) Courtney and Rena discuss the benefits of listening to calls with a coach, who can provide positive feedback and help advisors improve rather than just pointing out mistakes.
(00:17:40) The importance of phone communication in building trust and making sales, and how it is still the primary source of communication in most shops.
(00:19:15) Mike and Rena discuss the process they created for determining if a car needs more than just an oil change before the customer arrives, in order to set reasonable expectations and provide better service.
(00:20:41) Mike explains how asking simple questions like license plate and mileage can improve customer service by allowing them to schedule the car for necessary maintenance and speed up the process at the counter.
(00:21:49) Building relationships with customers and selling maintenance services to prolong the life of their vehicles.
(00:23:37) Being an educator rather than a salesperson as a service advisor.
(00:26:22) The use of inspections as a sales tool and the importance of guiding customers through the findings rather than just sending a text with pricing.
(00:28:51) Serving customers rather than just selling to them, and how to educate customers about their vehicle needs.
(00:31:50) Building trust with customers through empathy, rapport building, and being an educator rather than just a salesperson.
(00:33:22) Being honest with customers and admitting when you don't know something, and how this can actually build trust and confidence with customers.
(00:35:50) Service advisors need to be the person that customers trust and can ask for advice. They need to be a confidant and a friend to walk them through car repair.
(00:39:41) Investing in training creates a coaching and training environment that helps service advisors improve. It also creates an open-minded environment where everyone can share information and improve together.
(00:45:17) The importance of investing in service advisors through training, networking, and masterminding to improve the industry.
Episode mention: "What Happens When The Phone Rings" HERE.
Thanks to our Partners Shop-Ware and Delphi Technologies
Shop-Ware: More Time. More Profit. Shop-Ware Shop Management getshopware.com
Delphi Technologies: Keeping current on the latest vehicle systems and how to repair them is a must for today's technicians. DelphiAftermarket.com
Connect with the Podcast
-Join our Insider List: https://remarkableresults.biz/insider
-All books mentioned on our podcasts: https://remarkableresults.biz/books
-Our Classroom page for personal or team learning: https://remarkableresults.biz/classroom
-Buy Me a Coffee: https://www.buymeacoffee.com/carm
-The Aftermarket Radio Network: https://aftermarketradionetwork.com
-Special episode collections: https://remarkableresults.biz/collections