The Power of Partnership: Liz and Keith Perkins on Marriage and Business [RR 846]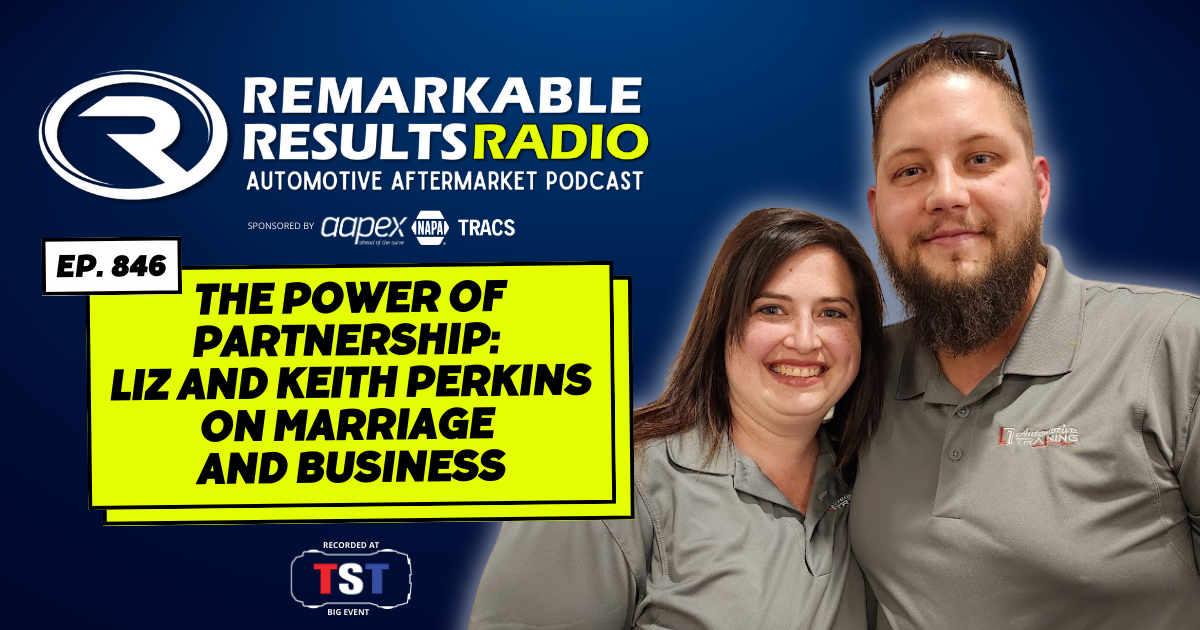 Recorded Live at the TST Big Event 2023. Keith Perkins discusses his presentation at the TST Big Event on electrical theory and the challenges of balancing foundational knowledge with advanced concepts for a diverse audience. We also delved into Liz and Keith's relationship as a married couple who work together. They discussed their passion for their industry and how it doesn't feel like work. Bonus: find out how many animals they own!
Keith and Liz Perkins, L1 Automotive Diagnostics and Program, L1 Automotive Training, Listen to Keith's previous episode HERE.
Show Notes
Watch Full Video HERE
(00:02:56) The challenges of teaching electrical theory
(00:06:38) The different types of food they tried at the TST Big Event
(00:08:48) Liz and Keith talk about their experience working together as a husband and wife team, including having offices in both their home and shop, and how their passion for the industry makes it feel less like work.
(00:11:55) How Keith and Liz find downtime as a couple, including taking time away from work and kids.
(00:12:40) How Keith and Liz met in tech school
(00:13:39) September 15th is a lucky day for marriage!
(00:16:07) How Keith and Liz have grown and evolved together over the years and how it is important to allow oneself to change.
(00:23:01) A conversation about Liz and Keith's pets!
(00:30:10) Keith talks about how he got into the training side of the industry through YouTube and how he uses social media to encourage technicians to attend training events.
(00:31:12) Keith discusses his upcoming presentation for a school career day, emphasizing the professional and high-tech aspects of the automotive industry.
(00:34:27) The importance of changing the public's perception of the automotive industry by dressing more professionally and emphasizing the use of gloves and clean hands.
(00:37:02) The importance of company culture in the automotive industry.
(00:39:10) Keith and Liz discuss the snacks and drinks they provide for their employees.
(00:43:13) The challenges of teaching electrical theory and how to make it more engaging for students.
(00:43:56) The guests emphasize the importance of attending training events and how it can improve a technician's skills and network.
Thanks to our Partners, AAPEX and NAPA TRACS.
Set your sights on Las Vegas in 2023. Mark your calendar now … October 31 – Nov 2, 2023, AAPEX – Now more than ever. And don't miss the next free AAPEX webinar. Register now at AAPEXSHOW.COM
NAPA TRACS will move your shop into the SMS fast lane with onsite training and six days a week of support and local representation. Find NAPA TRACS on the Web at NAPATRACS.com
Connect with the Podcast:
-Join our Insider List: https://remarkableresults.biz/insider
-All books mentioned on our podcasts: https://remarkableresults.biz/books
-Our Classroom page for personal or team learning: https://remarkableresults.biz/classroom
-Buy Me a Coffee: https://www.buymeacoffee.com/carm
-The Aftermarket Radio Network: https://aftermarketradionetwork.com
-Special episode collections: https://remarkableresults.biz/collections