The Art and Science of Dispatching [RR 849]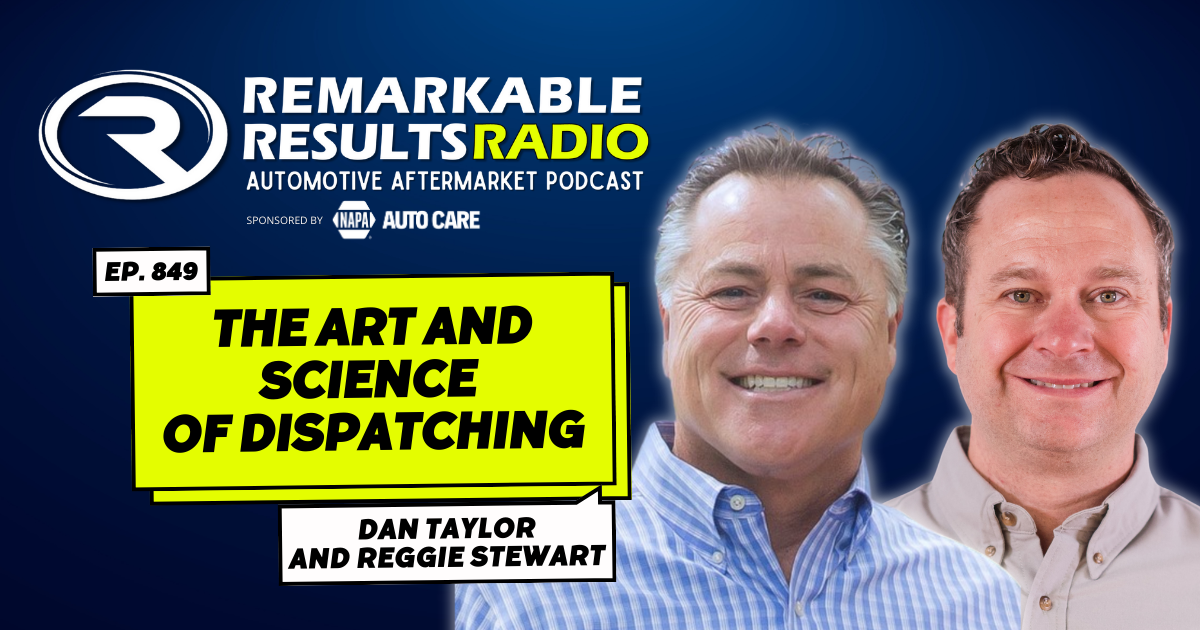 Dan Taylor and Reggie Stewart to discuss the art of dispatch in the automotive repair industry. They emphasize the importance of efficiently dispatching and scheduling jobs, using the team's strengths and weaknesses, the need for accountability, daily tracking of labor inventory to ensure goals are met, and the challenge of accommodating walk-in customers while maintaining productivity. They stress that dispatching is crucial to the business's success and suggest creating a simulator or role-playing exercise to teach dispatching effectively.
Dan Taylor, Senior Business Advisor, Transformers Institute. Dan's previous episodes HERE
Reggie Stewart, Reggie's Motor Works, and Noble Auto Service in Noblesville, IN, Euro Specialist. Reggie's previous episodes HERE
Show Notes
Watch Full Video HERE
(00:00:45) The art of dispatching and scheduling jobs efficiently, using the strengths and weaknesses of the team, and prioritizing big jobs.
(00:03:08) Is dispatching a natural aptitude or something that can be learned?
(00:05:04) The art of dispatching big jobs and how to prioritize them, using the metaphor of stacking big rocks in a glass bowl.
(00:06:28) The importance of efficient scheduling and how it can affect technician's productivity.
(00:10:34) Intentionally overloading the schedule to account for no-shows and unexpected delays.
(00:11:35) Blaming technicians for poor production is not always fair, and how the front end plays a significant role in the capability of the back producing what is asked of them.
(00:18:18) How to deal with walk-in customers and accommodate them without affecting productivity.
(00:22:31) The culture of technicians and scheduling or dispatch problems.
(00:25:08) Dispatching is not being taught and how there is going to be a huge emphasis on this art/teachable skillset of dispatch and optimizing it.
(00:27:46) The importance of working smart and not just shoveling cars through buildings.
(00:28:27) Dispatching can be taught through simulation, training, and role-playing, and how the younger generation is more in tune with this.
(00:34:53) How to prioritize tasks using the urgent and important matrix.
(00:36:17) The balance between new customers and work that's already been sold, and how to prioritize customers as far as scheduling.
(00:38:42) How dispatching and scheduling can help reduce turnovers and get the first downs right, and how it can lead to winning more often.
Thanks to our Partner, NAPA AUTO CARE
Learn more about NAPA AUTO CARE and the benefits of being part of the NAPA family by visiting www.NAPAAutoCare.com
Connect with the Podcast:
-Join our Insider List: https://remarkableresults.biz/insider
-All books mentioned on our podcasts: https://remarkableresults.biz/books
-Our Classroom page for personal or team learning: https://remarkableresults.biz/classroom
-Buy Me a Coffee: https://www.buymeacoffee.com/carm
-The Aftermarket Radio Network: https://aftermarketradionetwork.com
-Special episode collections: https://remarkableresults.biz/collections