21 Tips: How to Gain an Edge Part 4 [THA 328]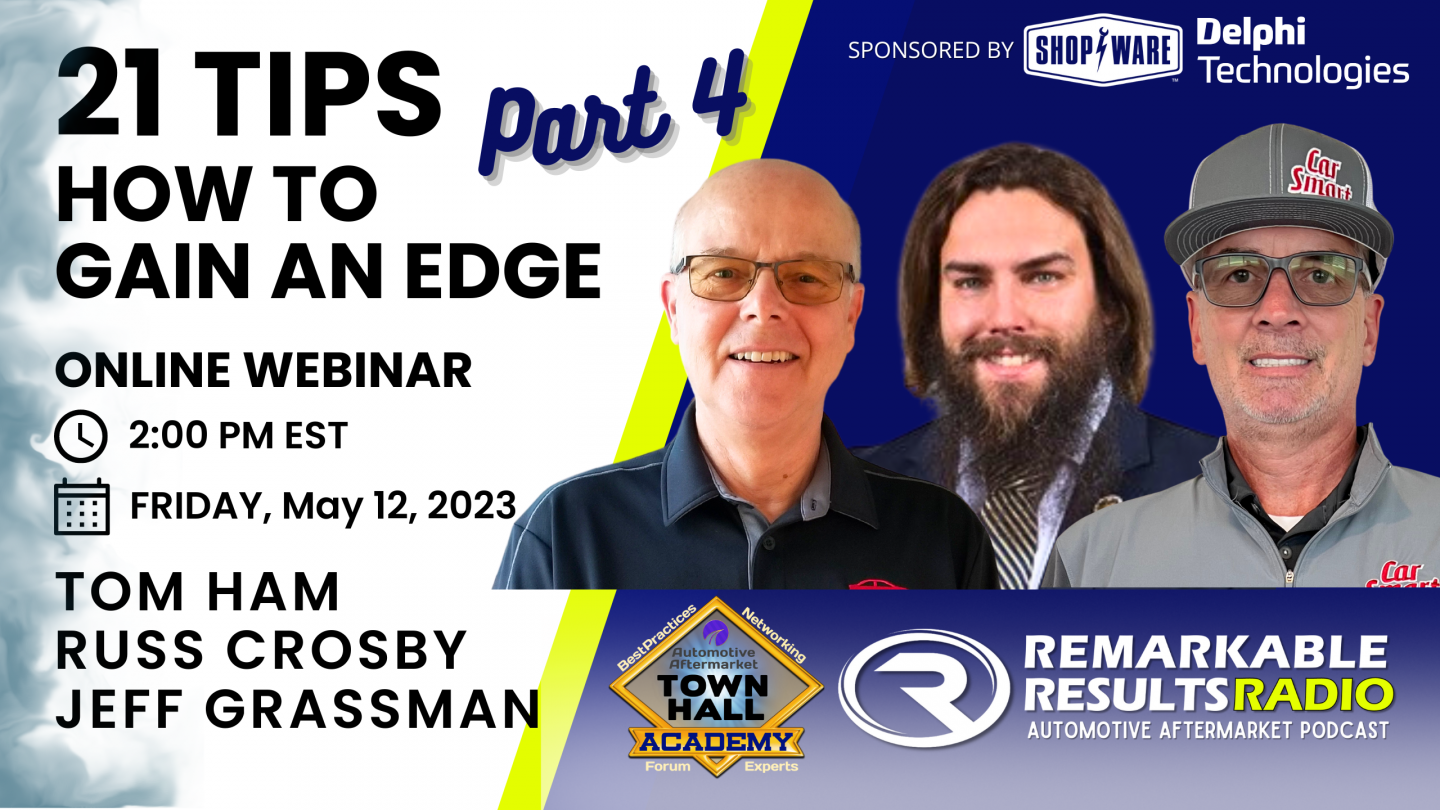 Learn how to improve your business and take it to the next level with these 21 tips and insights related to management, marketing, customer service, and personal growth. Our panel provides practical tips such as refreshing online photos, using referral programs, and creating a virtual tour of the shop. They also encourage humility, vulnerability, and continuous learning as essential tools for success in the automotive industry.
Tom Ham, Automotive Management Network. Tom's previous episodes HERE.
Russell Crosby, Russ's Wrench Auto Repair, Clinton, NJ. Russ's previous episodes HERE
Jeff Grassman, Carsmart Auto Service, Sumner, WA. Jeff's previous episodes HERE
Show Notes:
Watch Video Episode HERE
Updating Shop Photos (00:03:05) Updating old shop photos online to present a better image to potential customers.
Tracking Business Performance (00:03:53) Tracking business performance and using past successes to market the business to potential customers.
Tracking Your Numbers (00:04:23) It is important to track key point indicators and manage them to ensure clear expectations.
Empowering Your Team (00:06:03) The importance of empowering your team to make decisions and not wasting time on small decisions.
Effective Onboarding (00:06:46) Tips for effective onboarding, including giving new employees a legal pad and pen to follow and learn from experienced employees.
Customer Referral Programs (00:09:36) Customer referral programs and how they can improve business practices.
Be the Dumbest Person in the Room (00:11:27) The benefits of being in a room with people who are smarter than you and how it can lead to personal and professional growth.
Working Interviews (00:09:12) The benefits of working interviews and how they can help employers find the right fit for their business.
Be Humble and Vulnerable (00:13:03) Being humble and vulnerable when attending conferences and seeking to learn from others.
Using Clocks for Efficiency (00:15:16) Using digital clocks in the workplace to keep everyone conscious of time and improve efficiency.
Train, Tolerate, or Terminate (00:16:25)
Jeff's tip on holding employees accountable (00:16:45) Jeff shares his method of holding employees accountable and how he avoids tolerating poor performance.
Getting through tough situations (00:19:59) Tips learned from a former Navy SEAL on getting through tough situations and how it can be applied to business.
Immediate Response (00:21:52) The importance of responding to customers' inquiries immediately, regardless of the method of contact, to increase the chances of getting the job.
Preferred Method of Communication (00:23:56) The importance of finding out customers' preferred method of communication to ensure convenience and satisfaction.
Building the Bench (00:24:03) The importance of building a team and having a bench of potential employees to minimize the stress of hiring and ensure a successful business.
Approaching Situations with the Intent to Learn (00:26:05) The importance of approaching every situation with the intent to learn, whether it be a good or bad situation.
Disarming with "Help Me Understand" (00:29:38) Instead of asking "why," which can put people on the defensive, it's better to say "help me understand" or "can you please help me understand."
Parts Management (00:30:59) The importance of efficient parts management
Expectation Inspection (00:33:15) The importance of setting clear expectations and regularly inspecting them to ensure that everyone is on the same page and problems can be addressed before they become major issues.
Work Order Audits (00:34:38) The importance of work order audits
Get Involved with Your Neighborhood (00:35:13) The importance of getting involved with your community, joining nonprofits, and helping people. They explain how this can benefit your business and improve your stature in the community.
Stretching Out Your Outreach (00:36:46)
Run Your Shop from Your Favorite Vacation Spot (00:39:14) Technology nowadays makes it possible to run everything from a remote location and how it can help cure micromanagement.
Spend Intentional Time Every Working Day to Plan, Learn, and Manage (00:41:03)
Wear a Bright Jacket or a Loud Shirt (00:42:30) Russ shares the benefits of wearing a bright jacket or a loud shirt, how it can help you stand out and start conversations, and how it can be a part of your brand.
Virtual Tour of Shop (00:44:33) Using virtual tours of the shop to market it to potential customers.
Slack Communication Tool (00:45:47)
Useful Apps (00:47:47) Useful apps for the automotive industry, including Today's Class, Mentor/Mentee, ASE Renewal, Grammarly, Microsoft To Do, and Canva.
Thanks to our Partners Shop-Ware and Delphi Technologies
Shop-Ware: More Time. More Profit. Shop-Ware Shop Management getshopware.com
Delphi Technologies: Keeping current on the latest vehicle systems and how to repair them is a must for today's technicians. DelphiAftermarket.com
Connect with the Podcast
-Join our Insider List: https://remarkableresults.biz/insider
-All books mentioned on our podcasts: https://remarkableresults.biz/books
-Our Classroom page for personal or team learning: https://remarkableresults.biz/classroom
-Buy Me a Coffee: https://www.buymeacoffee.com/carm
-The Aftermarket Radio Network: https://aftermarketradionetwork.com
-Special episode collections: https://remarkableresults.biz/collections