App-solutely Essential: Why Auto Repair Shops Need to Embrace Apps [RR 863]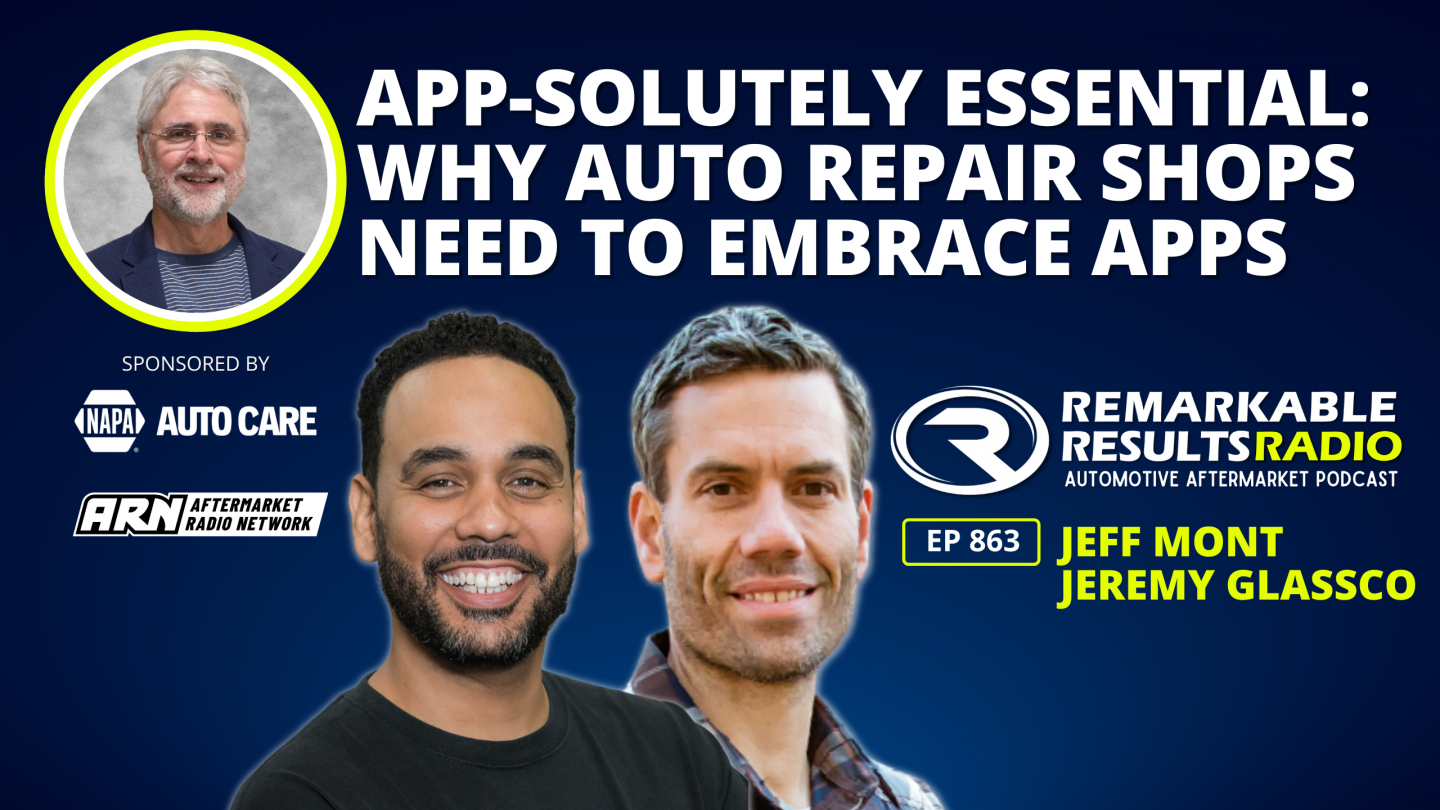 Jeff Mont, owner of JJ's Auto Service Center and Jeremy Glassco, founder of App Fueled, discuss the benefits of using apps in the automotive industry. Apps can be a valuable tool to engage with customers and increase customer loyalty. By offering valuable benefits and discounts, shops can make it worth their customers' while to give their time and attention to their business. JJ shares his experience using App Fueled for his shop's app, which includes a 10% discount on all purchases and a 5% rebate up to $50. He notes that the app has helped increase his shop's average repair order by 15-16%.
Jeff Mont, JJ's Auto Service Center, Waldorf, MD.
Jeremy Glassco, Founder, App Fueled
Show Notes
JJ's Experience with App Fueled (00:03:20) Jeff Mont (JJ) talks about his experience using App Fueled for his auto repair shop's app and how he wanted to be different from other shops.
Great Teachers are Students (00:07:45) Jeremy Glassco and JJ discuss their mutual learning from each other
Benefits of an App for Auto Repair Shops (00:08:44) Jeremy and JJ discuss the benefits of having an app for auto repair shops and how it can help build a connection with customers.
The Psychology Behind Apps (00:15:47) Jeremy Glassco discusses the psychology behind apps and how they get customers to give their time and space on their phone. He explains how apps can change the paradigm and make it more convenient for customers to come back to the shop.
Benefits of the App (00:18:11) Integrating the app into the sales process and how to offer discounts and rebates to members. The app has increased their average revenue per order by 15-16%.
Intimacy and Customer Commitment (00:23:48) How apps can create intimacy with customers and encourage commitment to return to the shop.
Premium Retail Price and Membership Discounts (00:25:01) The concept of premium retail pricing and how it differs from membership discounts, using Target's Redcard as an example.
App Features and Customer Engagement (00:28:57) How the app can engage customers through push notifications, coupons, and recall alerts, and how it can be used to manage multiple cars.
The Importance of App Functionality (00:30:49) How Apple and Google are improving search functionality on phones to make it easier to find apps.
Gamification of Apps (00:32:14) The importance of making an app engaging and fun for customers. They talk about the "stars program" and how it can be used to disrupt customer behavior.
Referral Codes and Affiliate Marketing (00:34:26) The referral mentality and how it can be used to reward affiliates.
Jeremy's Gratitude for Chris Cloutier at Auto Flow (00:38:44) Jeremy expresses his gratitude for Chris Cloutier at Auto Flow and his developer team for reigniting his passion for the industry.
JJ's Success with App Fueled (00:40:20) JJ expresses his gratitude for the people who have helped him develop his business, and how App Fueled has differentiated his shop in his town.
Thanks to our Partner, NAPA AUTO CARE
Learn more about NAPA AUTO CARE and the benefits of being part of the NAPA family by visiting www.NAPAAutoCare.com
Connect with the Podcast:
-Join our Insider List: https://remarkableresults.biz/insider
-All books mentioned on our podcasts: https://remarkableresults.biz/books
-Our Classroom page for personal or team learning: https://remarkableresults.biz/classroom
-Buy Me a Coffee: https://www.buymeacoffee.com/carm
-The Aftermarket Radio Network: https://aftermarketradionetwork.com
-Special episode collections: https://remarkableresults.biz/collections