Advantages and Challenges of Artificial Intelligence in the Automotive Industry [THA 335]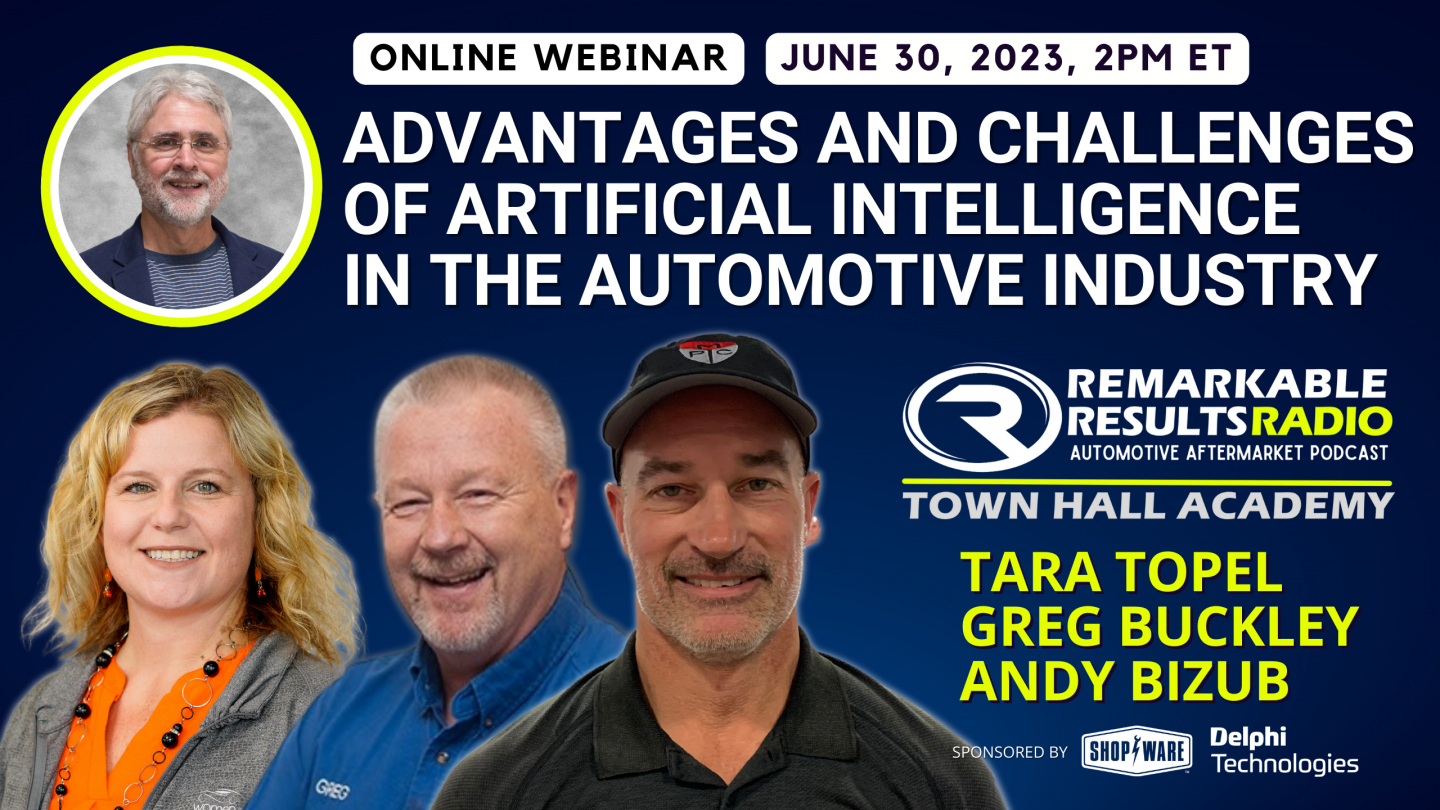 Tara Topel, Greg Buckley, and Andy Bizub discuss the applications of AI in the automotive industry, focusing on the use of ChatGPT. They share examples of using AI to update handbooks, create repair procedures, educate service advisors, and enhance the customer experience. They also discuss the challenges and potential benefits of using AI in customer-facing interactions. While AI has benefits, it should be used as a supplement rather than a replacement for human connection.
Tara Topel, Topel's Service Center Inc. Tara's previous episodes HERE.
Greg Buckley, Buckley's Auto Care in Wilmington, and Millsboro DE.  Greg's previous episodes HERE.
Andy Bizub, Midwest Performance Cars, Chicago and Northbrook, IL.  Andy's previous episodes HERE.
Show Notes:
Watch Video Episode HERE
Utilizing AI to Update Team Member Handbook (00:03:18) Tara highlights the time-saving and efficiency-boosting benefits of using AI to update her team member handbook.
Infusing Personal Touch into AI-Generated Content (00:04:51) The panel emphasizes the importance of adding their own personal touch to AI-generated content.
Streamlining Repair Procedures with AI (00:09:15) Discussion on how AI, specifically ChatGPT, is used to generate repair procedures and streamline the process.
Customizing AI-Generated Content for Consumers (00:10:07) Debate on tailoring AI-generated content to enhance value and understanding for consumers, considering the need for detailed repair procedures.
Advantages and Challenges of AI in the Automotive Industry (00:17:40) Exploration of the benefits and potential challenges of implementing AI technology, including its evolving nature and impact on businesses.
Refining AI-Generated Content (00:18:35) Discussion on the challenges and improvements in AI-generated content, highlighting the need for fine-tuning by coders.
Leveraging Chat Bots for Personalized Content (00:19:44) Exploring the potential benefits of using chat bots to deliver personalized and accurate answers to customer inquiries, enhancing the customer-facing aspect of businesses.
Creating Valuable Content with AI (00:23:20) The importance of investing effort into content creation, following guidelines, and adding personal touches to ensure valuable and beneficial content for specific locations.
Personalizing Client Interactions with AI (00:27:05) The potential of using AI to personalize interactions with clients based on their preferences and profiles.
Expanding Beyond Automotive Services (00:33:25) The importance of engaging with communities and utilizing AI to create interactive community pages, offering more than just automotive services.
Mercedes' AI in the Cockpit (00:36:05) Discussion about the potential of AI in cars, specifically mentioning Mercedes and the concept of AI controlling various aspects of the vehicle.
Balancing Reliance on AI-Generated Content (00:36:31) Emphasizing the need to strike a balance and not overly rely on AI, maintaining personal intelligence and experience in content creation.
Thanks to our Partners Shop-Ware and Delphi Technologies
Shop-Ware: More Time. More Profit. Shop-Ware Shop Management getshopware.com
Delphi Technologies: Keeping current on the latest vehicle systems and how to repair them is a must for today's technicians. DelphiAftermarket.com
Connect with the Podcast
-Join our Insider List: https://remarkableresults.biz/insider
-All books mentioned on our podcasts: https://remarkableresults.biz/books
-Our Classroom page for personal or team learning: https://remarkableresults.biz/classroom
-Buy Me a Coffee: https://www.buymeacoffee.com/carm
-The Aftermarket Radio Network: https://aftermarketradionetwork.com
-Special episode collections: https://remarkableresults.biz/collections