The Unspoken Reality of Grief [RR 885]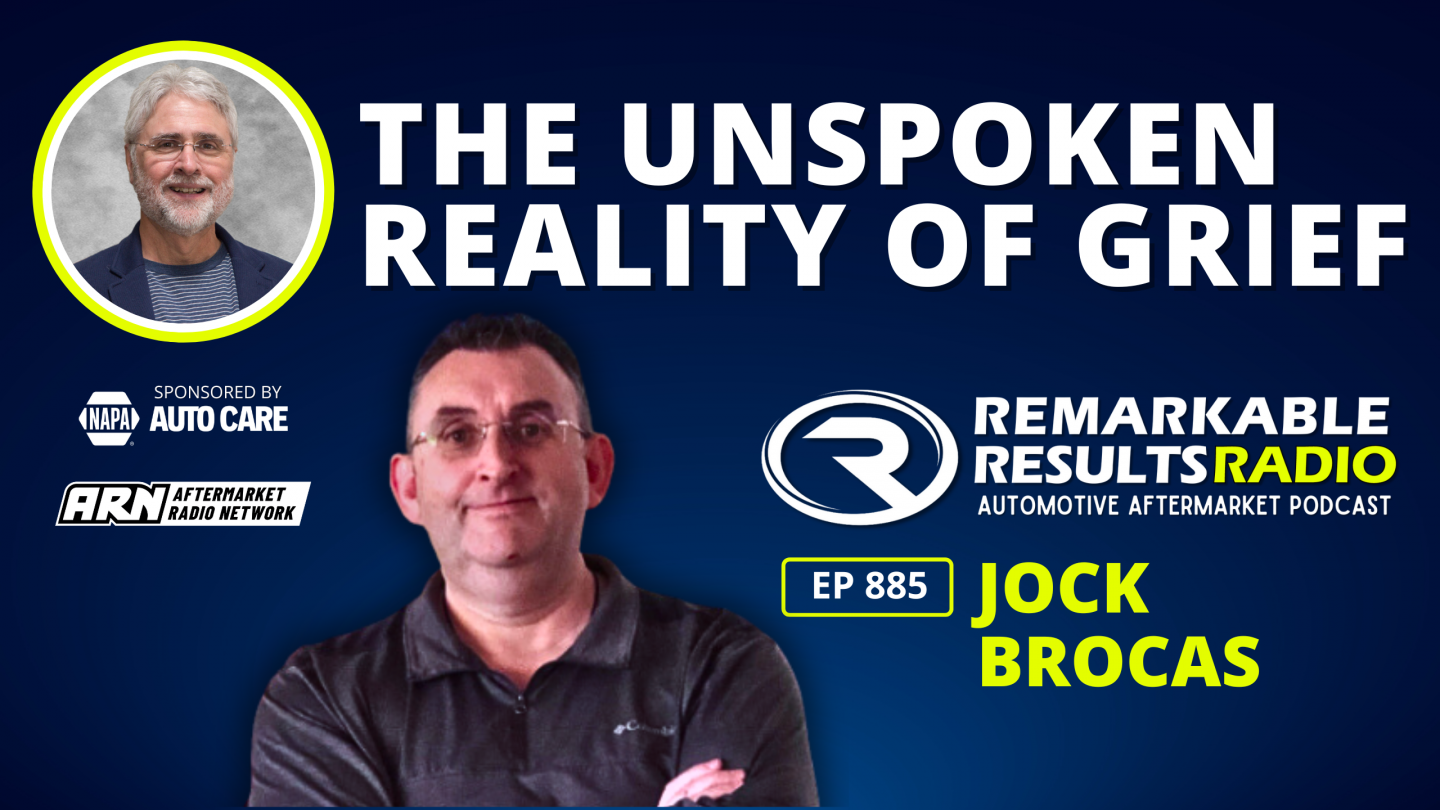 Jock Brocas, Author, Publisher, Researcher and Evidential Medium discusses the topic of grief and its impact on individuals and society. Jock shares his personal experience with grief and emphasizes the importance of integrating it into our lives rather than trying to recover from it. He explains there is a societal fear and discomfort surrounding grief and how it affects our ability to support those who are grieving. Jock offers insights on empathy versus sympathy and encourages engaging with those who are grieving. He also discusses the transformative power of grief and the importance of leaders in the automotive industry supporting their team members who may be grieving. Jock shares his simple model for coping with grief and emphasizes the power of choice. It's our hope that this conversation will inspire you to approach grief with empathy, understanding, and acceptance.
Jock Brocas, Author, Publisher, Researcher and Evidential Medium. jockbrocas.com
Show Notes
Grief as a Journey (00:04:03) Jock talks about the different aspects of grief and how it affects various areas of life, including work and relationships.
Grief as Integration (00:05:52) Jock explains that grief is not something to recover from, but rather something to integrate into our lives as a natural aspect of life.
Engaging with Grief (00:06:07) Jock discusses the importance of engaging with those who have experienced loss, asking them to share stories and memories of their loved ones instead of offering empty platitudes.
Fear and societal expectations surrounding grief (00:08:40) How fear and societal expectations contribute to the discomfort and avoidance of discussing grief.
The need to include and support those who are grieving (00:11:11) The importance of including and supporting individuals who are grieving, rather than disconnecting from them out of fear.
Finding Purpose in Grief (00:18:09) Exploration of how grief can become a transformative experience, leading to the discovery of purpose and a desire to serve others.
Traumatic Grief and its Impact (00:23:03) Explanation of different forms of grief, including traumatic grief, and how it can be a result of experiencing a shocking or inexplicable loss.
The Traumatic Grief Experience (00:25:28) Discussion on the personal experience of traumatic grief and the long-term effects it can have.
The Impact of Grief on Leadership (00:26:21) Exploring how leaders in the automotive industry who are grieving can make wrong decisions and negatively affect the company and its employees.
Tips for Coping with Grief (00:29:28) Advice on expressing grief, keeping the relationship with the loved one alive, and making the choice to continue living and transforming one's life.
Beliefs and living in the present (00:34:23) Exploration of the importance of allowing beliefs to change and living in the present moment.
Cultivating personal growth (00:34:41) Metaphorical explanation of how Jock sees himself as a gardener, planting seeds of personal growth and leaving it up to individuals to cultivate their own growth.
Thanks to our Partner, NAPA Auto Care
Learn more about NAPA Auto Care and the benefits of being part of the NAPA family by visiting https://www.napaonline.com/en/auto-care
Connect with the Podcast:
-Join our Insider List: https://remarkableresults.biz/insider
-All books mentioned on our podcasts: https://remarkableresults.biz/books
-Our Classroom page for personal or team learning: https://remarkableresults.biz/classroom
-Buy Me a Coffee: https://www.buymeacoffee.com/carm
-The Aftermarket Radio Network: https://aftermarketradionetwork.com
-Special episode collections: https://remarkableresults.biz/collections