Unlocking Higher Levels of Learning [896]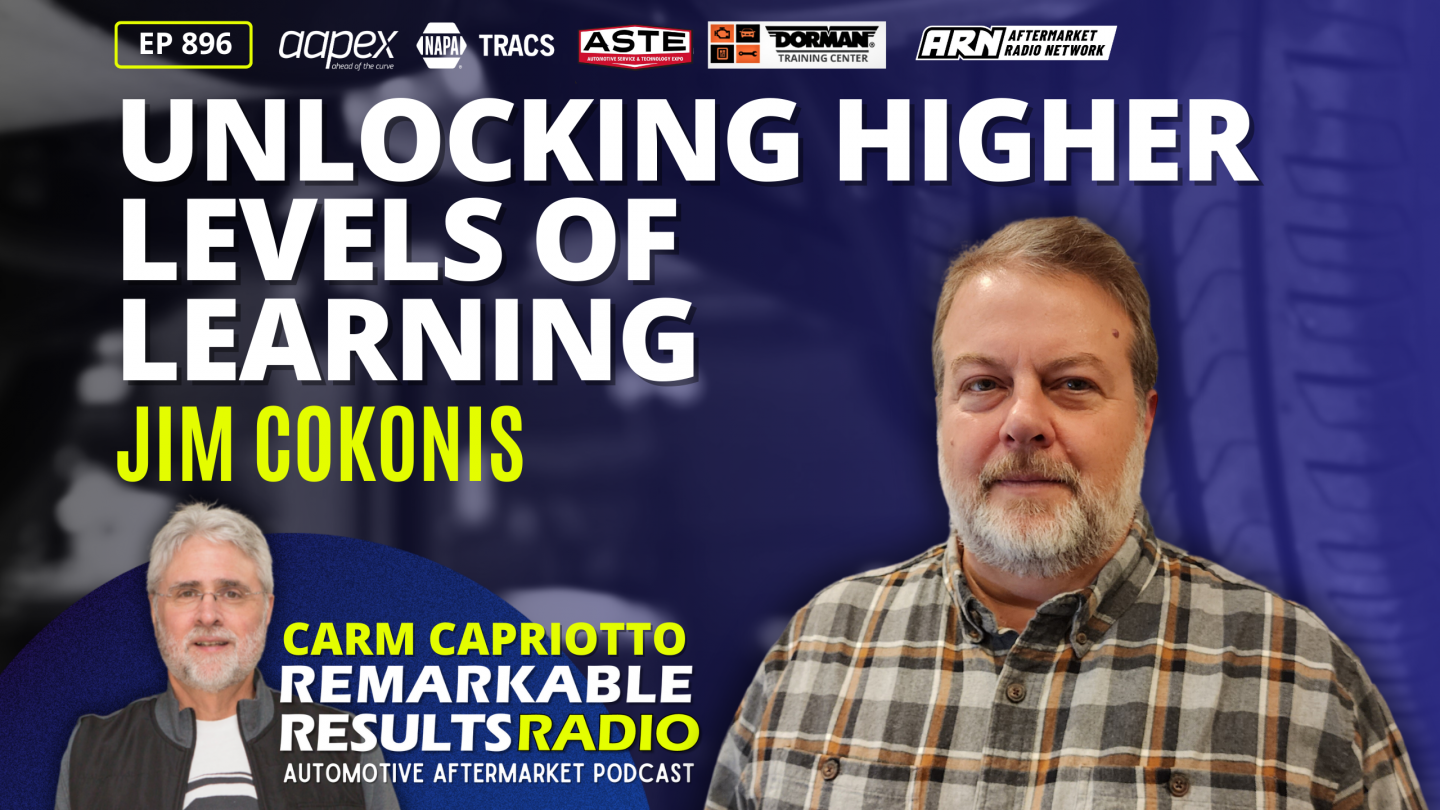 Recorded Live at ASTE 2023, Jim Cokonis kicks off the conversation with a mention of the late Anthony Williams and his innovative concept of "the Sage on the Stage" in training and education. This approach emphasizes the importance of learners discovering knowledge on their own, rather than being passive recipients of information. Jim also discusses his role as the Executive Director of the Auto Talent Co-Op led by John Gustafson in California, a non-profit organization aimed to solve the talent gap and technician shortage in the industry.
Jim Cokonis, Executive Director, Auto Talent Co-Op
Show Notes
The stage on the stage (00:04:44) Discussion on the traditional teaching method of standing in front of a room and delivering content.
Engaging learners at a deeper level (00:05:43) Exploration of different learning styles and the importance of engaging learners in activities for better understanding.
Teach to learn (00:06:33) The concept of teaching as a way to deepen one's own understanding and become an expert in a specific area.
Developing a learning environment in the shop (00:08:33) Discussion about tools and techniques to foster a learning environment in the shop.
Constantly refining content in training (00:09:42) The commitment to continuously update and improve training content, including peer review and addressing technical accuracy.
The importance of engaging learners (00:17:57) Discussion about the value of actively listening and taking notes while learning from a podcast.
Anthony Williams' impact (00:18:28) Reflection on the influence of Anthony Williams and his passionate approach to education.
The Auto Talent Co-Op and technician shortage (00:19:21) Exploration of the Auto Talent Co-Op and its mission to address the ongoing technician shortage in the automotive industry.
The importance of mentorship (00:28:48) Discussion about the qualities and skills required to be a good mentor, and the need for mentorship training.
The value of certifications (00:31:33) Exploring the significance of certifications in verifying technicians' abilities and the need for businesses to qualify to employ certified technicians.
Assessing the worthiness of a business (00:33:29) Examining whether a business is doing all the right things to attract and retain talented individuals, and the importance of creating a sticky organizational culture.
The importance of tracking expenses (00:35:03) Discussion about the significance of understanding cost increases over time and its impact on income.
The value of follow-up and assessment in training (00:37:04) Emphasis on the need for continuous learning and evaluation after attending training events.
The evolution of opinions and the importance of being open-minded (00:38:19) Exploration of the concept of evolving opinions and the need to remain open to reforming and reshaping one's perspective.
Thanks to our Partners, AAPEX and NAPA TRACS
Set your sights on Las Vegas in 2023. Mark your calendar now … October 31 – Nov 2, 2023, AAPEX – Now more than ever. And don't miss the next free AAPEX webinar. Register now at http://AAPEXSHOW.COM/WEBINAR
NAPA TRACS will move your shop into the SMS fast lane with onsite training and six days a week of support and local representation. Find NAPA TRACS on the Web at http://napatracs.com/
Connect with the Podcast:
-Follow on Facebook: https://www.facebook.com/RemarkableResultsRadioPodcast/
-Follow on LinkedIn: https://www.linkedin.com/in/carmcapriotto/
-Follow on Instagram: https://www.instagram.com/remarkableresultsradiopodcast/
-Follow on Twitter: https://twitter.com/RResultsBiz
-Visit the Website: https://remarkableresults.biz/
-Join our Insider List: https://remarkableresults.biz/insider
-All books mentioned on our podcasts: https://remarkableresults.biz/books
-Our Classroom page for personal or team learning: https://remarkableresults.biz/classroom
-Buy Me a Coffee: https://www.buymeacoffee.com/carm
-The Aftermarket Radio Network: https://aftermarketradionetwork.com
-Special episode collections: https://remarkableresults.biz/collections