THA 019: Where Will We Find Our Future Automotive Instructors?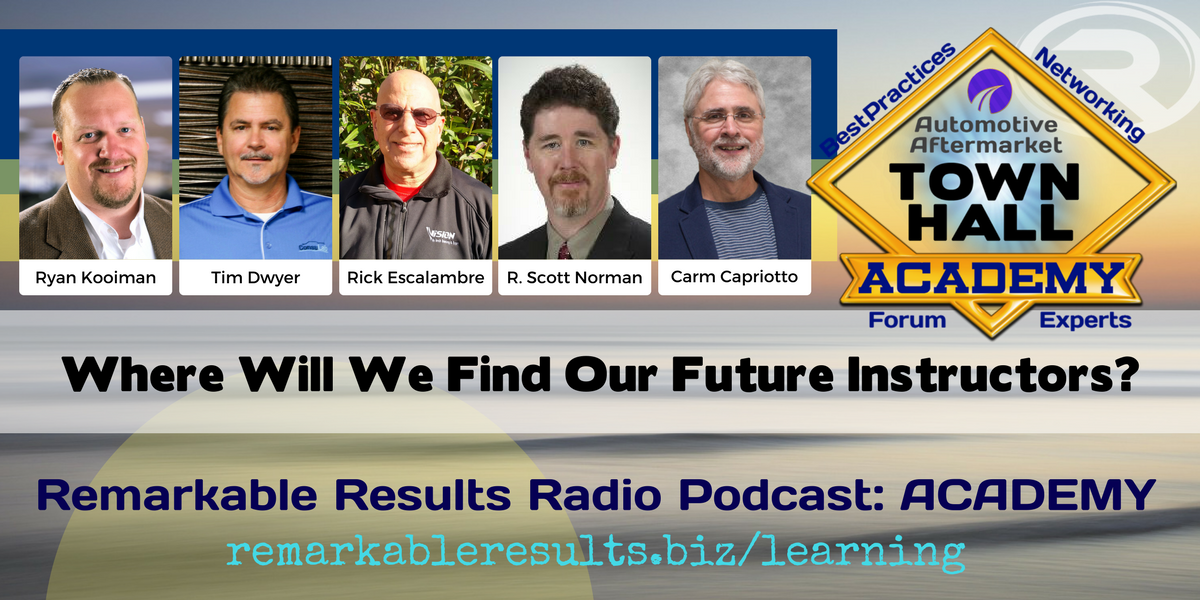 Learn from your industry peers in a round-table forum. Get new ideas, perspectives, trends, insights, best-practices and expertise from aftermarket professionals.
Watch like a DOCUMENTARY … Learn like a SEMINAR.
Helping automotive aftermarket professionals improve; one lesson at a time.
Academy Panel:
Talking points:
Most instructors have migrated from industry.
Not many current students of automotive technology consider a career as an instructor.
The technician shortage predicates an instructor shortage in the future.
Scott Norman is asked all the time if he can help find instructors for other schools.
Retiring instructors need replacements. There are not many in the pipeline; therefore some programs are shutting down.
An instructor automotive technology challenges:

Pay
Certifications: Meeting education requirements.

There are aftermarket opportunities for trainers as suggested by Ryan Kooiman.
Becoming a full-time automotive instructor is a viable career path for working technicians.
As an instructor, you are not handed a script. You need to create your own lessons.
You may have the technical ability but also need presentation skills.

Mentoring and finding the future leaders/instructors will be necessary.

There is more to engaging students than just having the experience.
You can learn to teach … your experience is the valuable asset.
Teaching is a definite career change. The subject matter is the same but the job description is totally different.
The money is a big factor in the teacher role. They will want to take a pay cut to become an educator. There are benefits. Days not as long. Time off in Summer.
Be socially involved and in touch with the show:
Facebook   Twitter   Linked In   Email