THA 028: Twenty-One TIPS to Get an Edge on the Competition – Part 1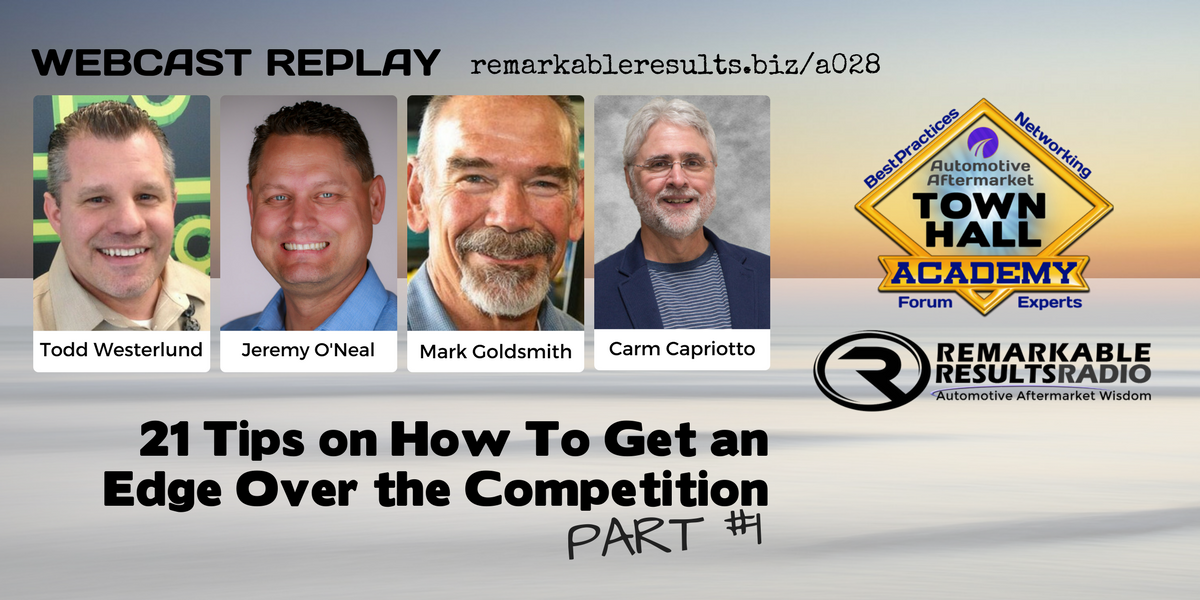 Learn from your industry peers in a round-table forum. Get new ideas, perspectives, trends, insights, best-practices and expertise from aftermarket professionals.
Watch like a DOCUMENTARY … Learn like a SEMINAR.
Academy Panel:
Todd Westerlund, CEO of Kukui has been in the automotive industry for 28 years. Todd spent 15 years as an ASE Certified California Smog Technician and two years at a dealership. In 2013, Todd joined Kukui, a marketing software company with a mission to improve technology for the betterment of people and businesses worldwide.
As the CEO of Kukui, Todd is consistently studying, attending business classes and consulting with shops all over the United States. Some of his duties include: keeping industry leaders informed about new technology, setting Kukui's growth strategy including event planning, and planning industry sponsorships and partnerships.  Previous episodes HERE.
Mark Goldsmith found his passion for cars in 1971 when his first job was at an independent shop. He took all of the ASE required tests and earned his Master Technician Certification.
In 1988 Mark opened Mark's Independent Service in Chatsworth, CA. Mark's Independent Service works exclusively on Volvo, Lexus and Toyota vehicles. Mark and his team have always focused on fair values that put the customer first. He's worked hard to create the type of auto repair company that has built trust with his customers and like to be known as a dealership alternative!  He is an ASCCA member and he loves it when his customers say his shop is better than the dealer. Previous episodes HERE.
Jeremy O'Neal  President and lead sales trainer for Advisorfix, began his career as a Service Advisor and moved into Service Management at the dealership level for VW, Audi, and Porsche. He consistently placed in the top 3% of Service Advisors across the nation. Jeremy also owns Freedom Automotive in Hesperia, CA.
With a passion for helping others, Jeremy started coaching Service Advisors in 2007. Jeremy also owns an independent auto repair shop.  Previous episodes HERE.
The 21 Tips:
Make your impression last beyond the service – Provide branded water.
Have a charging station in the waiting room, but use the ones with a mount-able unit and hard wired connectors, that way they don't "walk off".
Bake fresh cookies every morning, over the years, clients will know to drop off the car early to get them while they are still hot!
Free car washes, wiping off dash', and cleaning windows.
S+R=$  |  Social + Reputation = $ales.
Have a toy chest like the dentist office, Kids can pick one toy. Give the parent a few seconds during drop off and creates a situation where the kids will remember and want to come back.
Follow up phone calls to ensure our work was done properly the first time and guests are still satisfied.
Poll your clients every year on what magazines "they" want to read in the waiting room.
Build travel kits to give out to top clients. This can include an emergency light, blanket, long lasting generic snack bar, bottle of water, pen and paper, extra t-shirt, wet-wipes.
Ladies toiletries in the public restroom. Clean restrooms Like at the Ritz.
Use the digital display board to show bios of the employees and results and games of all local sports teams, a variety of music, things that the clients reading the scrolling bios will bond with.
Have free WiFi but make sure to change the name to something creative.
Become a Certified child car seat installer.  Drive Safe Drive Smart. (Greg Buckley Trade Marked)
Have a stocked frig in the waiting room with the good stuff. Example – Redbull. I have heard folks say "oh you have the good stuff!"
Take the Fear out of the Transaction.
Have sports memorabilia or local art displayed for sale.
Have high quality branded entrance mats. It makes an impression.
Offer Uber for alternate transportation along with See Jane Go for female guests who are uncomfortable taking Uber.
Speed of Service – Today's consumer is driven by a mantra IWWIWWIWI – which stands for I WANT WHAT I WANT WHEN I WANT IT.
Master the Digital Sales Experience – Utilizing a transparent sales process that enrolls and engages the customer in the buying process.
Build an amazing team – You can't do this by yourself.
Be socially involved and in touch with the show:
Facebook   Twitter   Linked In   Email
This episode is brought to you by Jasper Engines & Transmissions. When a car's engine or transmission fails, it's

not the end of the road. A remanufactured drivetrain product from Jasper Engines & Transmissions will give your car a new lease on life. JASPER has over 2000 Associates, three manufacturing facilities, two distribution centers and 45 branch offices across the country. They're all working to produce, transport and deliver the perfect product. That's what they do best… keep customers happy. Visit jasperengines.com