THA 034: Nine Tips For a Better Work Life Balance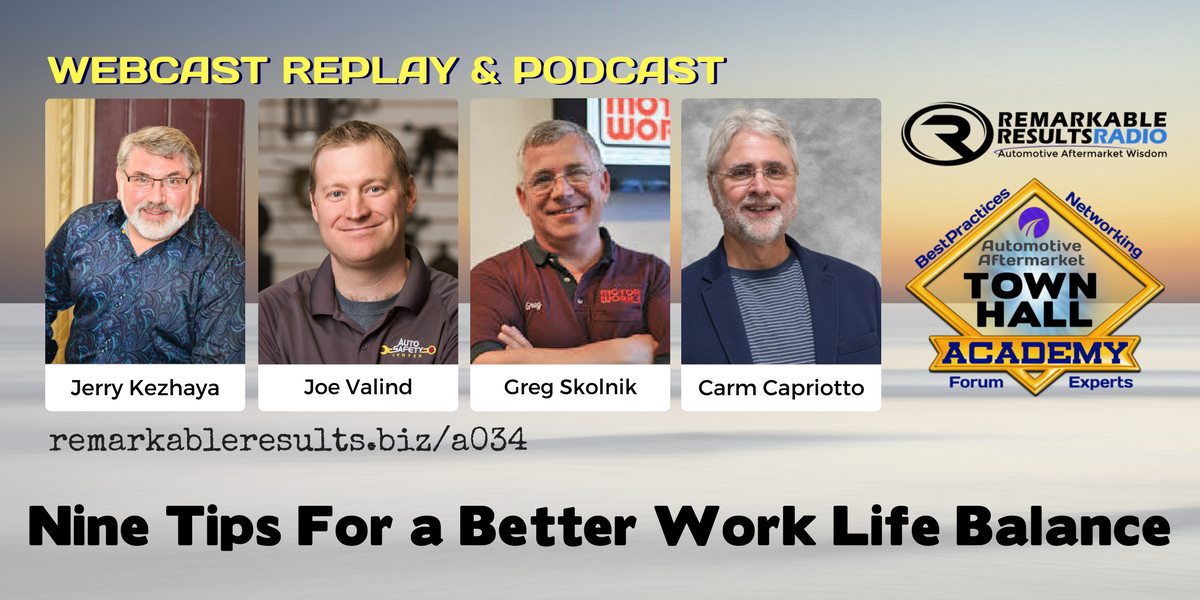 Learn from your industry peers in a round-table forum. Get new ideas, perspectives, trends, insights, best-practices and expertise from aftermarket professionals.
Watch like a DOCUMENTARY … Learn like a SEMINAR.
Helping automotive aftermarket professionals improve; one lesson at a time.
Academy Panel:
Greg Skolnik is owner at Motor Works, Inc. in Rockville, MD.   He is certified as a Master Automobile Technician and holds the prestigious L-1 advanced engine performance and emission analysis certification. Greg also received his (AMAM) degree from the Automotive Management Institute.  Listen to Greg's episodes 46, 63 and 69 (E-Myth)  and Academy Improving Customer Loyalty, Academy Getting Things Done.
Jerry Kezhaya from The Auto Shop in Plano Texas has been in business since 1981. Plano is a northern suburb of Dallas with a population on 280,000. According to Jerry, it is the top growing county in the US.  His 35,000 sq ft shop has 21 lifts with two flats per lift.
Jerry is a business coach and prides himself for getting out of the shop between 80 and 120 days a year to work with clients, attends seminars and enjoys wine. Listen to Jerry in Episode 35, Episode 69 (E-Myth) and the 100th retrospective.
 Joe Valind is from Auto Safety Center in West Bend, Wisconsin. As a high school senior Joe got his first automotive mechanic job in September 1995 through his high school co-op program. As the Lord's providence would have it, the placement was with Roger Berth at the Auto Safety Center. (The shop he owns today)
Joe's shop has 9 bays, 5 lifts, 3 technicians and specializes in Honda/Acura, Toyota/Lexus, however, services most makes and models. Listen to Joe in Episode 67 and 73.
Talking Points:
If you want Work-Life Balance, first, you have to BELIEVE that it's possible. Once you believe that it's possible, you must DECIDE that is what you want and set your INTENTION to make it so. Then design your life around it.

You must schedule your time on a calendar

Balance is important because you don't want to be the richest guy in the graveyard.  In other words… how much is enough?

Commit to doing good things for yourself… hiking, swimming, biking, NOT smoking, etc.

Purpose: Knowing your purpose allows you to delegate.

Do your job and do it well. – Bill Belichick

Priority- "Our actions display our priorities regardless of what we say."

Good is the enemy of great. Jim Collins

Pay attention to your spouse and children. Use reminders each week to stay on top of your family commitments.

We all know somebody who has lost their relationship to the inevitable "rub" between your responsibilities as a business owner and as a father/spouse.
In some cases, the business becomes "the other woman".

Greg Skolnik plans 12 key areas of his life every Monday morning so he can give attention to them each week.
You get to start over tomorrow morning.
'Teach your people to fish and they can feed themselves for the rest of their life.'
Plan: Preparing your day makes it productive.

Create a task list.
OK if you don't get everything done.
OK to add to list during the day.
Review your accomplishments at the end of the day.

Be in the present, 100%.

Be in the moment.
When you are at work, be at work.
When you are with your spouse, be with your spouse.
When you are with your kids, be with your kids.
Those are unwritten "laws" that should never be compromised.

Jerry Kezhaya's Five Fs: "Faith, Family, Fitness, Finances, Fun"
Give yourself 90 minutes. Get out of the shop. Turn off your phone. Go to the library and spend ninety minutes of pure productive time. (Jerry Kezhaya). Compare the productivity at the library vs your workplace and see who is stealing your time.

Swim laps, walk in the woods (get tree energy), get exercise and find your quiet moment. (Greg Skolnik)

Understanding of your place (your shop's culture) and how it relates to your client's extended family circle.
We might never realize how important you were to a client until you hear about it at their eulogy.
Do not have the Messiah complex that makes you the most important part of your business.

Resolve to find freedom.
Systems and processes will sustain the business without you.
Many started their freedom because they wanted freedom.
Acknowledge your level of spirituality, why you are where you are and do what you do every day.

Books Mentioned:

The E-Myth Revisited from Michael Gerber
The 21 Irrefutable Laws of Leadership from John Maxwell

A powerful story from Jerry Kezhaya on coloring 2,500 Merlin drawings and how every version was different. That proved to Jerry that there are 2,500 different ways to color a drawing and that there are countless solutions to everyday problems.
4 day work week? How?  Just do it. (Greg Skolnik's business is open 4 days a week)
Make the choice what you are going to be. Be the master of your business. Be the master of your family when you are with them.
No one has ever said from their deathbed that they spent more time at work.


---
Be socially involved and in touch with the show:
Facebook   Twitter   Linked In   Email
---
This episode is brought to you by Jasper Engines & Transmissions. When a car's engine or transmission fails, it's

not the end of the road. A remanufactured drivetrain product from Jasper Engines & Transmissions will give your car a new lease on life. JASPER has over 2000 Associates, three manufacturing facilities, two distribution centers and 45 branch offices across the country. They're all working to produce, transport and deliver the perfect product. That's what they do best… keep customers happy. Visit jasperengines.com