THA 035: Supplier Loyalty- The Service Professional Perspective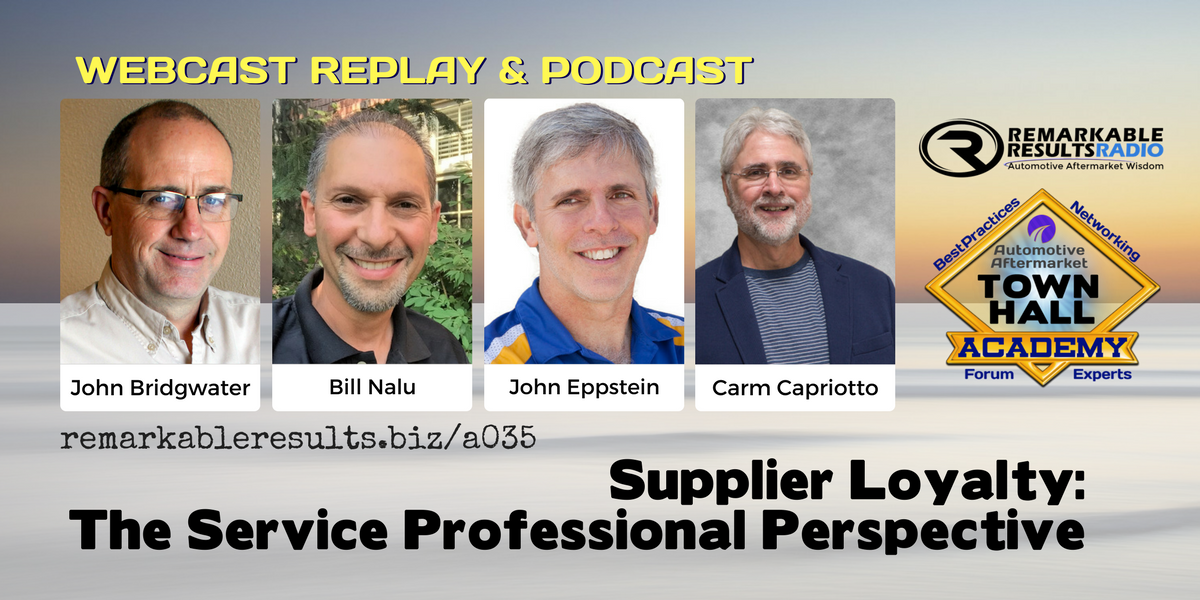 Learn from your industry peers in a round-table forum. Get new ideas, perspectives, trends, insights, best-practices and expertise from aftermarket professionals.
Watch like a DOCUMENTARY … Learn like a SEMINAR.
Helping automotive aftermarket professionals improve; one lesson at a time.
Bill Nalu is President of Interstate Auto Care in Madison Heights, Michigan and has been in business for 30 years.  Bill collaborates with industry professionals, in building today's "high-tech/old-fashioned" customer service system.
Bill has been a big contributor to the podcast and he currently serves on several industry and educational advisory councils including AutoValue/Bumper to Bumper, Dorman Industries, and Cardone. Listen to Bill in episode 39, 69, 100, 200, 118, and 226.  Also hear Bill in Town Hall Academy 29 – Are We Too Dependent on Being Independent?, and Academy #12 What Keeps You Up at Night, and Academy #6 Managing a Negative On-Line Review
John Eppstein is the owner of John's Automotive Care in San Diego, CA since 1998, admits he was a better tech than a businessman but did something about it. One thing he credits for his success is making his customer his main focus. John was honored as the 2016 NAPA ASE Technician of the year.  Hear John in our one on one interview in episode 119, 200 and Academy 003 on the Top Qualities of a Service Advisor.
John Bridgwater and his wife own Wright's Automotive Service in San Leandro, CA. John started to earn his ASE certifications early on and began networking with other technicians and shop owners. John was honored among eleven others as an Auto Care/ASE World Technician in 2015. In order to be considered for this award, you must hold at least 22 ASE certifications. John currently has 49 certifications and he is working on the 50th.
John Bridgwater has a very interesting story on his rise to shop ownership. He started in 1987 and became a shop owner in January 2015. John actually was recruited by a shop in the bay area that he and his wife eventually purchased. He waited a long time for the right opportunity. Listen to John's episode 117.
Talking points:
From Simon Sinek:
Loyalty is when people are willing to turn down a better product or a better price to continue doing business with you. Loyal customers often don't even bother to research the competition or entertain other options.
Bill Nalu, John Bridgwater and John Eppstein have a strong first call relationship.
The service professional wants a strong e-commerce system but still need a good person on the phone for some tough situations.

They do talk to someone when there is a problem with availability or delivery times.

Warranty is important.

John Bridgwater funds his own warranty so the brand and type of parts he uses are important.

We need to get more product features and benefits from our manufactures to give great insights to the customer to let them know why we use certain products.
Reward your suppliers who regard your business by showing you they care every day.
Service professionals are proud to have high labor rates yet know that they are the best price in town because they repair the vehicle right the first time and install top quality parts.
These service professionals are extending their warranties and do appreciate any help they can get for their customer.
What is in the best interest of the customer will dictate if the shop will use a brand or a second line.
Delivery Service. Some suppliers have used an Amazon driver. Uber is an option.

Suppliers should consider hiring on demand for deliveries.
We are in a race for time.

We want to explain the 'Why Much' and 'How Much' we need for service.

We are in a race to supply as much value to our customer as possible and need the support of the supplier to get this done.

Suppliers see a much larger view of the service professionals needs, therefore should bring solutions.
You've got to sit with your supplier and understand their wants and needs. In a good partnership, support travels both ways.
Trust is the genesis of the relationship.
We must embrace the suppliers and manufacturers that are taking care of the service professional.
Suppliers that support the needs and success of their customers will win in the long run.

The service professional needs to support the supplier that care about giving them support beyond product and service.

We need to bring a friend to all supplier training. The top tier continues to learn. The next level must embrace learning and support.
We talked about Amazon.

Could they elevate the industry and bring referrals to shops?

Everyone is chasing price so this may not happen if the consumer feels they know exactly what they need. Who is telling them this?

A business model consideration is to sell parts at cost and make it on labor.

This takes the price transparency out of the equation.

Would you change your supplier?

These relationships are like a marriage. Except that there are always rough spots.
Yes, if they do not respond to issues that never get solved.
Yes, if communication breaks down consistently.
If you have the number of the CEO or any manager level person along with the store manager. You should be able to explain issues and needs.
If they don't suit your needs. Sometimes you change friends when things change.
---
Be socially involved and in touch with the show:
Facebook   Twitter   Linked In   Email
---
This episode is brought to you by Jasper Engines & Transmissions. When a car's engine or transmission fails, it's

not the end of the road. A remanufactured drivetrain product from Jasper Engines & Transmissions will give your car a new lease on life. JASPER has over 2000 Associates, three manufacturing facilities, two distribution centers and 45 branch offices across the country. They're all working to produce, transport and deliver the perfect product. That's what they do best… keep customers happy. Visit jasperengines.com