THA 038: Is the Goal to Bring Cars Into the Bay or Clients Into the Business?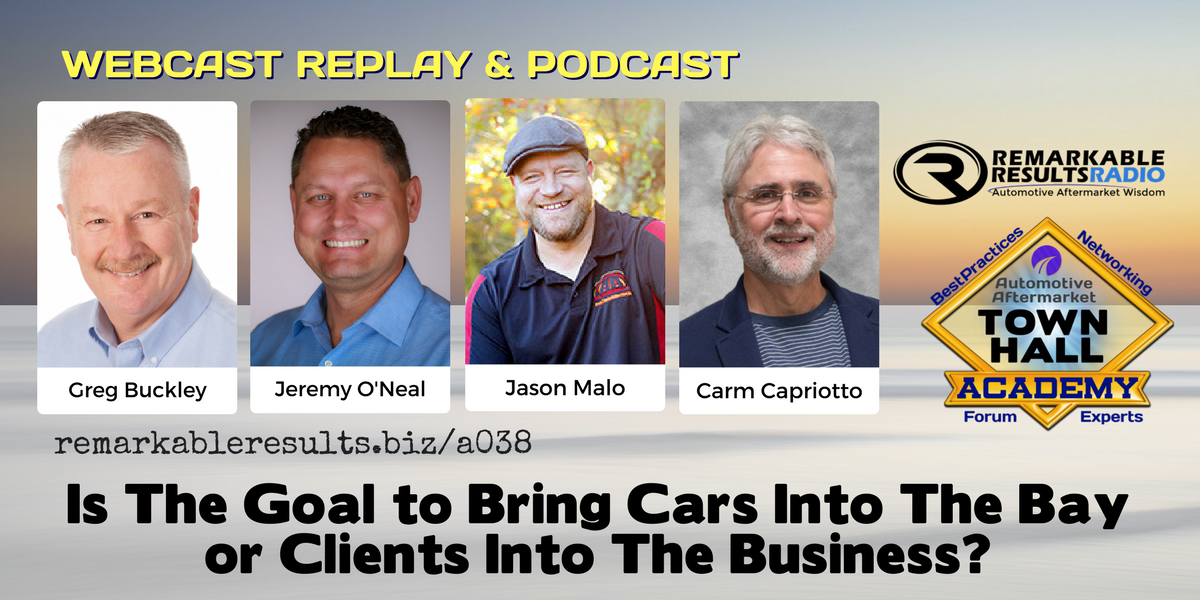 Learn from your industry peers in a round-table forum. Get new ideas, perspectives, trends, insights, best-practices and expertise from aftermarket professionals.
Watch like a DOCUMENTARY … Learn like a SEMINAR.
Helping automotive aftermarket professionals improve; one lesson at a time.
Academy Panel:
Greg Buckley  is the Owner of Owner of the 50 + year young Buckley Auto Care in Wilmington, DE. He's a member of ASA, an ATI Coach, a member of the Delaware Automotive Service Professionals, past member of the NAPA advisory board council, is vice-president of NAPA business development group , and is involved as an advisory board member of Kukui, along with AutoVitals. You can hear Greg's episodes HERE.
Jeremy O'Neal  President and lead sales trainer for Advisorfix, began his career as a Service Advisor and moved into Service Management at the dealership level for VW, Audi, and Porsche. He consistently placed in the top 3% of Service Advisors across the nation.With a passion for helping others, Jeremy started coaching Service Advisors in 2007. Jeremy also owns an independent auto repair shop, Freedom Automotive in Hesperia, CA. You can hear Jeremy's Episodes HERE.
Jason Malo has a great story to tell about how he became an entrepreneur. Jason, vice-president, and his brother Luke own Advanced Automotive Performance in Uxbridge, MA. Jason worked at his uncle's dealership and had his eye on the GM position; it was out of reach. His brother Luke was working as a technician at a repair shop and Luke wanted to start his own business.Besides general repairs, Advanced Automotive Performance specializes in light-duty trucks diesel trucks, fleets and European vehicles.To get business savvy, Jason and Luke took a class called The Streetwise MBA. They needed to learn about business principles, so they could apply them to their business. Jason highly recommends the class. Tech's that do not know anything about business and who want to start a business must get business training. This was an important step in their entrepreneurial journey. It is the classic E-Myth story. You can hear Jason's episode HERE.
Talking Points:
A slump in sales usually precludes a reduction in car count.
The culture of the shop creates the clients.

Need cars to get the clients.
You must transcend your purpose throughout the entire organization.

The shop owner, is the CEO of the business, is responsible for the marketing, for attracting customers to the shop.

Is your shop attractive from curb to counter?
Do you talk their language, not at them?

Windows of opportunities

Social, postcards, community

Facebook is a primary driver for new client acquisition

If the community needs it and can I supply it.

Helps bring in client base.

Have a deep conversation with the customer on their plans for their vehicle.

The shop can help with a great maintenance program to get 250K miles out of your customer's vehicle.

Move from transaction to relationship

Engagement

How is your customer's experience?

Will it lead to the relationship?

Does the customer qualify for a relationship?
Does the customer see she is a priority?

Not everyone who comes in the door will become a client.
Everyone who answers the phone has a role in building that relationship

Future technology will minimize the number of calls that come in the shop

All the answers will be on the smartphone as the future unfolds.

"I thought I only had to fix cars to be successful"

Your job is not in the bays but working on the business setting the vision and goals and building a strong team. Among other CEO duties.

Do not see the vehicle without seeing the customer. It must be personal.

The person behind the car is the most important piece of the relationship
Build a story into the repair so the techs best understand the personal aspect of the transaction

We do not utilize our two eyes and two ears enough

Many visual opportunities tell a lot about the client.
Messy car, worn brake pedal as examples can tell a lot about the client and their life.

Many disruptions in the industry.

Many businesses are gone because they didn't react quick enough or pay attention

Blockbuster, Kodak, Myspace

Other services are going to be important as all-electric and AV's grow in influence.
Look for other services and opportunities that can build on that relationship.
Professionals are evolving

There are plenty of cars to repair.

You could not handle 10% of your market penetration.
You must work hard to get the customer. Show up every day with your boots on and sift through the rough to find the diamonds.

Maximize your staff's training and extract their intelligence to move into other markets.
Will specialization help client growth?

Specialization can challenge a relationship where a client has multi-brands in their family unit.
Would a business model that rents out a bay space to a specialist be effective?
Move to the client experience.

Build clients not transactions.
Not enough cars can be the kiss of death but too many cars can be a cultural breakthrough that can help you dominate the market in the future.

Your marketing can bring in a top client.
Be socially involved and in touch with the show:
Facebook   Twitter   Linked In   Email
---
This episode is brought to you by Jasper Engines & Transmissions. When a car's engine or transmission fails, it's

not the end of the road. A remanufactured drivetrain product from Jasper Engines & Transmissions will give your car a new lease on life. JASPER has over 2000 Associates, three manufacturing facilities, two distribution centers and 45 branch offices across the country. They're all working to produce, transport and deliver the perfect product. That's what they do best… keep customers happy. Visit jasperengines.com