RR 269: ASA-Pennsylvania 'Super Saturday' – Training Event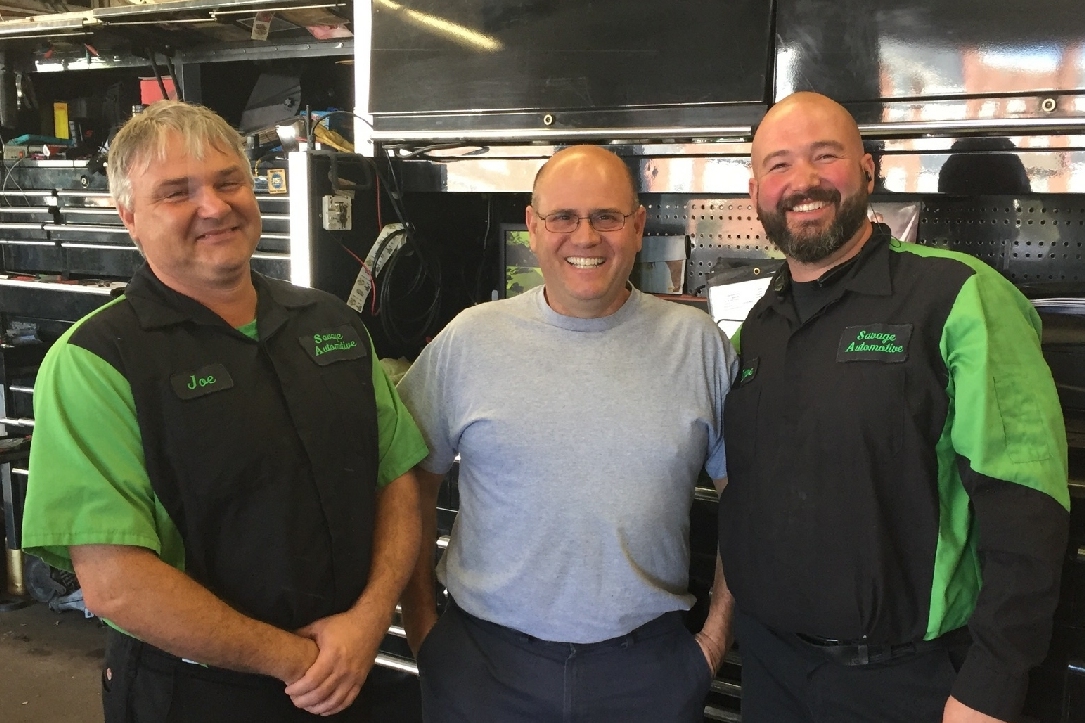 [Pictuered above Joe Rakowski, Joe Tranchitella and Dave Wagner]
ASA-PA Super Saturday Training Event, Saturday, October 14th, 2017. Held at the Automotive Training Center in Warminster, PA
Two distinct training tracks for business owners and technicians with a compliment of industry vendors.
Vendors – 31
Classes – 19
Attendees – 248
Covering 13 different states and Canada
---
Super Saturday Leadership Team:
Joseph Rakowski
Event Chairman
Savage Automotive and The Hybrid Shop
Philadelphia, PA
Joe has a computer and electrical background.  From 1990 – 2003 he fixed flight simulators for the Navy and Marines.  During that time period, there was a lot of base closure's and squadron's deactivated. Joe needed to change careers, so when the phone call came from his pop it was perfect timing.  Joe's dad had a business opportunity. The guy he worked for thirty years, wanted out. So Joe and his dad bought the business and his on-the-job training began.  Joe never went to an automotive school, every bit of his learning was OJT. It worked out great for Joe and the shop because cars became so computerized that it was right up Joe's area of expertise.  The shop started programming and doing a lot of work that no other shops wanted to do.  Joe works to keep his shop ahead of the curve, by staying up with equipment, training and technology.  In the last couple of years Joe has migrated into the office and he really only gets to play with Hybrid batteries.
Joe Tranhitella
Event Co-Chairman
Joe & Sons Auto Repair
Perkasie, PA
Joe's dad, known as Joe Senior, opened J&F Texaco in 1969. There Joe's love for cars exploded.  As a very young kid Joe loved cars, so because of his dad's shop, his automotive life was about to begin. Joe started by pumping gas, washing windows & pushing a broom. He also had a small car detailing business during the summers at the shop and he also had a lawn service business for 20 years.
In 1985 Joe started working for his Dad full time. He got his safety & Emission License and attended many Allen Test Product Classes.  As any son knows working with your Dad can be tough. In late 1989 Joe and his dad parted ways but still communicated…especially for Mom. In 1992, Joe and his dad got back together as business partners. I renamed the shop:  Joe & Sons' Auto Repair.
In the mid 90's Joe started to take ASE tests. He became an ASE master technician & a certified Emissions Repair Tech.
In 2006 Joe signed-up with coaching company ATI. He was active with that organization for over 3 years because he knew that he needed to learn more about running the business.
Joe attended his first Super Saturday event in 2013.  He partnered with Joe Rakowski and Dave Wagner because they always spoke highly of the importance of education at events like Vision and the TST Big Event. So in late 2015 he became involved with ASA and in 2016 Joe went to his first Vision with the 'Savage Crew'. He was hooked.
In July 2017 Joe bought & started a second location, "Joe & Sons at Seven Corner Auto Repair".
Dave Wagner
Event Co-Chairman
Automotive and Hybrid/EV Technician
Savage Automotive
Philadelphia, PA
Dave Wagner is a technician working at Savage Automotive Technologies in Northeast Philadelphia. There he has continued his education. Dave is an ASE CMAT, L1, L2, L3, the Assistant Coordinator for Delaware Training Group and an EV/Hybrid tech. Dave started as so many techs did changing oil at his uncle's shop on weekends when he was 12 years old. He started the professional side of his career as a tech in dealerships in 1996. Dave is currently working with a mentor to become an instructor to help teach and motivate others to want to learn what this industry has to offer.
Trainers at Super Saturday that have been on the Remarkable Results Radio Podcast:
Other names mentioned in the interview that has been on the podcast:
In attendance who has been on the podcast:
Be socially involved and in touch with the show:
Facebook   Twitter   Linked In   Email
---
This episode is brought to you by 


Federal-Mogul Motorparts and Garage Gurus. With brands like Moog, Felpro, Wagner Brake, Champion, Sealed Power, FP Diesel and more, they're the parts techs trust.  For serious technical training and support – online, onsite and on-demand – Garage Gurus is everything you need to know. Find out more at fmmotorparts.com  and fmgaragegurus.com