THA 042: Impacting a Difference For Those Struggling For Success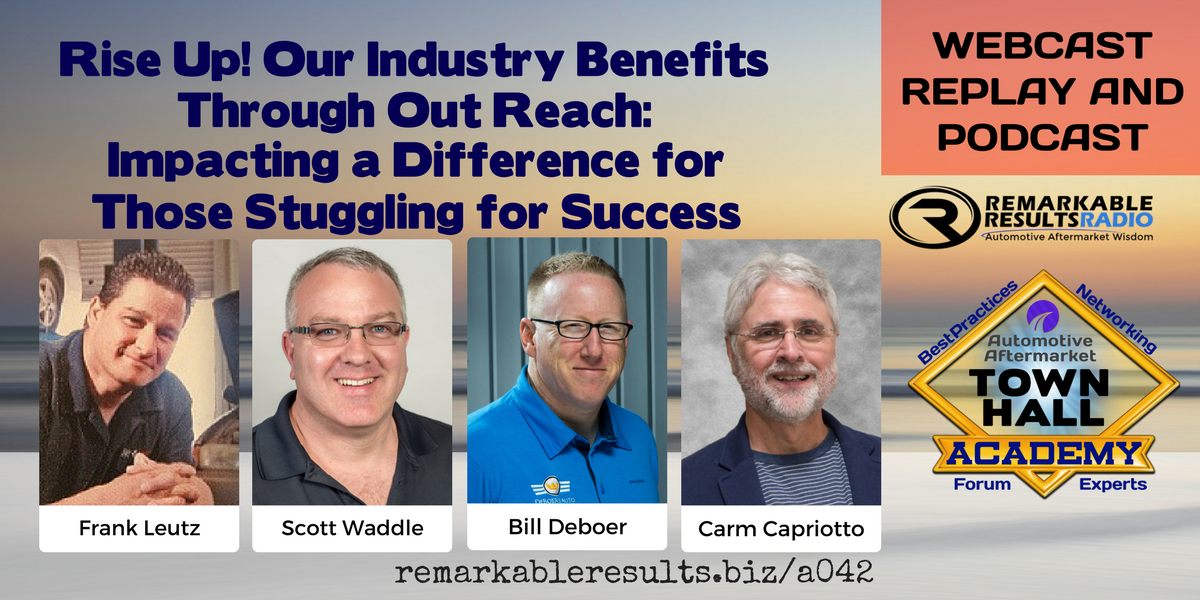 Helping automotive 
aftermarket professiona
ls improve; one lesson at a time.
Learn from your industry peers in a round-table forum. Get new ideas, perspectives, trends, insights, best-practices and expertise from aftermarket professionals.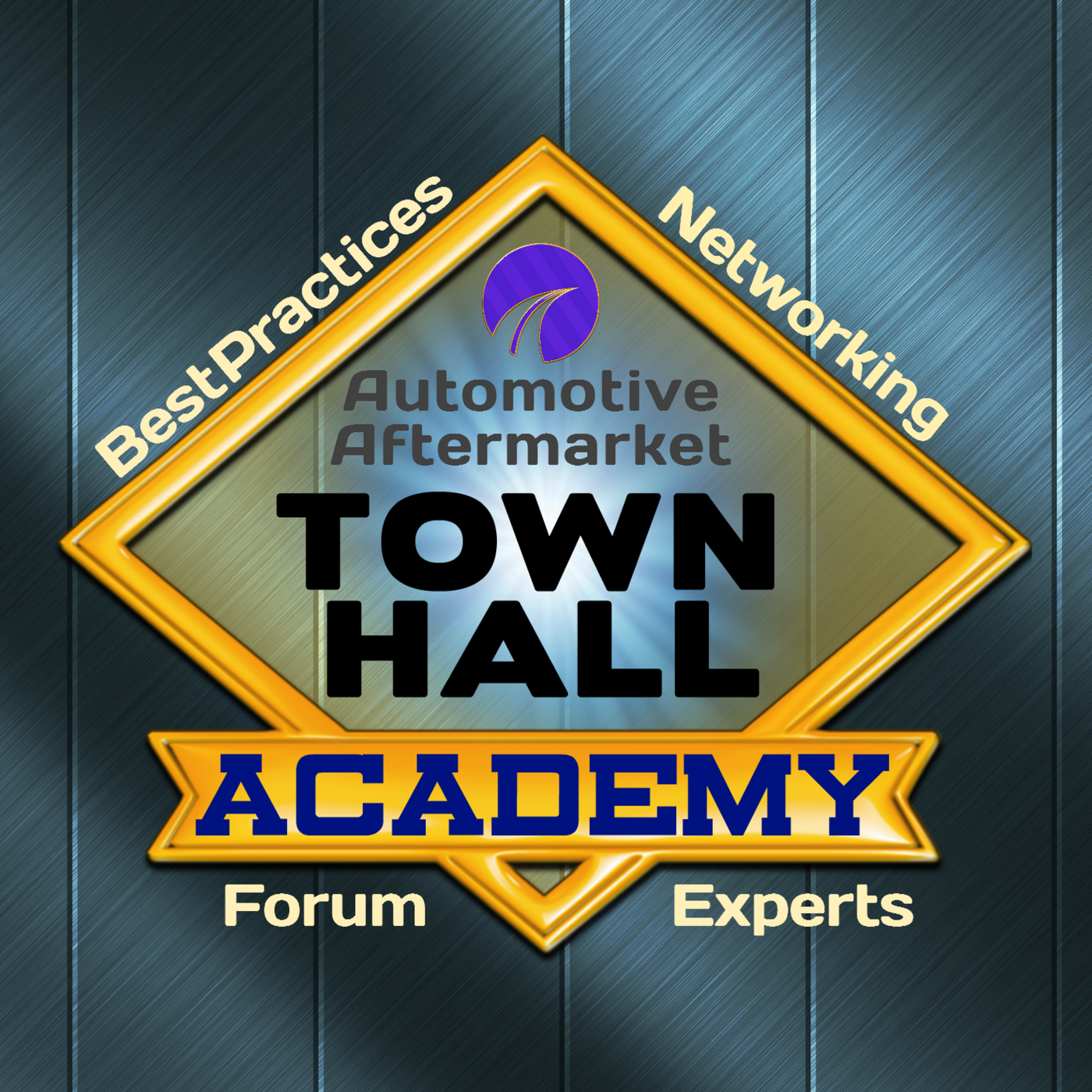 Watch like a DOCUMENTARY … Learn like a SEMINAR.
The Academy Panel:
Frank Luetz from Desert Car Care in Chandler, AZ
Frank is an industry leader in ASA Nationally and through his local chapter. Frank is spreading the value story of the industry through his weekly radio 'call-in show' called 'Wrench Nation'. In Frank's marketing strategy he also does email marketing, TV, radio and billboards. He also does a video feature called 'Inside the Garage' where he discusses vehicle failures and cures. Desert Car Care has been recognized as the 2016 Small Business of the Year from the Chandler Chamber along with these other honors:
2015 2016  Ranking Arizona Top 10 Auto Repair
2012 2013 Angies List Super Service Award
2013 BBB Ethics Award Nominee
2012 Phoenix Business Journal Best Places To Work Winner
Listen to Frank in these podcast episodes HERE.
William J. DeBoer (Bill Jr.) is Co-owner and Vice President of DeBoer's Auto Sales & Service. Bill has been responsible for bringing innovations in daily operations to the full-service, high-tech auto repair facility for 20+ years. Bill was able to fuse his passions for technology and cars with a Certificate in Automotive Technology, followed by a B.S. in Business Management from Penn State.
He joined his family business, founded by his father three decades ago, shortly after. Today, Bill runs business development, sales, customer services, process improvement, human resources, and technician education programs.
Bill is an Accredited Automotive Manager from the Automotive Management Institute as well as a CERTIFIED MASTER DEALER® from the National Independent Automobile Dealers Association. His National Institute for Automotive Service Excellence (ASE) credentials includes: Master Technician, L1 Advanced Engine Performance, P2 Parts Specialist, and X1 Undercar Specialist. Listen to Bill's podcast episodes HERE.
Scott Waddle opened Precision Auto Service in Langley, British Columbia in 1997 and it wasn't long until he realized that running a business, was nothing like fixing cars. He started taking business management courses at a regular pace and the rest is history. Their tagline is: "Where we worry about your car, so you don't have to!®"   They believe it is their responsibility to keep their clients safe and reliable on the road. Scott is building a brand-new facility. Listen to Scott's podcast episodes HERE.
Talking points:
We are getting more from each other through golden nuggets as we meet one-on-one.
If you have a blister you need to find a solution and align yourself for help.
Find help with this podcast, reading and in social networking groups.
How does one become the CEO of their business when you need to know HR, Finance, Operations, Accounting, Technology, Culture, and Leadership among others. You are not built for expertise in every area of responsibility. It is OK to get help.
Business coaches, twenty groups, local business groups are all places to find answers and improve your success.
Local peer to peer networks are important.
Ego can be part of the solution. You must ask for help. Most everyone has gone through the challenge of building a successful business.
At the street level, we can do a better job of supporting each other.
We must do a better job of listening first. We tend to want to help by talking. You must first start with the end in mind.
Be careful of the sizzle. Be sure you are moving forward with your challenges and not just feeling good because you are listening to solutions. Doing is the big part. Being held accountable is critical.
If you help a peer you've got to have the time, let your family know you are going to help someone. 'You Are Going In'. It takes a time commitment.
Groups like the local business chambers may help you from an outsiders perspective. Well-rounded business acumen is always helpful.
It is rare that other shop owners will call you for help. Reach out. Have coffee.
Strong areas around the country usually have great local association chapters and shop owners that work together to bring in training.
Get involved with a local supplier business management group.
AMi is a very strong option WEBSITE
Find out what you don't know. Do wide eye research. Keep an open mind. Stop living in the past.
Share your marketing calendar. Get ideas on programs that could be a spark in your business. What you've been doing for years may not be working. Get out of your rut.
Seek new ideas in all areas of your business. Rip Off and Duplicate. R & D. Best way to find and implement new ideas.
Scott Waddle is in a local self-directed group. He has a template on how to start a localized group of shop owners to help grow their business. If you have an interest, contact me and I'll connect you with Scott:. carm@remarkableresutls.biz

You have to want to be a part of the group, if not it is just social and you will not receive any benefit.
You get voted in if there is a two-way learning opportunity.

Get help before you bury yourself in loans to sustain your business.
Downgrade the ego to uplift the spirit.

You may need to get back to basics and find your start-up energy and spirit.
Some owners carry the weight of business sustaining debt and they lose their focus.

Find training events at remarkableresults.biz/events.
It takes courage. We all want to help.
Too much technology coming a well-run business can deal with all types of opportunities and challenges.
The collective mind is so powerful. Use it.
Get your suppliers to help spread the caring network.
Courage will help you get what you need to be more successful.
Let's look out for each other.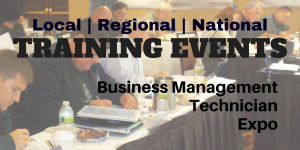 ---
This episode is brought to you by Jasper Engines & Transmissions. When a car's engine or transmission fails, it's

not the end of the road. A remanufactured drivetrain product from Jasper Engines & Transmissions will give your car a new lease on life. JASPER has over 2000 Associates, three manufacturing facilities, two distribution centers and 45 branch offices across the country. They're all working to produce, transport and deliver the perfect product. That's what they do best… keep customers happy. Visit jasperengines.com