THA 045: Installing Customers Parts – A Discussion | AMi Credit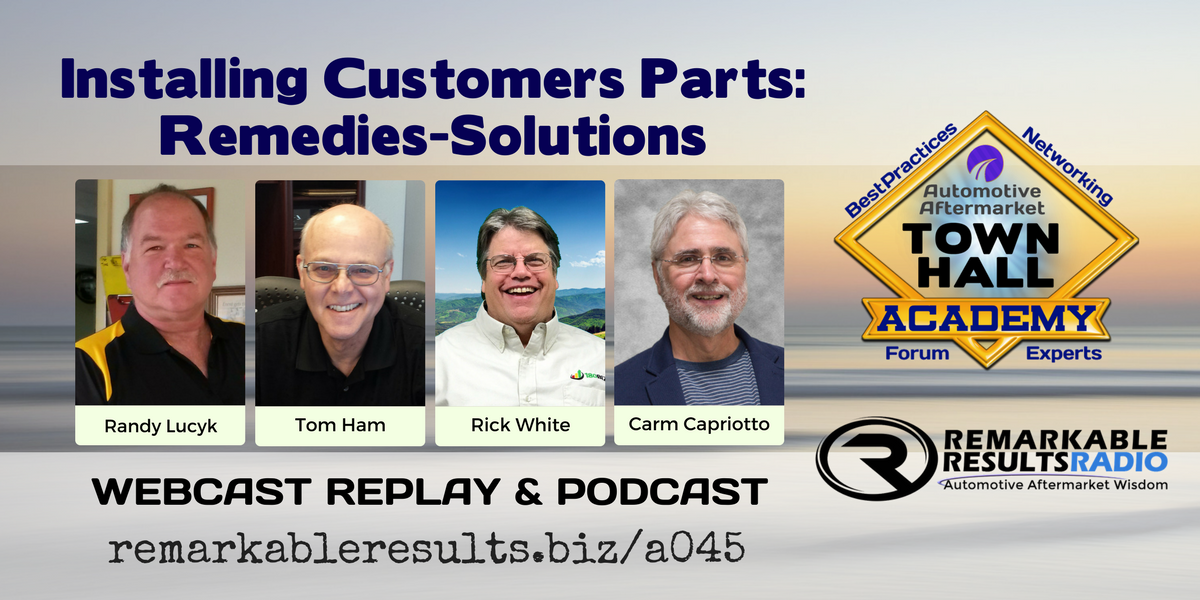 Your Learning Curve Never Sounded So Good!
Helping automotive aftermarket professionals improve; one lesson at a time.
Learn from your industry peers in a round-table forum. Get new ideas, perspectives, trends, insights, best practices and expertise from aftermarket professionals.
The only weekly forum for aftermarket professionals bringing fresh and innovative discussion to inspire and grow individuals and companies.
Watch like a DOCUMENTARY … Learn like a SEMINAR.

The Academy Panel:
Tom Ham, with the help of his wife Deb, is the creator and owner of Automotive Management Network an 12,000 plus member website dedicated to the exchange of vehicle service management information.
Tom got his start in the auto service industry pumping gas in the late 60's. Tom and his wife operate Auto Centric, an import specialty shop in Grand Rapids. Tom and Deb have five children including two sons and a daughter who served in the Iraq War as U.S. Marines.  He writes extensively on industry topics.  Tom's previous episodes HERE.
Randy Lucyk from Midas in Kalkaska, MI is a very interesting entrepreneur. Randy is one strong aftermarket thinker and informally among Midas dealers, he is known as the data and IT guy.
Randy Lucyk proves that even if you are in a small town of 2600 you can have a very strong and growing business and be a very powerful force in helping your community. He's been in business for 35 years has 12 lifts and has seven technicians at his Midas shop.  He's got the dents of business hardships that helped guide his current success. Randy and partner/wife Cathy are strong philanthropists in their community.  Listen to Randy's episode HERE.
Rick White has been working in the automotive, software & coaching industries for greater than thirty years and is currently an AMI-approved training instructor.  He owned and managed several successful automotive repair shops.  Currently, Rick is President and Lead Coach for 180BIZ, an auto repair shop training and business coaching company proudly serving the independent auto and truck repair owner since 2006.
Rick has been acknowledged as an industry expert and has been featured in many automotive trade publications. Rick has been training and speaking at industry events across the country including AAPEX, Vision and for AASP PA just to name a few. Find all of Ricks contributions to the podcast HERE.
Talking points:
Business model changes may need to be considered where Labor rates reflect the loss of the parts margins.
What will the distribution model look like in 5 years?
Finding a good customer from the ones that walk in with their own parts are slim to none. There are exceptions but very rare. This is not a good foundation for a strong relationship.
It is not our normal customers coming in with parts it is new customers.
There is a fear, so people go to YouTube to find things out. Parts and repairs are very transparent and available on the internet.
What is at risk:

Your reputation. What about the quality of the part.
You will have to own the repair cradle to grave. Even with a signed agreement.

If you are getting more requests from customer's to install parts something is wrong with your business.

You are marketing wrong or you are in the wrong location.
Why are you attracting these type of customers? They are not your target customers. They will never be profitable.
You will affect all your other customers if you change your policies to accommodate customer installed parts.

When we install customers parts, we train the prospect that we compete on price rather than value.

It is a race to the bottom.

Customers that want you to install their parts have a fear.

Is it the price or the cost that the customer is concerned about.
This allows you to change the focus on the price to the lifetime value and the benefits that your shop brings.

Service adviser training is a big help to eliminate the price issue.

Your out the door investment is: $XXX.

Smile! If you are going to install the customers supplied parts. Don't punish the customer the whole time. Since you decided don't frown about it. SMILE!
Insurance liability is an important reason not to install customer parts.
The Curse of Knowledge.

If you understand Auto Repair, so we assume our customers know as much as us.
When you present, they are considering only two things on a purchase decision. Time and Money.

We must guide them through the process to help them get to their decision.

Shop owners do not know the value that they bring to the transaction.

Your gross profit on the job is the total price of the job, less the cost of the part(s).

The price they pay should be the same your parts or theirs.

It is not a price issue with the customer it is a fear and trust issue.
The entire idea is insane to install customer parts.

Call a contractor to build your house with all the materials you purchased.
Call a legitimate top tier roofing company to install the shingles you bought at the wholesale club.

There are many home garages that will install parts for a walk-in customer for a low rate. A reality that will not go away. The e-com availability of parts will give these 'parts installers' a lot of work. The guys that are in the rural areas find this type of competition.

These 'parts installer shops' make it easier for the professional. They will leave the top tier shops alone and allow you the top tier customers to service.

You are going to need to look and be professional unless you want to attract the wrong customer.
The insurance industry will always say that they will not cover your shop keep liability insurance if you install a part that you didn't buy the part from your legitimate supplier.
Use the wisdom from the three-panel members in their experience on this topic.
When the occasion occurs where you are asked to install their parts. Explain that you are more than happy to fix their car and give them the best value. Installing a customer's own parts is not an option.
Spend the money in the lobby. This is the customers first facing of your business.

This gives the first impression that you are not going to install their parts so they won't even ask.
A really beautiful and professional waiting area repels bad customers.

The question is never asked.

Understand when some is coming to your shop to have you install their part, it is about trust and fear issues.
A future business model change: We need to consider how we price parts and include the margin that we would have made on the parts in your labor number. The transparency of pricing is available to everyone.
---
This episode is brought to you by Jasper Engines & Transmissions. When a car's engine or transmission fails, it's

not the end of the road. A remanufactured drivetrain product from Jasper Engines & Transmissions will give your car a new lease on life. JASPER has over 2000 Associates, three manufacturing facilities, two distribution centers and 45 branch offices across the country. They're all working to produce, transport and deliver the perfect product. That's what they do best… keep customers happy. Visit jasperengines.com