THA 046: Revving Up Your Business Culture | AMi Credit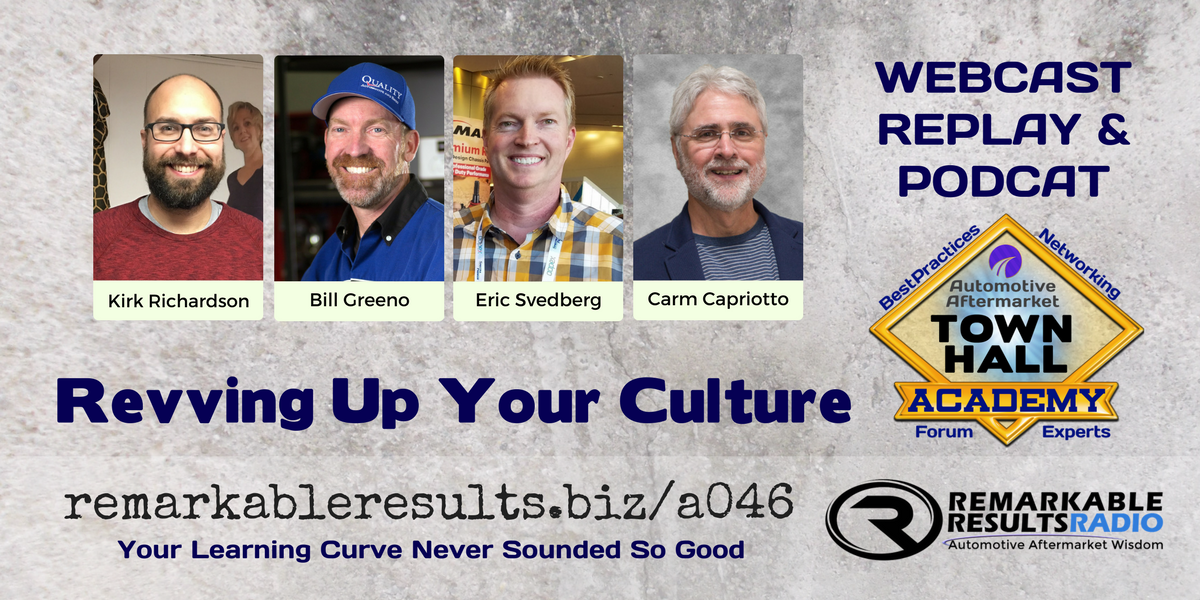 Your Learning Curve Never Sounded So Good!
Helping automotive aftermarket professionals improve; one lesson at a time.
Learn from your industry peers in a round-table forum. Get new ideas, perspectives, trends, insights, best practices and expertise from aftermarket professionals.
The only weekly forum for aftermarket professionals bringing fresh and innovative discussion to inspire and grow individuals and companies.
Watch like a DOCUMENTARY … Learn like a SEMINAR.

The Academy Panel:
Kirk Richardson is a young and successful entrepreneur. Born into a blue-collar, hard-working family. At the age of 22, he left school and started his first business. He bought his first three bay shop at the age of 24. Seven years later he bought his second shop, South Street Auto Care in Rochester, MI. Today, at age 34, Kirk is a successful business owner.
Kirk prides himself on his ability to create a family culture within his businesses. The culture is a blend of hard work, accountability, and fun which combine to make loyal and dedicated co-workers. Kirk loves business and people in general and will talk for hours about business! Listen to Kirk's episodes HERE.
Eric Svedberg was only 22 years old and ready to seize the opportunity of a lifetime.  He purchased an Amoco gas station and consequently made history by becoming the youngest Amoco dealer in the United States. What continues to set, Automotive Specialists apart from the others in the market is their customer-centered culture, concentration on quality and extended warranty.
Automotive Specialists routinely repair items on vehicles that are usually left to the dealer and often those that the dealer couldn't fix themselves.  This foundation proved to Eric to be a very successful business model. Listen to Eric's episodes HERE.
Bill Greeno owner of Quality Automotive and Smog in Truckee, CA and is also a business consultant with a focus on leadership and management and is big on communication. He and his team work hard on building strong internal communication, that he says makes huge difference in his unyielding customer service.
He also believes that having a satisfied staff is pivotal to customer service success. Having a shared vision is at the core of this. Their Vision Statement is "Your Trusted Local Auto Care." Their service related conversations revolve around their Vision Statement and it is the launch pad for discussions regarding new ideas and/or changing a policy or procedure.  Bill teaches on building a strong business culture. Listen to Bill's episodes HERE.
Talking Points:
Deloitte survey shows 61% of employees believe that their company does not do enough to create a good culture.  The survey also found that 91% of companies with good culture have a history of strong financial performance.
If you do not manage culture it will manage you. It is like your online presence.
Managing culture is a full-time job.
Every business has their own culture. Good or bad.
Building and maintaining your culture is hard work and painstaking.
Eric is currently working on a plan rev up his business culture with his business coach.
Culture is bred from what owners pay attention to.

Culture is behaviors and norms.
Owners behaviors directly affect the business culture.
Owners actions reflect onto their teams. What the owner pays attention to, so will the team.

We can start to have our staff become self-managing in your culture by sharing your numbers.

People pay attention to the security of the company.

Eric is setting individual and company goals and feels it is a good place to start an improved culture.
What are the good and bad behaviors?

We will build on the good and root out the bad.
Never about the person, but about behaviors. Good or bad.
Soft skills is a good place to start to improve. A set of common values or shared values. (how do we want to treat each other)

If your people enjoy working with each other they will produce far more work than if all you talk about is perform more work.
Your leadership must sustain your culture.
Financial success makes a company, therefore, profitability is a key to sustaining and building a strong culture, but not everything.
The Love Bank. With a human interaction, you make deposits or withdrawals.

Make 50 deposits per one withdrawal.

You need a Trust Bank with your people and customers.
Building a great culture (quick starts)

Starts with great communication.

Look for opportunities to become a better communicator.

At a minimum, be a strong leader. Your people will take cues, follow and watch your behavior.

The quarterly conversation. Every three months discuss individual behavior within your cultural norms with each team member.

Owner/supervisor is subject to the same review (two way)
The shared values are reviewed.
Look for strengths

To make a personal change, look inward. Are you hardened because of the many challenges from your people such as stealing and loss of trust among your people? You need to overcome it.
Book recommendation: Nine Minutes on Monday by James Robbins
There will be resistance to build a strong culture. It is difficult. You may have to come to terms with people leaving your company.

A longer journey in a small shop than in a larger shop because you are up against the potential of losing a person who may be responsible for a large portion of the work.

Your culture should win over the numbers. If a person doesn't fit but has great production, that behavior must be eliminated. Your team will ask you terminate a person who doesn't fit your culture.
You hire people for what they know and fire them for who they are.

Do you want to be around that person?

Kirk hires for a cultural fit.
The moment you set your intention (get serious) to set your culture it starts to gain momentum.

Keep in mind you have to set the example and the tone in the business by your actions.

Be open with your people. Take the ownership of the culture that exists today and where the team is headed and the changes you will make for the good of the organization.
Kirk started by defining what behaviors were good, which ones weren't and then asked for the team's input on his list.
You must help your people focus on their strengths.
Consider Strengths Finder test for your people and include in your hiring process. Just one tool for discovery and support.
As trust is built you transform as a leader and so will your people accept your culture.
Developing the right culture takes time and a lot of hard work. It is not easy. Prepare for slow steady wins over time.
Culture trumps numbers.
Create your new hire interview questions and process around your culture. Look for the behaviors and personal qualities. Hire them for who they are not for what they know.
The moment you turn your intention to the culture, you want the processes start. You must manage it every day. Sharing your intentions, your vision, and teaching and you must lead by example.

Take ownership of where you are today (the baseline) and start to make the changes.

If the culture is good but the results are not there, there isn't a fit because results are a part of your culture.
Praise for all the good that happens and correct the behaviors that are not in your culture.
---
This episode is brought to you by Jasper Engines & Transmissions. When a car's engine or transmission fails, it's

not the end of the road. A remanufactured drivetrain product from Jasper Engines & Transmissions will give your car a new lease on life. JASPER has over 2000 Associates, three manufacturing facilities, two distribution centers and 45 branch offices across the country. They're all working to produce, transport and deliver the perfect product. That's what they do best… keep customers happy. Visit jasperengines.com