THA 047: Twenty-One TIPS to Get an Edge on the Competition – Part 2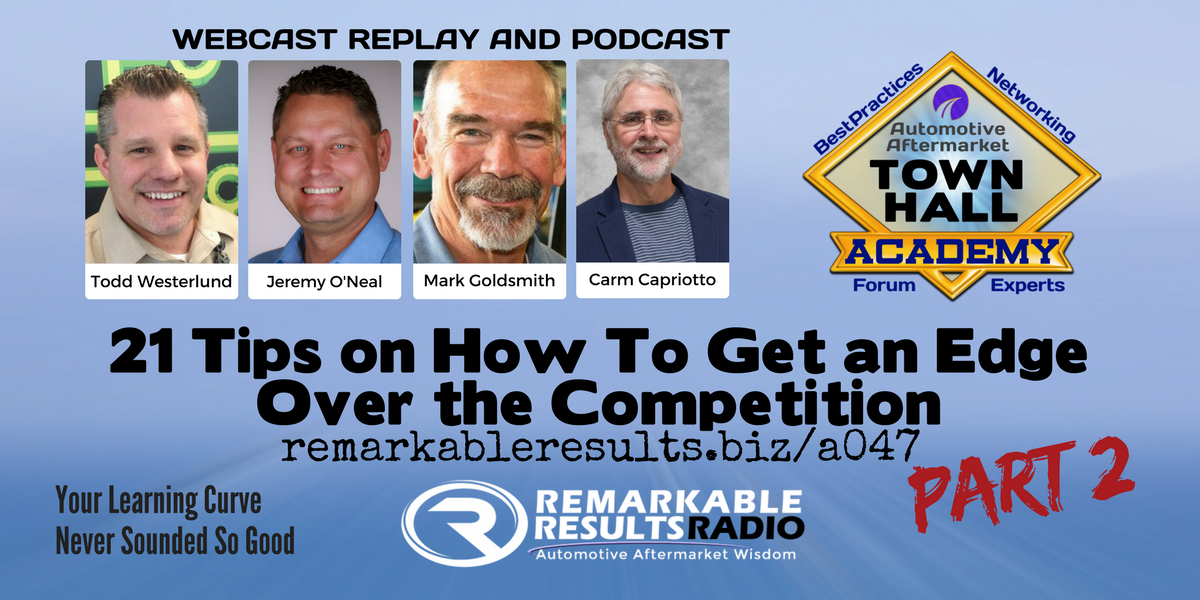 Your Learning Curve Never Sounded So Good!
Helping automotive aftermarket professionals improve; one lesson at a time.
Learn from your industry peers in a round-table forum. Get new ideas, perspectives, trends, insights, best practices and expertise from aftermarket professionals.
Watch like a DOCUMENTARY … Learn like a SEMINAR.
Check Out Part One: HERE.
Check Out Part Three: HERE.
The Academy Panel:
Todd Westerlund, CEO of Kukui has been in the automotive industry for 28 years. Todd spent 15 years as an ASE Certified California Smog Technician and two years at a dealership. In 2013, Todd joined Kukui, a marketing software company with a mission to improve technology for the betterment of people and businesses worldwide.
As the CEO of Kukui, Todd is consistently studying, attending business classes and consulting with shops all over the United States. Some of his duties include: keeping industry leaders informed about new technology, setting Kukui's growth strategy including event planning, and planning industry sponsorships and partnerships.  Previous episodes HERE.
Mark Goldsmith found his passion for cars in 1971 when his first job was at an independent shop. He took all of the ASE required tests and earned his Master Technician Certification.
In 1988 Mark opened Mark's Independent Service in Chatsworth, CA. Mark's Independent Service works exclusively on Volvo, Lexus and Toyota vehicles. Mark and his team have always focused on fair values that put the customer first. He's worked hard to create the type of auto repair company that has built trust with his customers and like to be known as a dealership alternative!  He is an ASCCA member and he loves it when his customers say his shop is better than the dealer. Previous episodes HERE.
Jeremy O'Neal  President and lead sales trainer for Advisorfix, began his career as a Service Advisor and moved into Service Management at the dealership level for VW, Audi, and Porsche. He consistently placed in the top 3% of Service Advisors across the nation.
With a passion for helping others, Jeremy started coaching Service Advisors in 2007. Jeremy also owns an independent auto repair shop. Previous episodes HERE.
 Tips:
Easy appointment making with barcodes on our lube sticker. QR code that links to your website.
Have the history of the shop displayed in some way. One shop I visited has a full Museum that builds pride in being a client.
Bill Hill has an outdoors lock box with a 4-digit code to drop off loaner keys and pick up your vehicle.
Text messaging capabilities to stay in constant contact with guests.

Legalities in texting customer are something we all need to be aware of.
Having permission is critical.
Laws are changing in states. Some states are requiring a paper signature for opt-in for texting.

Look at the oil change sticker on every car and if yours isn't in there change it and put yours on the windshield. Then set the next oil change appointment.

Ask for permission.
Explain that you do oil changes.
Get out their smartphone and schedule the next oil change appointment

Free head light cleaning on big jobs.
Create a cool shirt and put the year on it, they can bring the shirt in the next year and get a new one. Keep them coming back!
Discounted car rentals.
Free WIFI. Change your WIFI login to ask for a 5 Star Review.
Ask every happy customer to share their experience with the world – 5-star reviews,
Have a mascot, could be your Golden retriever, could be that amazing restored Chevy truck.
Uphold your standards. Everything we do is being watched by customers and employees. We will be tested to make tough decisions and people will watch how you react to tough situations. Believe in your standards and live by your code of conduct.

If it's not perfect, it is not right.

Invest in nice pens that last. If you can make a pen that is my favorite and your shop's name is on it. Don't give out anything that won't last.
Dog biscuits and water bowls.
Don't hide from emerging technologies or new ways to gain eyeballs & customers. IE: Yelp, Connected Car, New Services etc.
Drop off vehicles to guests houses that can't coordinate a ride with their busy schedule.
Give away a free car wash coupon, this way the liability is not on the shop if it gets scratches.
Loaner cars and the shuttle cars are all for sale.
Guest Loyalty Program with rewards cards that they receive cash back on sales.
Donate a car to a needy family.
Weekend answering machine or answering service so your customer can get in touch with you if there is an emergency. Be there for your customer.
***********Bonus Tips
Be an Ambassador for the Business. Once a month pay for the techs to go to lunch at the busiest lunch spot. Make sure that no one swears, looking good, shirts tucked in … explain its a marketing lunch.
Be the local expert – What is an expert? A person who has a comprehensive and authoritative knowledge of or skill in a special area.
---
This episode is brought to you by Jasper Engines & Transmissions. When a car's engine or transmission fails, it's

not the end of the road. A remanufactured drivetrain product from Jasper Engines & Transmissions will give your car a new lease on life. JASPER has over 2000 Associates, three manufacturing facilities, two distribution centers and 45 branch offices across the country. They're all working to produce, transport and deliver the perfect product. That's what they do best… keep customers happy. Visit jasperengines.com