THA 064: Workplace Organization the 5S Method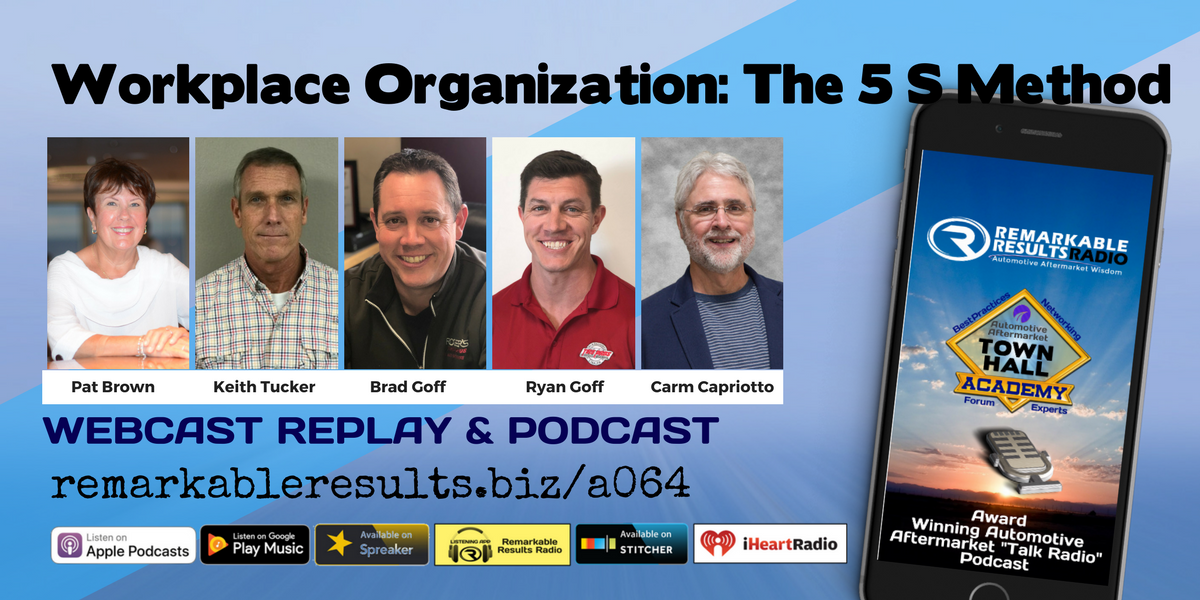 Your Learning Curve Never Sounded So Good!
Helping automotive aftermarket professionals improve; one lesson at a time.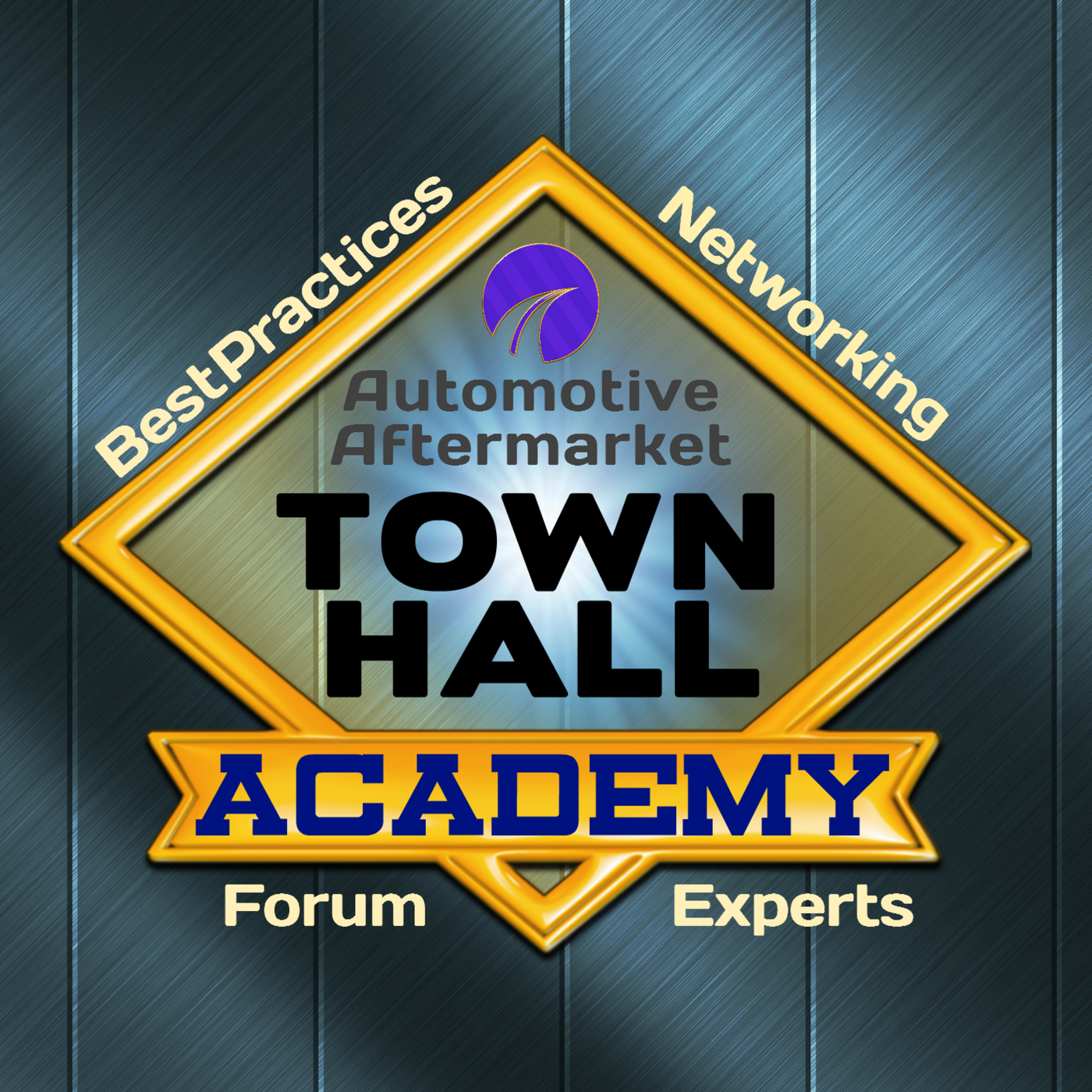 Learn from your industry peers in a round-table forum. Get new ideas,  
perspectives, trends, insights, best-practices and expertise from aftermarket professionals.
This is the only weekly forum for aftermarket professionals bringing fresh and innovative discussion to inspire and grow individuals and companies.
The Panel:
Pat Brown received her MBA from Bowling Green State University and her BA in Marketing from the University of Findlay. She worked as VP Global Branding & Communications, Cooper Tire & Rubber Company. She also was the VP Marketing Dealer, at Strategic Planning, Inc. She is now retired.
Pat also served on the Tire Industry Association—Board of Directors, the  Benton Ridge Telephone Company –Board of Directors, the Liberty Benton—Board of Education and the Hancock County Board of Education.
Ryan Goff a resident of Caldwell, Idaho, grew up in the family tire and automotive repair business, Rogers Tire Pros. Ryan attended Boise State University while still working in the family business. He helped to grow and expand the business to two locations. Ryan served on the Tire Pros Western, National Council, and is currently serving on the Tire Pros technology advisory council. His wife Andrea, son Cash and daughter Presley are his world.  In his free time, he enjoys working out doing Cross Fit and enjoying sunny days on the lake. He is a lover of Boise State football and spending time with his family on their boat.
Brad Goff is from Rogers Tire Pros located in Caldwell Idaho. His father started the company in 1978 as mostly a front-end and alignment specialty shop. Brad grew up working in the business from the time he was little and by the age of 12 was changing tires and doing many tasks in the shop and learning as he went along.  In 1990, Brad joined the business full time.  In 2005 expansion plans started and they opened their Caldwell location at almost 15,000 square feet in 2008 and expanded again in 2018, opening their second location in the fall of 2018 located in Meridian, Idaho.
Keith Tucker is a 2nd Generation Independent tire dealer. He started changing tires on a 20/20 Coats part-time on summer breaks at 15 yrs old. Keith attended college at DSCC.
He worked with his Dad, Jere Tucker and his brother in the family tire business. During that time was certified in alignment and suspension. On September 1, 1991, Keith partnered with his Dad and his brother Jeff in a 2-bay retail tire & service location named Triple T Tire & Alignment.
With their new adventure, Keith did everything from tire changer, lube tech, alignment tech,  service truck, brake tech, customer service and many more.
Triple T Tire sold all major and some minor brand tires.  In 1995, they relocated to 8 bay shop, with new equipment and designed for efficiency.  In 2002 and 2004, the family acquired additional locations through acquisition.
In 2004, they merged the 3 Dyersburg locations into 2. Today the family owns 3 locations in West TN, and 2 in Dyersburg and 1 in Paris, TN. Both markets are farm and rural markets.
As the business evolved Keith has seen extreme changes in the industry. The management team is working to spend more time working ON the business rather than IN the business.
Talking Points:
5 S origin (sometimes referred to as Kaizen, continuous improvement)

Japenese factories were all about continuous improvement.
Experiencing unprecedented efficiency, safety, growth.
5S is credited with helping Japanese factories eclipse American Industrial success.
Adopted by US Manufacturers with the same dramatic gains.

5 S Overview

Sort

Tidiness – throw away rubbish and unrelated materials.

Set in Order

Orderliness – Set things in proper place for quick retrieval and storage.
Remove the 'hunt for' tools and equipment, stapler, etc.

Shine

Cleanliness – Clean the workplace. Everyone should be a janitor.
If you have time to lean you have time to clean.

Standardize

Standardization – Standardize the way of maintaining cleanliness
Assign janitorial duties.

Sustain

Discipline – make it a way of life. This means commitment.
This can be the most difficult and everyone has to be committed.
Reinforcement constantly.

Typical 5 S Benefits

Decreases

Injuries
Defects – comebacks
Unproductive downtime
Underutilized techs
Training/orientation time
Tools/inventory searches
Inefficient work routines
Underutilized floor space

Increases

Safety and morale
Quality
Extended equipment life

It's all about getting rid of waste

People

Time most precious asset
Waiting waste and motion waste

Process

Efficiency – reduce steps by process mapping
Result of neglect, inefficient scheduling, indifference (we've always done it that way"

Information

Too much clutter?
Only save what you need

Assets

What is not necessary?
Get rid of it

Ideas:

Quick Cart. Oil Change/Batteries/Inspections. A general service cart- discussed in the interview. Time saver. Every item is labeled and in a highlighted place in or on the car.

Where in the business:

The shop and the back office can benefit from this discipline.

Team buy-in.

Potential to get a few more cars completed per day because your systems/processes are lean and 'well oiled'.
Make the 5S's part of your meetings and huddles. Always be striving and rewarding for efficiency.
5S/Lean needs to be a part of your culture.
Efficient techs do not want clutter.

Implementation tool is 'Process Mapping'

Pat tells about her coffee example when she found 15 seconds of time savings.
Involve team and look at every step in a process.

Implementing a digital process in the shop such as vehicle inspections is a form of 5S.
Stop and look deep. Just because it has been like this for years doesn't mean it is right for today's business environment.
Working on the business is the most difficult task to do.
Don't get into the trap to do it yourself. This is the best excuse not to have to train someone.
We run around every day being inefficient.
Think of the spaghetti diagram as to the wasted steps in your shop.
---
This episode is brought to you by Jasper Engines & Transmissions. When a car's engine or transmission fails, it's

not the end of the road. A remanufactured drivetrain product from Jasper Engines & Transmissions will give your car a new lease on life. JASPER has over 2000 Associates, three manufacturing facilities, two distribution centers and 45 branch offices across the country. They're all working to produce, transport and deliver the perfect product. That's what they do best… keep customers happy. Visit jasperengines.com