RR 322: The Future Shop – A Business Coach Perspective – Haas & Greenwood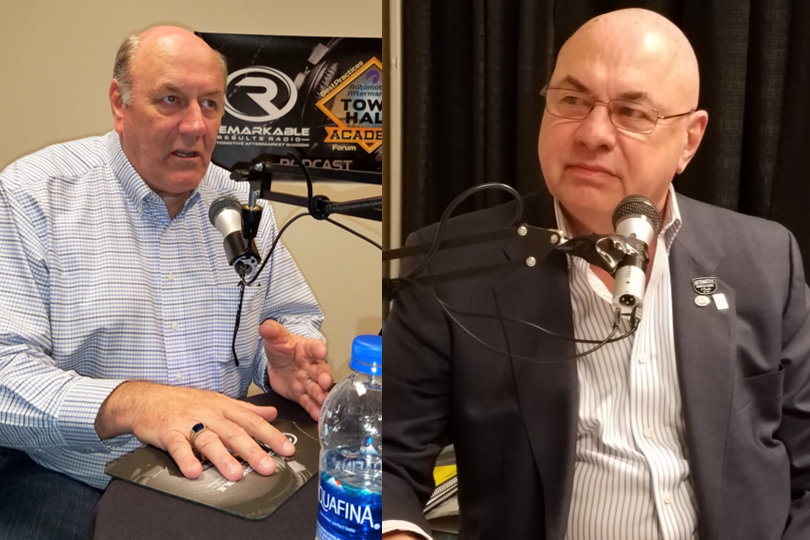 Above from left, Bill Hass and Bob Greenwood.
Bill Haas, AAM, is the owner of Haas performance consulting LLC, with 40 years of experience in the automotive service and repair industry. Clients have access to Bill's solution based focus, expertise, unique perspectives and in-depth knowledge of the industry.
Bill began his career working part-time at a full-service gasoline station in Appleton, Wisconsin. His career includes time as a technician, shop owner, technical trainer and on the staff of the automotive industry's oldest and largest association representing automotive service and collision repair businesses. While at the association Bill had the opportunity to work with all segments of the industry.
His knowledge of the industry has been shared on many occasions as he has been invited to speak at numerous industry events as well as providing testimony at hearings of the US Congress and several state legislatures on important legislation and regulation affecting the automotive industry.
Bill received the Accredited Automotive Manager (AAM) credential from the automotive management institute in 1996 and has been a member of the automotive management institute's faculty since 2002.
Bill is also the business manager for NACAT, the North American Council of Automotive Teachers. His services include business management seminar development and delivery, keynote presentations, business consulting, performance coaching, and strategic planning facilitation. Listen to Bill's previous episodes HERE.
Bob Greenwood, AMAM, is President and CEO of Automotive Aftermarket E-Learning Centre Ltd and has over 40 years' experience working with Independent shops developing their business to maximize business net income.
Bob writes management articles for ASA's magazine AutoInc and has developed live business management classes for ASA. He writes monthly management articles for Motor Age magazine in the USA and writes semi-monthly shop management articles for CARS Magazine. Bob's previous episodes are HERE.
Talking points:
You must develop a culture of learning.
Conferences like Vision are seeing more members of owners company. More team training. This will help prepare for a transition of ownership.
Projections in 2023 there may be 500 million lines of code in the vehicle.
We are moving into a new profession where training will become the norm at 100 hours per year.
The business model will need to change. We've seen the best tech in the shop is the owner. The owner must become the CEO and hire their new best top grade. The approach needs to come from an entrepreneurial mentality.
Don't go into business today because you love to fix cars. You must become a true business person and build a team to solve clients vehicle problems.
Specialization may become part of a new business model.
Instead of a standalone specialty shop, you can specialize within the shop with specialty technicians.
Potentially can have a platform specialist, brake specialist, drivability specialist, etc.
Do you have all the tools and information systems?
Pay, benefits and training must increase. Labor rates must be dialed in to support this.
Competent people need to be paid well and they make companies money.
Efficiencies need to improve. When your efficiencies go down your cost per billed hour goes up. When your efficiencies go up your cost per billed hour goes down.
Competing for talent.
Provide tools and tool allowance.
Tuition reimbursement.
Retirement programs. Provide your team with resources for financial planning.
Find a competitive advantage to embrace and retain your talent. It must be part of your culture.
Become the place where people want to work.
Profit sharing will become the norm.
Tell your story when you started your shop to your people. Share your vision and dream to your team. Be honest and sincere.
Shops will have partners to enhance their service offering, such as Hybrid support and other shops who have a specific specialty. Co-opetition.
Dealerships will become an aggressive competitor because the service side of the dealership is their most profitable and they want to retain their customer to sell them another vehicle.
Pricing transparency will always be there. In order to be competitive, you need to be productive. To increase your profitability you must be productive. You must sell all the labor time you have available. Get your shop to operate at 80% site efficiency. The average shop is between 56% – 61% shop efficiency.
Look at operations, work habits, individuals.
Investment in training needs to be raised to a minimum of 100 hours per year that includes leader led hands-on case studies.
Training needs to be totally funded by owner.
Daytime training must become the norm.
Repair shops must work their training supplier to schedule out a year for daytime training.
We need to assess skills before and after training.
Slow down and prepare to change.
The shop of the future will not do what it did yesterday. Become more innovated and think and plan on doing business in new ways. You must make change today.
Book The Future!
Be socially involved and in touch with the show:
Facebook Twitter Linked In Email Events Speaking
This episode is brought to you by Federal-Mogul

Motorparts and Garage Gurus. With brands like Moog, Felpro, Wagner Brake, Champion, Sealed Power, FP Diesel and more, they're the parts techs trust. For serious technical training and support – online, onsite and on-demand – Garage Gurus is everything you need to know. Find out more at fmmotorparts.com and fmgaragegurus.com
Download the Remarkable Results Radio listening APP for your smart device: