THA 065: Your SMS Data – Who Controls It?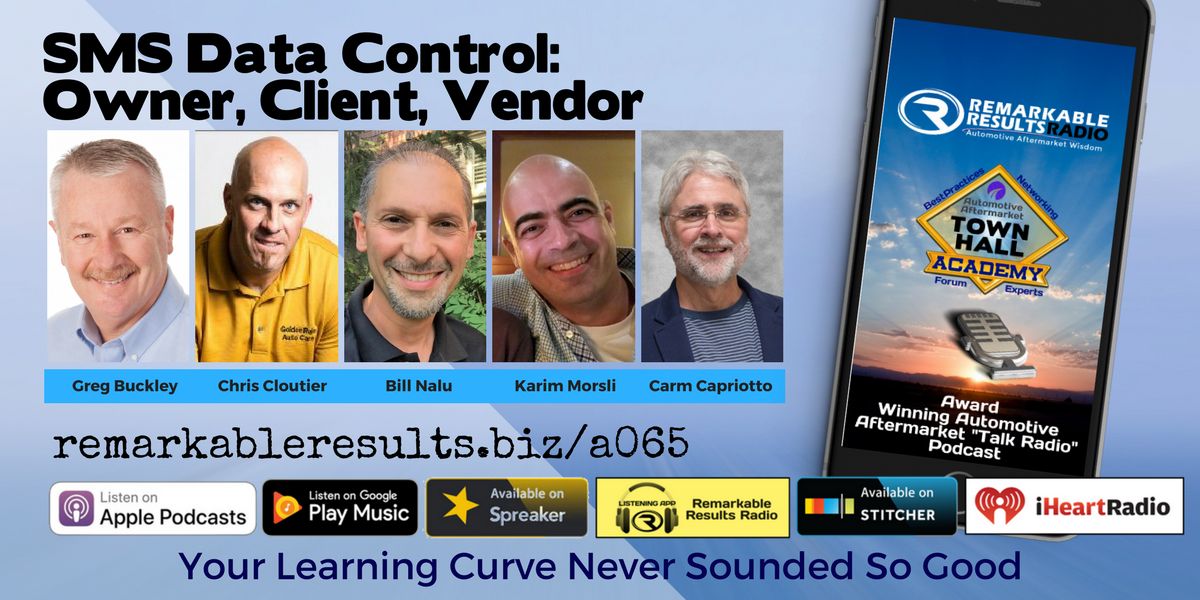 Your Learning Curve Never Sounded So Good!
Helping automotive aftermarket professionals improve; one lesson at a time.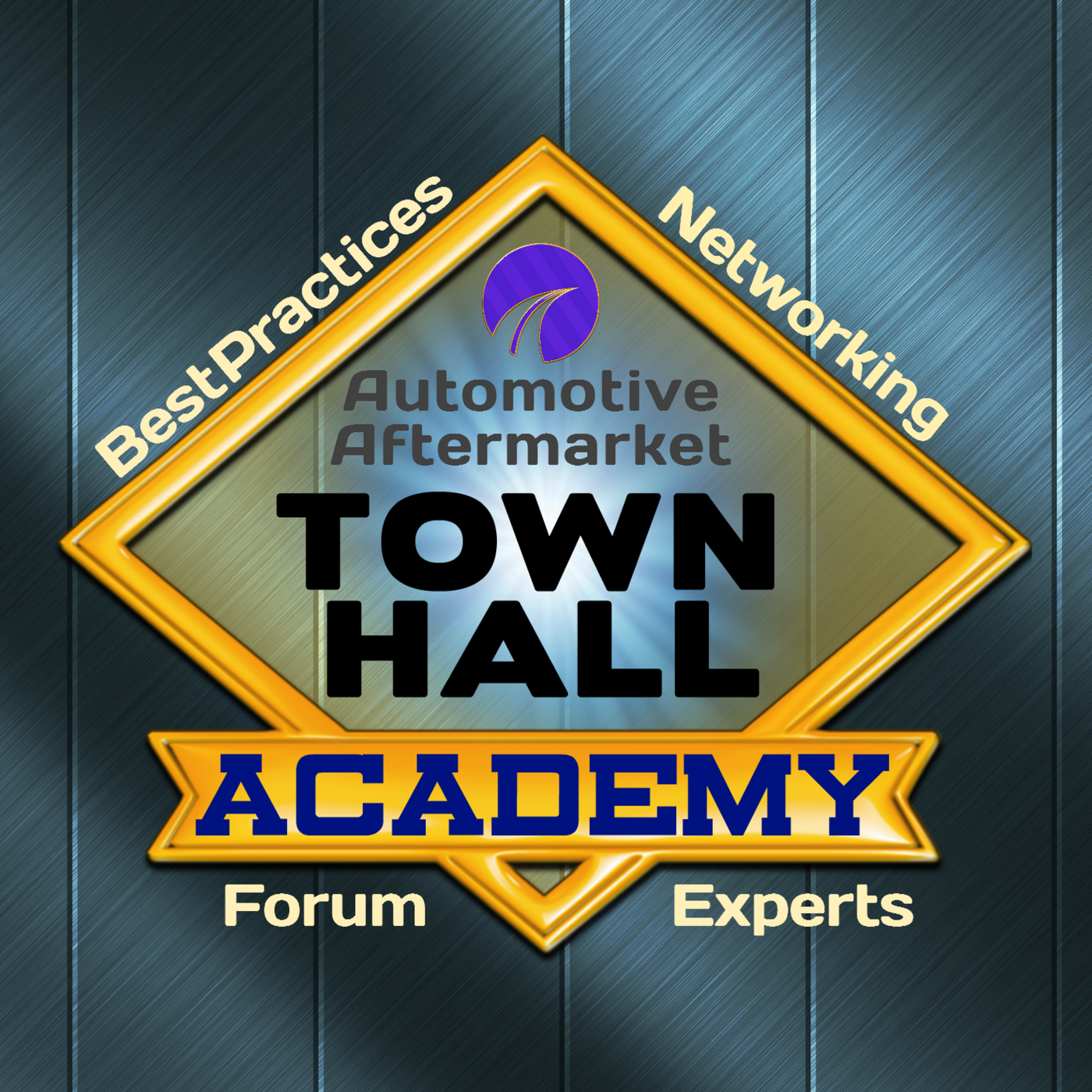 Learn from your industry peers in a round-table forum. Get new ideas,  
perspectives, trends, insights, best-practices and expertise from aftermarket professionals.
This is the only weekly forum for aftermarket professionals bringing fresh and innovative discussion to inspire and grow individuals and companies.
The Panel:
Karim Morsli owner of Winkler Automomotive in Gaithersburg, MD,  is an engineer by trade who has worked in the oil fields and information technology industry. Karim is passionate about the new direction the automotive industry is taking, and in particular, the critical role independent service centers will need to evolve into to ensure all present and future car owners will have the choice of where to have their vehicle serviced besides the dealership.
Karim is an innovator who works on multiple levels within the industry (education and legislative) to ensure his service center and others like his are ready for the challenges ahead. Always one to practice an open door approach, he is always willing to teach and share his knowledge and is also an avid learner. Listen to Karim's previous episodes HERE.
Greg Buckley  is the CEO the 50 + year young Buckley Personalized Auto Care in Wilmington, DE. He's a member of ASA, an ATI Coach, a member of the Delaware Automotive Service Professionals, past member of the NAPA advisory board council, is vice-president of NAPA business development groups, and is involved as an advisory board member of Kukui, along with AutoVitals. Hear Greg's previous episodes HERE.
Chris Cloutier Is co-owner of Golden Rule Auto Care in Dallas Texas. He spent many years in the software industry developing solutions for companies like Southwest Airlines, and Wyndham Intl. He's worked for companies that understood the marriage of service and software, and have applied it in an effective way. Chris has his ASE C1: Automobile Service Consultant Certification Test (C1). He brings the business side to the business and his brother Pat brings the Braun. Chris is also a musician. Hear Chris's previous episodes HERE.
Bill Nalu is President of Interstate Auto Care in Madison Heights, Michigan and has been in business for 30 years.  Bill collaborates with industry professionals, in building today's "high-tech/old-fashioned" customer service system.Bill has been a big contributor to the podcast and he currently serves on several industry and educational advisory councils including AutoValue/Bumper to Bumper, Dorman Industries, and Cardone. Listen to Bill's previous episodes HERE.
Talking Points:
Data is king.
Free is not free. Think about every 'free' app or program you use. Your information and data, based on the User License Agreement you signed is being used by the app or vendor provider.
Is the 3rd party you are sharing with selling your data? You must ask?
It is ok to share your data, you just need to know who you are sharing it with, what they are doing with it and if it will ever be sold.
If and when you share your customer database with vendors; what do you want them to do with it and how should you expect them to treat it thereafter?
How carefully are we, in how we treat our customer's valuable information?
Are you willing to share your business intelligence? What will be the end results of sharing the data? How comfortable are you in sharing your data?
How to look at data:

Necessary for intelligence
Needed for communication
Must be respected by all that have access to it.

The issues moving forward will be how we navigate through all of this. The shop will be under pressure to accommodate manufactures and owners with service data to help maintain the vehicle's safe status while on the road.
How do we ethically share our Business Intelligence for the benefit of all including ourselves?
Will too many shop owners will sign a contract with vendors granting them access to their entire database without even reading the EULA. (End User License Agreement) When you sign a third-party EULA you must understand what you are signing. You wouldn't buy a home without a lawyer reading the contract.
Shop owners are generous and helpful people and don't necessarily think their data may be worth that much. They also seem to not know that they should be protecting their customer's information, as their customers would expect that.
Not understanding the ramifications of loosely giving access to customer data puts our businesses at risk by possibly helping the competition shut us down.
Facebook made it clear that you are their product.
We must learn how to extract the best value out of our data.
You must have your eyes wide open in the approach to your data. We must raise the level of awareness to what is happening with your data.
We are living in a world of open systems where platforms are talking to each other. However you need to know what you are sharing and what is it being used for and where is is being stored?
You must be able to see the value you get if you share your data points.
Data must be differentiated. Is it customer data, financial, business intelligence, parts, VIN, etc.
Do we need to get a EULA from our customer?
A recent article in Motor Age (April 2018) titled, " CONCERNS RAISED ABOUT THIRD-PARTY VENDORS SHARING SHOP DATA ON CUSTOMERS", on this subject HERE.
Document created by ASA. "Data Security Policy Agreement/Addendum" HERE.
Facebook   |    Twitter    |    Linked In   |    Email
---
This episode is brought to you by Jasper Engines & Transmissions. When a car's engine or transmission fails, it's

not the end of the road. A remanufactured drivetrain product from Jasper Engines & Transmissions will give your car a new lease on life. JASPER has over 2000 Associates, three manufacturing facilities, two distribution centers and 45 branch offices across the country. They're all working to produce, transport and deliver the perfect product. That's what they do best… keep customers happy. Visit jasperengines.com