THA 074: Can David Beat Goliath?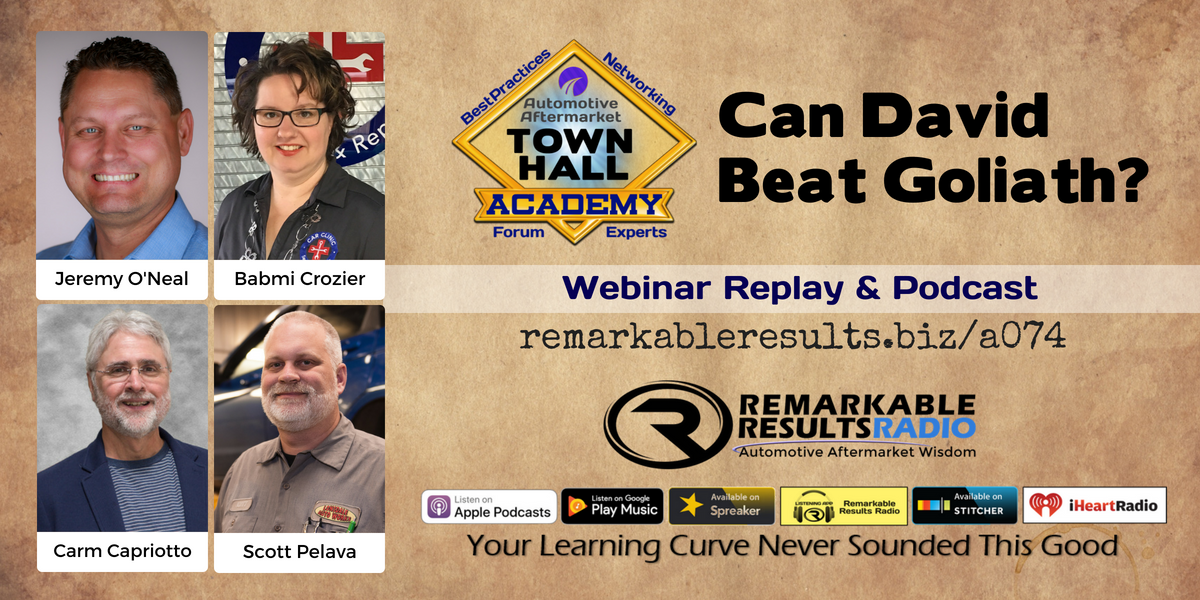 Your Learning Curve Never Sounded So Good
The Panel:
Bambi Crozier, wife and co-owner with Neil Crozier, of Car Clinic in Lowell, AR (Northwest Arkansas), has a passion for the hardworking shop owner. Her vision to Change the Face of Automotive Care motivates and inspires every aspect of her daily operation. She entered the industry in 2012 as an entrepreneur shortly after moving back to Arkansas. She spent more than 11 years at AT&T in client relation roles and has a talent for looking at her business and the auto industry through the lens of a client. Bambi's previous episodes HERE.
Jeremy O'Neal  President and lead sales trainer for Advisorfix, began his career as a Service Advisor and moved into Service Management at the dealership level for VW, Audi, and Porsche. He consistently placed in the top 3% of Service Advisors across the nation. With a passion for helping others, Jeremy started coaching Service Advisors in 2007. Jeremy also owns an independent auto repair shop, Freedom Automotive in Hesperia, CA. Jeremy is a DISC Certified Master Behavioral Analyst. You can hear Jeremy's previous episodes HERE.
Scott Pelava founded LONSDALE AUTO WORKS over a decade ago. As an ASE-Certified Master Auto Technician, Advanced Engine Performance Specialist, Undercar Specialist & Service Consultant, he saw the need for a more modern auto service center in the fast-growing community of Lonsdale, MN
Scott's strong background in domestic and import vehicles helped form the vision of what Lonsdale Auto Works is today. He built a reputation for quality service and fair pricing starting out with just one apprentice. As the need arose, additional technicians have joined Scott's team to keep up with their customers need for fast, quality service.
Scott is also very active in the community. He is currently in his second term as a Lonsdale City Council Member. He has held numerous leadership positions with the Boy Scouts and has served as a director of the Lonsdale Chamber of Commerce and is currently a member of the Lonsdale Lions Club. Scott also founded the Facebook group ASOG. You can hear Scott's previous episodes HERE.
Key Talking Points:
David happened upon the event one day when his father sent him to check on his brothers.  He hears Goliath's challenge and approaches Saul offering to fight the giant. Saul disqualifies David by age and lack of training. But David refutes Saul and shares his resume of protecting the sheep against lions and bears, killing both. He claims the Philistine Goliath would be no different and he places his faith in God Almighty as his protector. Saul concedes and attempts to dress David in armor but David could not use them because he felt clunky and wasn't accustomed to them. Simply put – it wasn't his knowledge base or strength. Instead, David takes his slingshot, a stick, and five smooth stones.
Nimble quick moving David can be related to business. It is not about being an underdog. He had faith and competence.

A big Goliath in your life can be internal vs external. Don't let your internal Goliath rule you.

Some competitors are looked at as 'large'. That could mean weighted down.

Strong processes and systems bring a strong competitive advantage.

Small businesses can adapt to situations versus a Goliaths 'corporate' process document. This 'flexibility' is an advantage.

If you are not weighed down with heavy corporate rules:

Process changes can happen quickly.

Decisions to support a customer can live in the 'Do Right Rule'.

You can react and implement faster.

If you are not converting leads you can fix it without layers of management sign-offs.

You can create a strong connection with your customer. In most cases stronger that Goliath can.

You choose to talk to people, even if you are a paperless digital shop.

David's can win because they choose to.

You can find a special niche.

Euro, Air Conditioning, Diagnostics, Safety are examples of focus.

Bambi's shop is stellar at Land Rover.

Amazon is the largest Goliath, yet their share is growing because they are thinking nimble and David like.

There may be a new business model coming and you will need to be willing to adapt. Don't become your own Goliath.

Don't be complacent. Try new things. Find your energy.

Bring your customers into your ecosystem.

A common thread among successful entrepreneurs: they don't care what other people think about what they are doing. They have a mission and a focus. From Malcolm Gladwell's book:

David & Goliath – Underdogs, Misfits And The Art Of Battling Giants.

From the Book: "To win against the Giants, the Davids need to adopt different strategies. But most of the time underdogs don't fight like Davids as they blindly accept the rules of the game as defined by the dominant players."

Starbucks example. They are a Goliath yet they hire Davids to support and face the customer.

David's can do more to provide a superior customer experience.

Is customer loyalty dead? You must earn it with each interface or transaction.

If your customer experience falters the pricing model surfaces because of pricing transparency in the industry.

The Goliath's are taking the gravy work and proper maintenance intervals may be ignored by the customer. It is so critical that we educate the customer on the longevity of their vehicle with proper maintenance.

You can create the rules and business model that no one has ever done before.

In general Goliath's do not empathize with the financial concerns of the customer.

David's have the personal drive to succeed and adapt and make their business work for their people and their customers.

Being perceived as powerful and unbeatable is great, but give yourself a great advantage without being stuck in a box.

As your business grows don't lose your David.
Facebook Twitter Linked In Email
---
This episode is brought to you by Jasper Engines & Transmissions. When a car's engine or transmission fails, it's

not the end of the road. A remanufactured drivetrain product from Jasper Engines & Transmissions will give your car a new lease on life. JASPER has over 2000 Associates, three manufacturing facilities, two distribution centers and 45 branch offices across the country. They're all working to produce, transport and deliver the perfect product. That's what they do best… keep customers happy. Visit jasperengines.com
Download the Remarkable Results Radio listening APP for your smart device: