THA 076: Improving Your Soft Skills. How To Lead and Spread a Positive Vibe.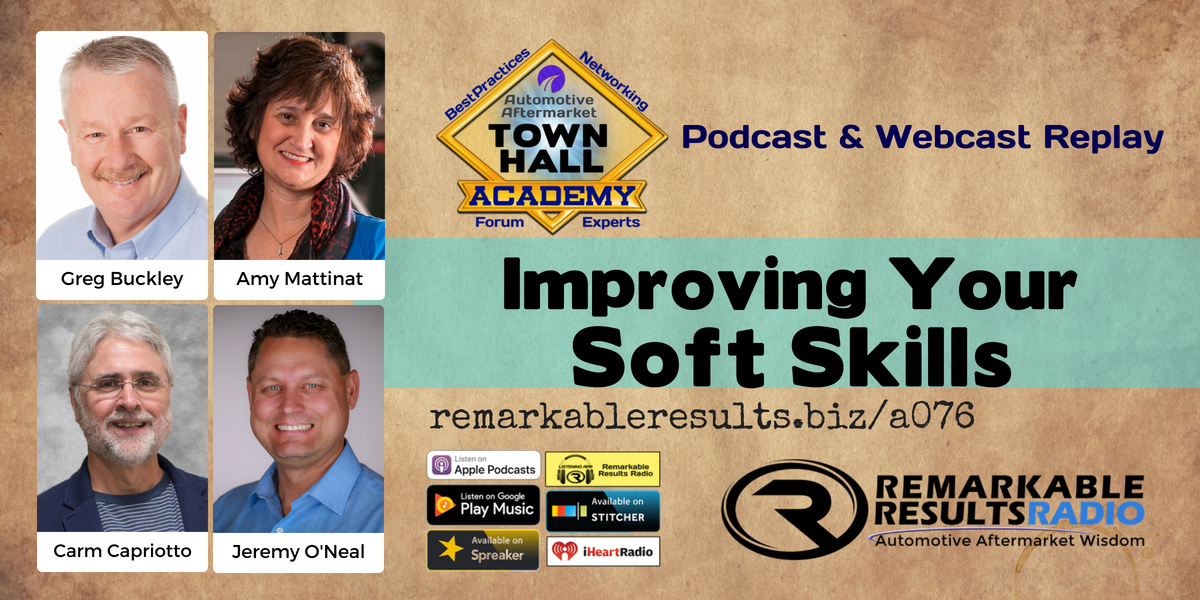 Your Learning Curve Never Sounded So Good
The Academy Panel:
Amy Mattinat is the owner and manager of Auto Craftsmen in Montpelier, VT. Her shop is an ASE Blue Seal Shop, AAA approved and she is a member of ASA, SBN & WiAC.  Along with running her independent repair shop, she is able to combine her three passions: teaching small business owners how to run a successful business, teaching car care and safety to the general public and educating young people about the many career opportunities available in the auto care industry.
Amy was awarded the  2012 Top Female Shop Owner of the Year by the Car Care Council Women's Board, Honored as a 2014 Professional Woman of the Year by the National Association of Professional Women, Awarded the 2015 U.S. Small Business Administration's Vermont Women-Owned Business of the Year, Awarded the 2016 AAA Business of the Year in Vermont and served as President of Women in Auto Care 2014 through 2016. Listen to Amy's previous episodes HERE.
Greg Buckley is the CEO the 50 + year young Buckley Personalized Auto Care in Wilmington, DE. He's a member of ASA, an ATI Coach, a member of the Delaware Automotive Service Professionals, past member of the NAPA advisory board council, is vice-president of NAPA business development groups, and is involved as an advisory board member of Kukui, along with AutoVitals. Hear Greg's previous episodes HERE.
Jeremy O'Neal  President and lead sales trainer for Advisorfix, began his career as a Service Advisor and moved into Service Management at the dealership level for VW, Audi, and Porsche. He consistently placed in the top 3% of Service Advisors across the nation. With a passion for helping others, Jeremy started coaching Service Advisors in 2007. Jeremy also owns an independent auto repair shop, Freedom Automotive in Hesperia, CA. Jeremy's previous episodes HERE.
Key Talking Points:
We hire for experience and fire for attitude

We must hire for more soft skills.

Leaders set the tone of the company.

As leaders, we must improve our soft skills. You must do a personal assessment on your soft skills and find training to help you improve them.

Yet the leader must be in the background and push their people forward.

The leader is the vessel that holds everyone together. To support your team.

You can get involved with your team, to a degree, to know what personal issues can and could affect their work environment.

#1 most important soft skill as a leader is being a great listener

Listen to learn not to reply.

Learn to listen with empathy.

Become an active listener. Practice it.

Pay attention, put your phone down, confirm and clarify what you are hearing by writing key points down. 'What I heard you say'.

Greg offers a lot of autonomy to his team to get the job done.

Become a teacher and help with any failure points. (You must allow failure so the learning happens)

Soft Skills, a short list:

Listening

Enthusiasm

Attitude. You have 100% control.

Communication

Teamwork

Work ethic

Flexibility

Courtesy

Time Management

Reliability

Know your team

Have a positive mindset

Find positive methods for dealing with negativity and frustrations.

Learn how to deal with stress

Problem solver

Book 'Extreme Ownership' by Jocko Willink and Leif Babin

Good leadership is honest and transparent always willing to make people better.

Be careful to help your team find solutions no matter how you feel or what is going on in your life/world. 'Fake it till you make it'

You are the last man standing.

A success coach knows how hard life is, yet must lead positively.

Learn how your team deals with challenges or stress. You may need to give them their space to get through issues.

Technician soft skills:

Same skills as a service advisor

Communication with each other and the service advisor

Problem-solving, a skill that can be learned.

Service advisor soft skills:

Observe their client to understand how to speak to them

Communication with client and technicians

Is the person going to understand what you are saying?

Never be afraid to ask a question.

"People may not hear you at the rate of your speech." 'Jeremy O'Neal.
Facebook Twitter Linked In Email
---
This episode is brought to you by Jasper Engines & Transmissions. When a car's engine or transmission fails, it's

 not the end of the road. A remanufactured drivetrain product from Jasper Engines & Transmissions will give your car a new lease on life. JASPER has over 2000 Associates, three manufacturing facilities, two distribution centers and 45 branch offices across the country. They're all working to produce, transport and deliver the perfect product. That's what they do best… keep customers happy. Visit jasperengines.com
Download the Remarkable Results Radio listening APP for your smart device: