THA 080: Bring Them Back: How To Revitalize a Lost Customer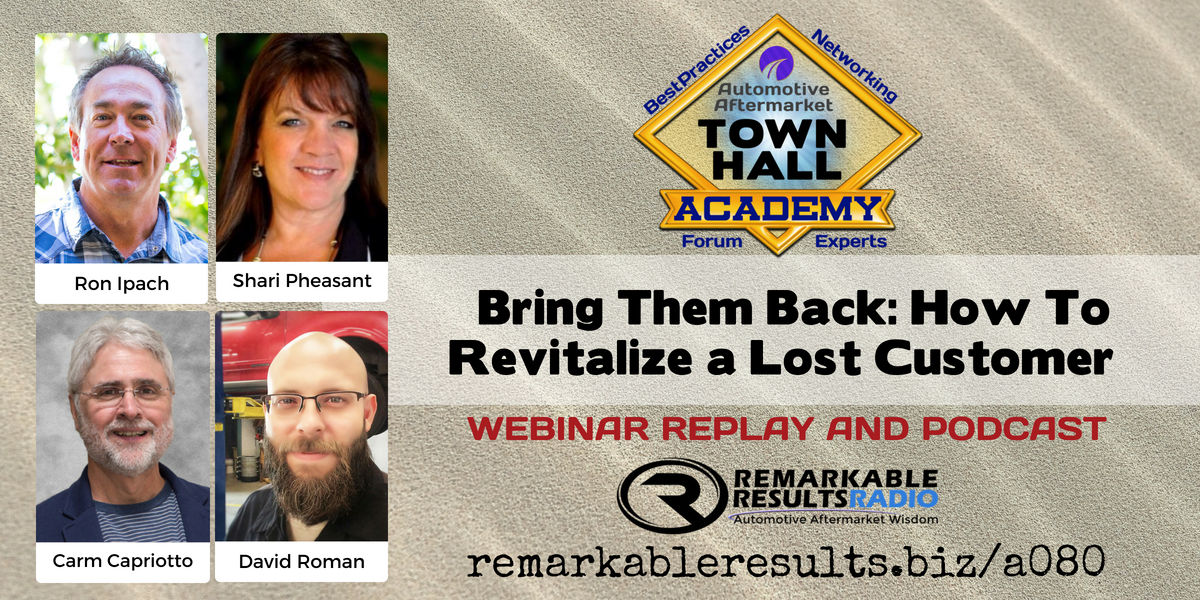 Your Learning Curve Never Sounded So Good
The Panel:
Ron Ipach, co-founder or Repair Shop Coach, has helped over 5536 auto repair shop owners to get and keep all the top-quality customers they can handle.
Marketing auto repair services are all he does. He lives, eats, and breathes it every day. He has seen, heard, and tested practically every kind of marketing there is out there today. He's examined the results. He's tweaked and tested dozens of strategies over and over in order to maximize their results.
Because Ron has personally worked with so many shop owners over the years, he has the distinction of being the only person in the world that knows exactly what marketing works, and what doesn't work for auto repair shops in today's economy. He finds passion in amplifying time & freedom for his clients while helping them take back control of their businesses. Find other episodes that feature Ron HERE.
Shari Pheasant, the Queen of Horsepower, believes in building people first and uses her own brand of horsepower to drive people from the inside out.  She is a dynamic speaker, multi-award-winning business innovator and president of the Reno-Sparks NAPA Elite Business Development Group. Shari owns A Master Mechanic, with her husband Jeff, and transitioned to an "out of the shop owner" in 2014.
As a successful business coach, Shari's uses a scientific approach to transform the connections between executives and teams. Shari shares her ideas; "Employee happiness is the strongest profit driver in every business. Today's Workforce's demands cultural change. There is a war on talent.  We have to level up our ability to connect with and understand the people around us in order to stay in business."
Shari's passion as a 5 Sciences of Self Professional Certified Behavior Analyst and accredited Growth Strategist assist her with globally proven tools that get to the root of people and business quickly and accurately. Her approach allows clients to predict rather than resolve problems, improving performance.
Shari has over thirty-five years of business management, team building, project management, operational development, marketing/branding and sales experience building scalable, sustainable models. Her strategies strengthen the value of your company brand, improve relations and motivate your team to bring in greater profits naturally, confidently and with ease. She has worked successfully with small businesses and companies to create thriving, sustainable cultures that build profit and wealth through accountable, responsible actions. Find other episodes that feature Shari HERE.
David Roman began his automotive career in 1999, attending an automotive technical school at a local community college. While attending college, he took a part-time job at a large parts retailer, hoping to gain some experience in the field. This part-time job turned into full-time employment, as he was promoted to management, culminating in placement as a store manager in East Central Illinois.
David discovered a passion for helping people and sharing his automotive knowledge. This passion for serving others allowed him the opportunity to successfully manage multi-million dollar operations in Illinois, the St. Louis area, and eventually Kansas City. His approach to customer service garnered him several accolades and awards, something he eventually wanted to bring to automotive repair and service.
In 2012, he opened Done With Care Auto Repair with the goal of bringing exceptional customer service, transparency, and honest work to his clients. The business was started with only some savings, no prior clients, and no history. Over the last six years, David has been able to bring a servant's mentality to helping his clients with their automotive needs resulting in loyal customers, excellent reviews, and a solid reputation.  Find other episodes that feature David HERE.
Key Talking Points:
The Customer Retention Myth. You just cannot just fix the car right to keep customers coming back. Average is like everyone else; it is not enough.

Average return rate from customers is 1.3 times per year. Based on the average age of the vehicle, (11.6 years old) visits should be higher. There are 2.3 vehicles per household.

You need to be exceptional and unforgettable.

Reactivating a lost customer:

Anything over 8 months is a lost customer.

Others are bombarding your customer.

You must stay top of mind with your customers.

Keeping a customer starts at the service counter.

You must build report during the transaction.

Build the relationship.

Explain in detail the value they've received.

They feel indifferent. Nothing special.

Invest in your customer in an ongoing way through e-media, texts, direct mail. Jerry Frank says, "Be an invited guest not an annoying pest."

You will need to have a crucial conversation with a lost customer.

David realized he needed to have loaners to provide loaners to increase convenience for his customer.

If you have your ideal customer, your avatar, created and in mind, what you do and say to provide an exceptional experience starts to build a customer who will stay and be an ambassador of your brand.

A great google review is all about the experience they had.

Your culture of caring for your customer needs to be a behavior that extends to all areas of the business.

Eleanor Roosevelt said, 'It is not who you are when people are watching, It is who you are when no one is paying attention."

Get them back in by reaching out and getting in front of them on a consistent basis. Make the phone call

They know that there is a shared interest

Could be sports, kids, animals

You must share space. Mailers, mugs, etc.

You share their concern for their safety and vehicle reliability

5 Steps to Winning Back Your Customers (Shari Pheasant)

Extending the Olive Branch

Call Them

Create a "We fixed it campaign"

Give them an incentive to come back

Get personal – they want connection

Identify your customer's communication style and build your relationship by knowing what style (DISC)  See Academy less on DISC

HERE

.

The follow-up call is an amazing tool (Ron Ipach)

Auto repair to the general public is perceived as a commodity. Our job needs to change this perception. Create an exceptional experience.

In any relationship, you need three positives to get a win.

Your culture should be to reach out to find problems or complaints.

If you don't get complaints, that is a warning. Remember 64% of people leave from indifference.

'Customer Forever' campaign

Never a lost customer 'Swing Thought'

Many people build their business on a one time visit. That is a customer and you are off chasing the next one.

You need to be looking for clients. We have a relationship. They like us and tell people about us. A percent of them can become an advocate. A client is worth $22,500 in a lifetime. An advocate is worth $100,000 lifetime.

Mistakes are the path to success. (Shari Pheasant)

The best customer you have is the one in front of you. They know a ton of people.

Be vulnerable, raw, real, honest.

Your culture needs to be on your website and open for the world to see.

You have to take extreme ownership:

Build the right team

Make sure the repair gets done right.

Ensure a customer's experience was better than average.   
Facebook   Twitter    Linked In    Email
---
This episode is brought to you by Jasper Engines & Transmissions. When a car's engine or transmission fails, it's

not the end of the road. A remanufactured drivetrain product from Jasper Engines & Transmissions will give your car a new lease on life. JASPER has over 2000 Associates, three manufacturing facilities, two distribution centers, and 45 branch offices across the country. They're all working to produce, transport and deliver the perfect product. That's what they do best… keep customers happy. Visit jasperengines.com