THA 088: Everything I Did Wrong and What I Learned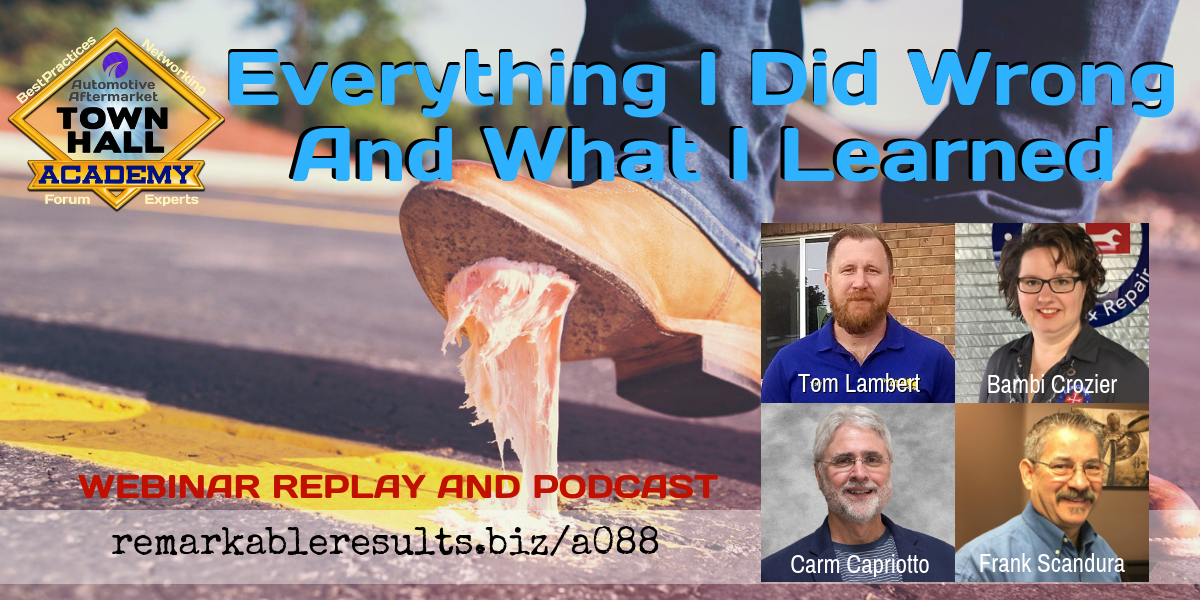 Your Learning Curve Never Sounded So Good

Bambi Crozier, wife and co-owner with Neil Crozier, of Car Clinic in Lowell, AR (Northwest Arkansas), has a passion for the hardworking shop owner. Her vision to Change the Face of Automotive Care motivates and inspires every aspect of her daily operation. She entered the industry in 2012 as an entrepreneur shortly after moving back to Arkansas. She spent more than 11 years at AT&T in client relation roles and has a talent for looking at her business and the auto industry through the lens of a client. Bambi's previous episodes HERE.
Tom Lambert, Automotive Manager at Shadetree Automotive. Tom Lambert got his start right at home.  His dad and uncles always had projects going on in the home garage.  During the summer vacation, his dad would have Tom remove engines from the vehicles that were being sent to the local machine shop for rebuilding.
He signed up for business management at a local community college and attended night classes and sometimes would have to go back to the shop and finish up jobs.
The business continued to grow. By 2007, the operation was doing over 1 million in sales.  By 2013, they were doing over 2 million in sales. This was such fast growth but they never seemed to get ahead financially. Even the financial management classes helped a bit, but they never truly got a great grasp of their finances.  They were too busy working countless hours in the business to keep up with demand instead of taking a step back to figure the business out.
In the past three and a half years, Tom and his dad have made strategic adjustments in the business.  They are now a $2.5 million dollar a year shop with 10% annual growth and profitability. They continue to improve every day.  Tom says he has the best team and a strong culture. In January 2017 Tom bought his dad completely out of the business.
Tom struggled for many years because he had lost the passion for the auto industry.  After receiving all the guidance and coaching over the past few years, he is rejuvenated and has more passion than ever and is currently doing everything he can to pay it forward to other local shop owners. Tom's previous episodes HERE.
Frank Scandura from Franks European in Las Vegas, NV started working on cars as a teenager in upstate New York and moved to Las Vegas in 1988.  After years writing service for Mercedes, he opened Frank's European service in 2001 and grew to a 12,000-square foot, 10 bay shop in the northwest part of Las Vegas, not far from the famous Strip! He has 15 team members and is partnered with his wife Deborah. From his first immersion, in the business, pumping gas at 15 years old in Orange County New York, to writing service at a Mercedes dealer in Las Vegas Frank Scandura shares his business acumen and offers insights and trends on leadership as a business coach. Frank's previous episodes HERE.
Key Talking Points:
Thinking you can do everything yourself.

Get out of your own way in thinking you built your entire business.

Frank realized that he needed to give his team the tools and get out of their way

Stop being a Micromanager. Help your people understand your systems and processes and get out of their way then guide them.

You need to accept their way to do the job. Your systems, processes and policies will guide.

Allow mistakes from your people because you made many. They will cost you money as they did you, however, be sure there is a teaching moment after the mistake was made.

It is not what you don't know it is also about what your people don't know. You need to pay attention to that and find ways to get them this education and/or training.

Bambi shares a very intimate story of near failure in turning around her company.

Frank started to read to get better.

Problem with a business owner is that you are the problem. 

You must hold yourself accountable if you expect your people to be. 

It is all about your reaction to what happens to us.

We can hire smarter than us. And let them do what you hired them to do. Basically, fire yourself.

Hiring and firing can bring you anxiety. Too many take the person's word. You want the person across from you in an interview to be the one, so you work to prove that they are the one. (A Mistake)

Tom Lambert now hires off the culture in his company.

It is OK to fire customers.

Coupons and discounts for Tom Lambert is a learning curve for him. He stopped doing any type of marketing to drive car count.

If he has a customer that needs a discount he knows where to send them.

If he has a customer that need work immediately he knows who to send them to.

He provides 25% more value to his customer which justifies his narrow target customer.

There are two different business models or mindsets. The discount world or the value world. Bambi Crozier. She has chosen the value way because it is less stress on here people and her customers.

Model of value a model of value came to Frank when his customers said to him they didn't come to him because he wasn't the cheapest.

Financial learning curve must be discovered. You must learn all about the numbers. Do not pretend that you know the numbers and how they are calculated and which numbers are critical to your success.  

Key numbers:

Average Repair Orders (ARO)

Tom used to run a lot of cars with a low ARO

He is running 13.5 car count with an $800 ARO from a $400.

Year over year growth.

Break Even.

Know your monthly number.

Gross profit percent was key for Frank. You pay bills with Gross profit dollars.

Effective Labor Rate is more important than your door labor rate.

Training is Tom Lamberts biggest life changer to him.

Get a good CPA and an HR company on board.

Depend heavily on your people.

Laugh at your mistakes.

Failure is OK as long as you learn from it.
---
Resources:
Books Page HERE
Leave me an honest review on iTunes. Your ratings and reviews really help and I read each one of them.
A special thanks to Bambi Crozier, Tom Lambert, and Frank Scandura.
Facebook   Twitter    Linked In    Email
---
This episode is brought to you by Jasper Engines & Transmissions. When a car's engine or transmission fails, it's

not the end of the road. A remanufactured drivetrain product from Jasper Engines & Transmissions will give your car a new lease on life. JASPER has over 2000 Associates, three manufacturing facilities, two distribution centers, and 45 branch offices across the country. They're all working to produce, transport and deliver the perfect product. That's what they do best… keep customers happy. Visit jasperengines.com