RR 369: Patrick McHugh. Using a Scoreboard to Manage Shop Performance.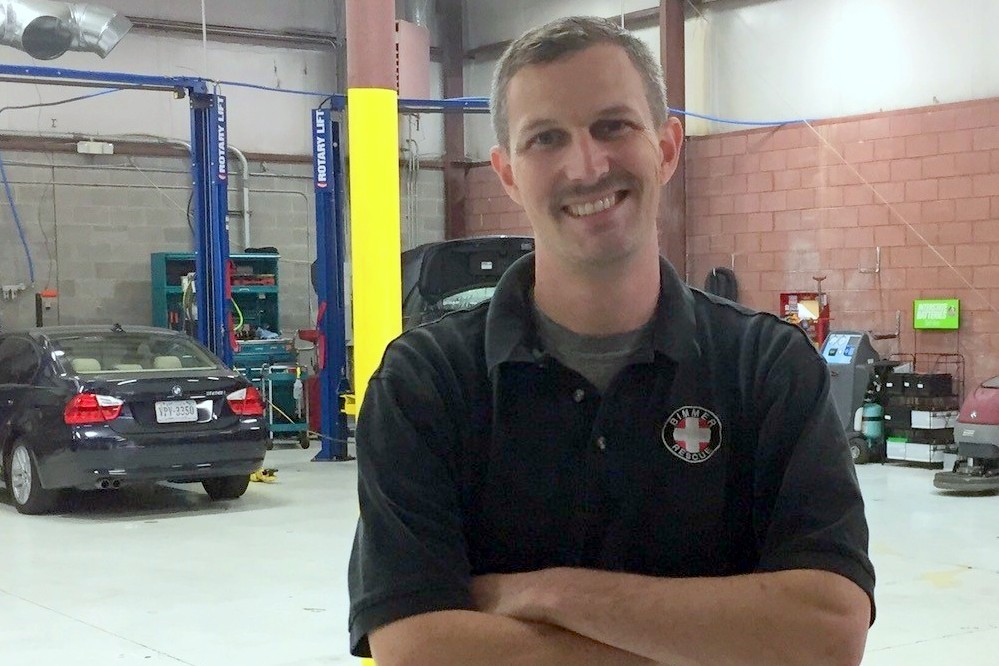 Patrick McHugh always tinkered with 'stuff.' His dad bought an '85 BMW when he was 14 when he noticed Patrick was running out of things to tinker with. A friend, Eric, had a lift and was a BMW person who helped Patrick and his dad learn everything about the car. At 15 years old, Patrick started working in an airport, washing planes, and mowing grass to earn credits to learn to be a pilot. He soloed at 16 years old. The day before college he got his pilot's license. Patrick attended Purdue University where he studied aeronautical technology. He kept flying, earned his instrument license, and became an instructor. He discovered a passion for teaching. As fate would have it after graduation, Patrick became a pilot for Trans State Airlines, a regional carrier for United. He was based in Richmond, Virginia,
With normal pilot downtime, he continued to tinker with BMW's. He discovered that being a pilot was not for him, so he went into avionics and shade tree work at home.  Cars were lining up in the driveway, so he had to decide to stop or go into business. So in 2011, he dove in head first and started Bimmer Rescue! Patrick has a real passion for the industry; not just for the day to day, but for the future as well.  He teaches STEM classes for teenagers to show them career opportunities in the auto industry, hosts Women's Car Care Clinics, and even has regular Art Shows in his shop's gallery to support local artists.  Patrick enjoys trying to change auto repair for the better and loves the great opportunities this industry offers! Listen to Patrick McHugh's previous episodes HERE.
Key Talking Points:

Scoreboard "The Board"
Located back of the shop.

Broken down in terms of hours- hours turn into dollars, scoreboard meant to be in 'technician language'.

A grid that flows from top to bottom: Customer name and car.

Incoming work (techs can see how many cars are waiting to be worked on and what's next).

Once tech gets car keys they move the card to "In Diagnosis".

"On hold" Done being evaluated, quote sent to the office waiting for a sale to go through or parts.

"Ready for work" Tech's work as a team with who gets each job, dispatch themselves.

Performance tracking on other side of the board- Daily and monthly goals listed.

If there is a hole in the board, something is holding up the program.

Can see where shop needs to improve with processes.

Improved communication and culture between office and the back of the shop.

Scheduling mix of cars during the week to keep the flow.

Feedback loop program for the future.

PID Controller- Portion Integral Derivative (portion makes the change, integral tunes the change, derivative makes it smooth)  .

Example cruise control and thermostat in the home.

Wants shop to always be making changes and adjusting those changes while looking ahead.
Resources Mentioned:
Link to the 'BOOKS' page highlighting all books discussed in the podcast library HERE. Leaders are readers.
Link to Bimmer Rescue Website

HERE

Patrick's Episode 266 Link HERE.
Thanks to Patrick McHugh for his contribution to the aftermarket's premier podcast.
Leave me an honest review on iTunes. Your ratings and reviews really help and I read each one of them.


Be socially involved and in touch with the show:
Facebook   Twitter   Linked In   Email    Events    Speaking
This episode is brought to you by Federal-Mogul

Motorparts and Garage Gurus. With brands like Moog, Felpro, Wagner Brake, Champion, Sealed Power, FP Diesel and more, they're the parts techs trust.  For serious technical training and support – online, onsite and on-demand – Garage Gurus is everything you need to know. Find out more at fmmotorparts.com  and fmgaragegurus.com