THA 101: Ghosting – Minimizing New Hire No Shows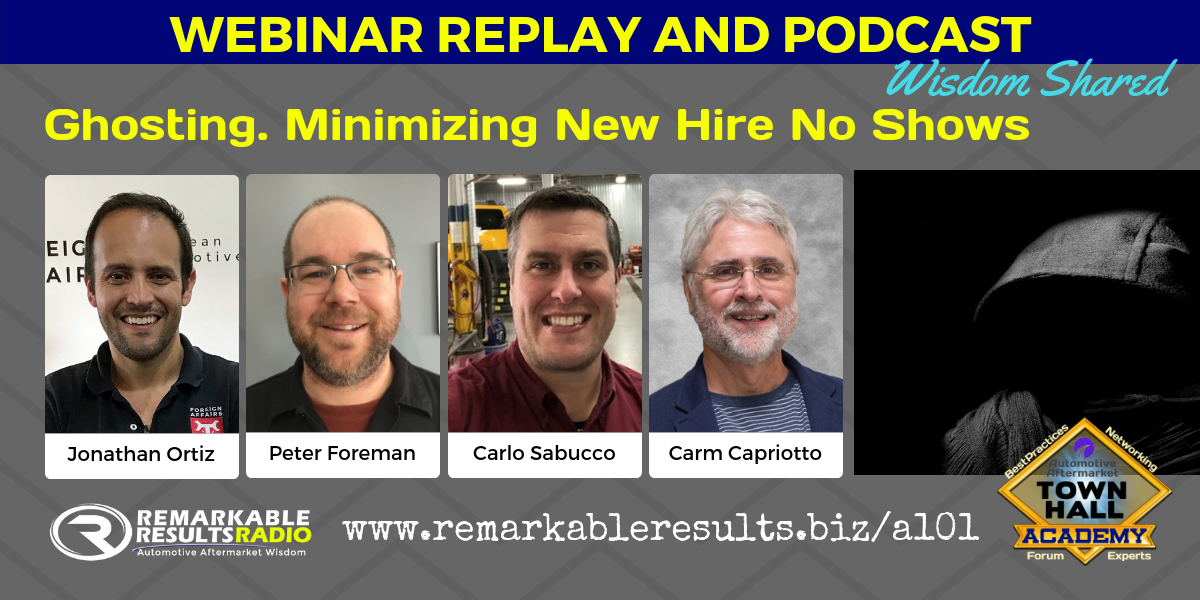 Your Learning Curve Never Sounded This Good.
The Panel:
Jonathan Ortiz is the son of Foreign Affairs Auto's founders Frank and Gloria Ortiz. He has an MBA from Northeastern Boston and is currently the general manager of the shop. He is the brother of the two-time Olympic soccer player, Melissa Ortiz and she works in the marketing department. His passion is customer service and he got this passion to serve from his family. His family created the culture of giving what you can. He is joined by a talented team of managers, technicians, and service staff. Learn of Jonathan's previous episodes HERE.
Carlo Sabucco started in 1994 after attending several years at Ryerson University for business. Thereafter graduated Mohawk college Automotive Tech Program.  Carlo has devoted a great amount of time surrounding himself with some of the greatest shop owners in the market. Over the years, Carlo attended training from Bob Greenwood to Cecil Bullard, Dave Schedin, Elite and group process with Jim Murphy, thru to Kelly Bennett, now he is with ShopPros. Today Carlo operates Sils Complete Auto Care Centre, a successful 8 bay facility, approx 7,000 square feet on the east side of Oakville, Ontario. Learn of Carlo's Previous episodes HERE.
Peter Foreman from Integra Tire, Second Generation Shop Owner, 39 Years old from Langley, BC. Peter literally grew up in the shop. As a baby, there was a cot in the office while his mom Cheryl did the books! Taking his Dad Dave's beliefs and expanding on them, Peter went out and made a career on his own in the auto parts industry before deciding to come back and help his family bring the shop into the next age of auto service and repair in 2005. Peter is happily married with two children. His children love to visit the shop as well. Maybe there will be a third generation one day! Learn of Peter's Previous episodes HERE.
Key Talking Points:
Ghosting happens with all age brackets but seems most prevalent between 22-36 ages.

You are always wondering what you did wrong.

There are fixes you can make and all areas of the recruitment process must be available.

Do you have a broken process?

Stronger ads. A consistent message that flows right through the interview process and into your culture.

The interview process is more a social process.

The process of how we tour the shop when you go to the office, do not sit behind the desk should be all choreographed.

You can lose people within the first day or week because how you explained the culture of the business is the exact opposite. They were oversold.

Your team needs to know how important they are in onboarding.

Peter actually had a group interview (roundtable) for a service adviser job.

Jonathan likes to do a working interview with a technician candidate.

He says he has a high paced rockin' roll environment.

Looking for the candidate to spend one day at the shop. Looking for multitasking even though he will be shadowing another tech.

Jonathan is recruiting for top technician talent and his candidate base already have jobs.

We've got to get them over their fears to change

At the end stages of the timeline to arrive is where he had lost a new hire.

Look to hire faster than the typical two weeks. See if the candidate can start within a week.

Some new hires that have ghosted Carlo were never to be heard of again.

Suggested to track down a no-show and keep them on your bench. Things change. Don't give up on who you felt would be a rock star.

Red Carpet:

Build up to the excitement. Set up their space in your place.

Talk about joining the family.

Create an emotional connection

Build enthusiasm for them coming on-board.

You are offering a rare opportunity. People don't leave our company. Show them stability

You've got the tools to get the job done.

Show a path to different roles in your business. Maybe a tech would someday consider being a service advisor.

Warning signs:

The candidate needs to think about the job offer.

Lack of communication. Not getting fast responses.

You can also lose people within the first 30-90 days,

You can lose people during lunch hour or just not show after a few weeks or months on the job.

The reality is just to walk away from a job or a relationship. The way it is with a certain age demographic.

If your candidate is willing to leave right away and come with you, they will do it to you.

Carlo says you need to hold fast and give a two-week notice. Teach them the 'right' way. If you lose the candidate that may have prevented a walkout someday.

You need to put out a consistent brand message and culture from the moment of the ad.

Your team is as responsible for retaining a new hire.

Candidates or employees ghost on us and go to the dealer because the deale HR departments are selling the brand. They also have a big opportunity and they buy into that.

We need to up our hiring skills and our interviewing skills if we are going to compete with the professionals.

You need a strong brand and culture to have relevance for the best candidates.

Possibly consider hiring an HR specialty company to help in your recruiting and compliance.

Keep in mind you need legal ob descriptions, hiring processes and a handbook.

Be involved with other local shop owners. Create a strong tight-knit community. Learn from each other. They aren't your competition. There is enough work for everyone.

Keep your message clear during the entire process, stay in tight communication during the process, always be hiring. You are not the only one this is happening to.
Resources:
A special thanks to  Jonathan Ortiz, Carlo Sabucco, and Peter Foreman for their contribution to the aftermarket.
Books Page HERE
Leave me an honest review on iTunes. Your ratings and reviews really help and I read each one of them.
Facebook   Twitter   Linked In   Email
---
This episode is brought to you by Jasper Engines & Transmissions. When a car's engine or transmission fails, it's

not the end of the road. A remanufactured drivetrain product from Jasper Engines & Transmissions will give your car a new lease on life. JASPER has over 2000 Associates, three manufacturing facilities, two distribution centers, and 45 branch offices across the country. They're all working to produce, transport and deliver the perfect product. That's what they do best… keep customers happy. Visit jasperengines.com
---
RepairPal. Many of our industry's high-quality shops have gone through an evaluation with an independent automotive team to ensure their techs are trained, they use the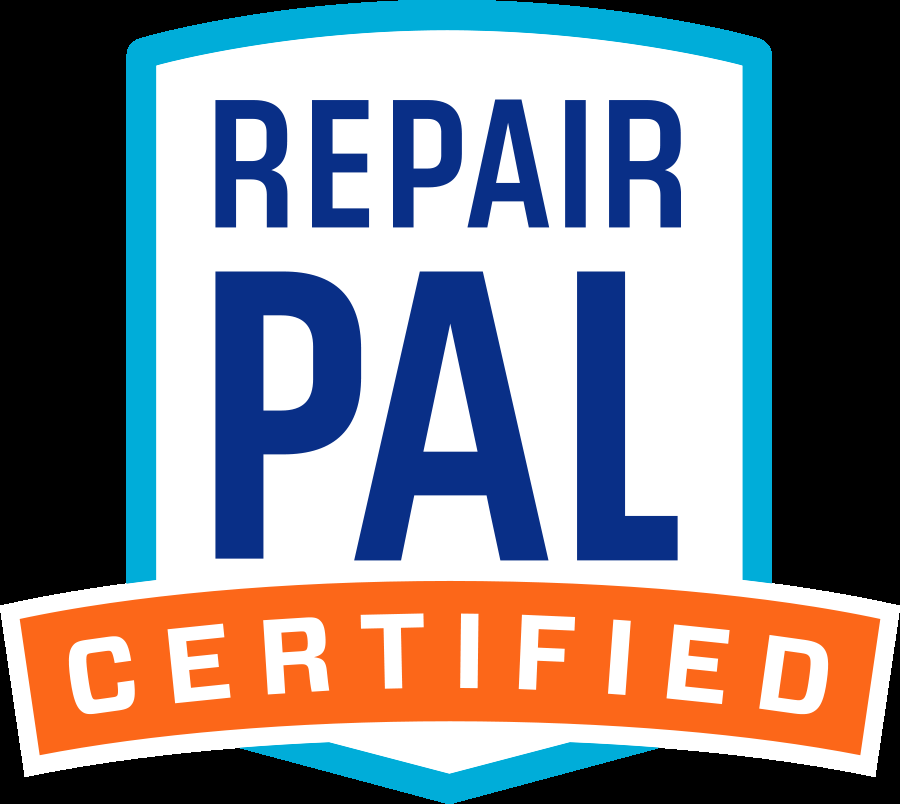 right tools, and their customers are happy. In fact, over 2,200 repair shops have met these requirements, have become RepairPal Certified and are getting new customers every month.
Why has the number of RepairPal Certified shops grown so much? These shops are proud to have passed the certification and value the new customers they're getting, both from the 5 million monthly visitors to RepairPal.com and their partnerships with CarMax and USAA. Certified shops can cancel at any time, so RepairPal works hard to produce value for them. Learn more at repairpal.com/shops to learn more.
Subscribe to a mobile listening app HERE.