THA 106: Managing a Negative Online Review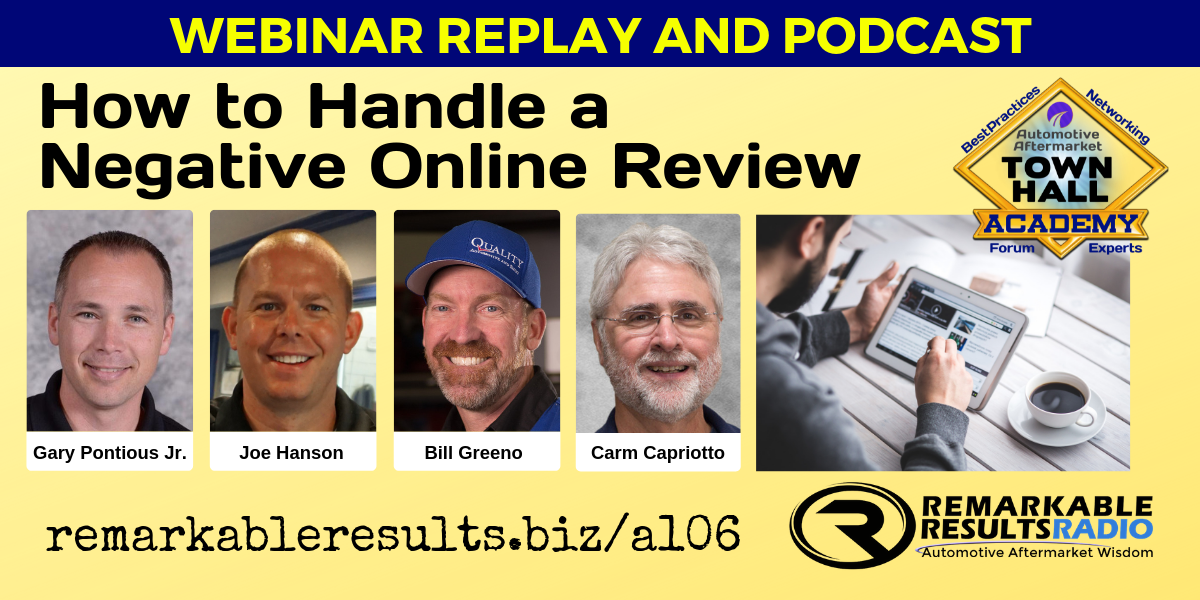 Your Learning Curve Never Sounded So Good
The Panel:
Joe Hanson owns Gordie's Garage. Joe has attended Management Success, NAPA training, Lawrence Tech University and most recently he is a member of the RLO 20 Group 13. He has earned his ASE C1: Automobile Service Consultant Certification.  Under his father's leadership, he has seen what it really takes to make a business like this work. Listen to Joe's Episodes HERE.
Bill Greeno owner of Quality Automotive and Smog in Truckee, CA and is also a business consultant with a focus on leadership and management and is big on communication. He and his team work hard on building strong internal communication, that he says makes a huge difference in his unyielding customer service.
He also believes that having a satisfied staff is pivotal to customer service success. Having a shared vision is at the core of this. Their Vision Statement is "Your Trusted Local Auto Care." Their service-related conversations revolve around their Vision Statement and it is the launch pad for discussions regarding new ideas and/or changing a policy or procedure.  Bill teaches on building a strong business culture. Listen to Bill's episodes HERE.
Gary Pontious Jr., AAM, is the Vice President and General Manager of Toledo Auto Care. Gary's Dad, Gary Sr. bought the business in 1985. The business is Toledo's oldest independent auto repair shop and is celebrating, in 2017, a special milestone; their 100th anniversary.
Gary started working at Toledo Auto Care in the summer of 1990 as a fuel tank repair/restoration technician and pick-up/delivery driver. As with most family business, Gary worked in many positions within the company and in April 1994 he became a full-time Service Advisor. "Since the beginning," Gary says, "our business has been focused on building strong customer relationships and providing the highest quality of workmanship on each and every automotive repair."
Gary is a member of Elite Pro service with Jim Murphy and is also an ASE Blue Seal Shop. Listen to Gary's episodes HERE.
Key Talking Points:
5 Step Program
Two negatives don't make a positive

Breath and DO NOT respond

Don't Get mad. Once you hit enter everyone sees it.

Take ownership. Acknowledge the review. Take the higher ground.

Be clear and offer advice on how to continue the relationship

Find out what the heck really happened

Learn to be neutral in your thinking.

Rally to troops. Read the negative review together.

You may find that communication is a problem.

Take advantage of the learning opportunity

Where did we go wrong and right?

Processes and procedures may have broken.

Be collaborative, with your team, in solving your problems.

Learn and grow from this.

Take ownership of every review.

Book: Extreme Ownership (find on books page HERE)

Finalize a resolution, respond and over deliver

The team should have bought into the problem and solution.

Finalize a resolution and response and execute

Start with 'Thank You' not I'm Sorry.  (Bill Greeno)

You must respond. A no response can be hurtful when the public is searching your reviews.

A phone call can be a powerful tool.  

In your response consider writing an advertisement on the quality of the business, talk about your core values, not defensive or demeaning.

Review with staff and MOVE ON!

Simply praise/forgive and MOVE ON!

Celebrate the WINS. The 5 Star reviews.

Builds confidence and the positivity grows

Empower your people to fix any wrong before they walk out the door knowing you may get a one start review.
Your first negative review can be devastating.

Sometimes a negative review can be an advertisement for your shop based on how you handle it.

You may have to fire a customer when all things fail.

Print the reviews especially the 5 Stars and post them and discuss them.

You must solicit reviews from your customers.

Use special APPS that can make it very easy for your customer to leave a review.

Solicit them quickly.

Use a Google Review Card.

Send a text within a few hours asking for a review with a link.

Four types of reviews

Anonymous Public

Known Public

Anonymous Private

Known Private

Some people lie especially anonymous

Many exaggerated stores need to be met with what you want to talk about. Don't tell them that they are wrong. Create a positive story.

The general public can see a phony one-star review among 50 five star reviews.

Yet you must reply to it.

Brick and motor businesses, small businesses, are reviewed more often than big business.

Be proactive, with guidelines, to solve a problem that happened before customer leaves.

Give a gift that is not automotive related to fix a wrong.

Like a Starbucks card or certificate to a restaurant.

Bill Greeno suggests not apologizing. If you do you are validating the problem.

You can add fuel to the fire.

We say I'm Sorry right away. We are designed to do that.

When we respond to a positive review we say 'Thank You'.

In a negative review start with 'Thank You'.

Saying you are sorry puts you deeper in the mud pit.

Don't Take Negative Reviews Personal

Don't dwell on it. Fix it, learn from it and move on.

88% of consumers trust online reviews as much as personal recommendations.

Respond to positive and negative reviews.

Timing: Respond right away.
Resources:
A special thanks to  Joe Hanson, Bill Greeno, and Gary Pontious Jr. for their contribution to the aftermarket.
Books Page HERE
Link to a previous episode on Managing a Negative Online Review

HERE

.
Leave me an honest review on iTunes. Your ratings and reviews really help and I read each one of them.
Facebook   Twitter   Linked In   Email
---
This episode is brought to you by Jasper Engines & Transmissions. When a car's engine or transmission fails, it's

not the end of the road. A remanufactured drivetrain product from Jasper Engines & Transmissions will give your car a new lease on life. JASPER has over 2000 Associates, three manufacturing facilities, two distribution centers, and 45 branch offices across the country. They're all working to produce, transport and deliver the perfect product. That's what they do best… keep customers happy. Visit jasperengines.com
Subscribe to a mobile listening app HERE.