THA 116: Business Coaches Lab – Improving Shop Efficiency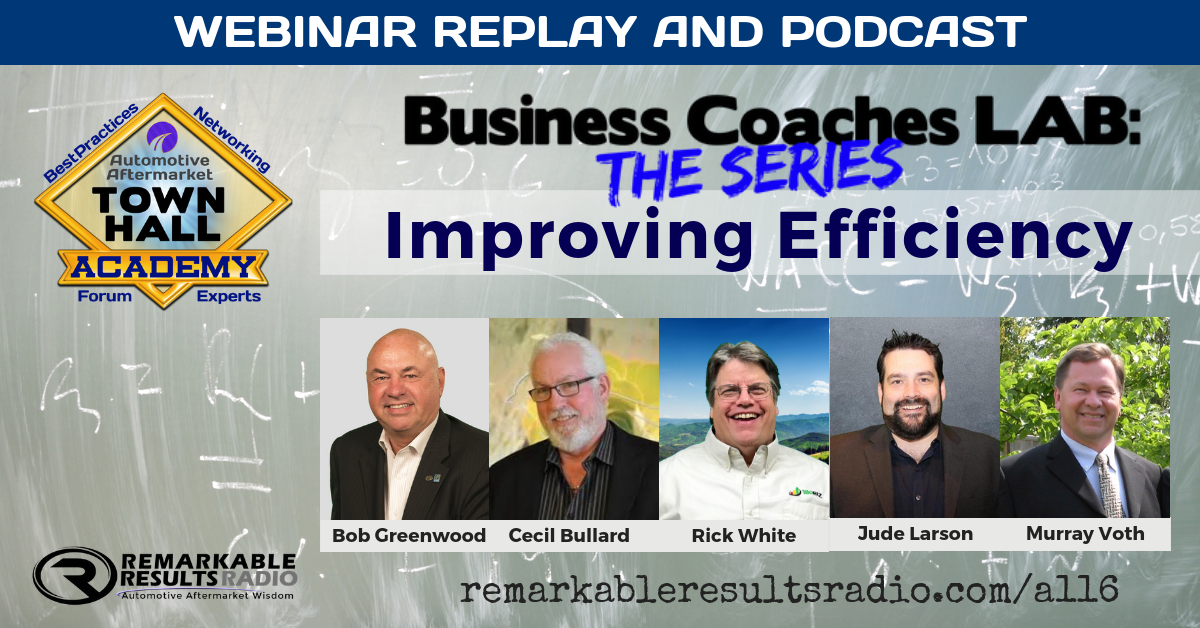 Your Learning Curve Never Sounded So Good
THE PANEL:
Cecil Bullard is President of the Institute for Automotive Business Excellence. He is a trainer and business coach in the automotive aftermarket working closely with service professionals. Previous episodes featuring or mentioning Cecil, click HERE.
Rick White has been working in the automotive, software & coaching industries for greater than thirty years and is currently an AMI-approved training instructor.  He owned and managed several successful automotive repair shops.  Currently, Rick is President and Lead Coach for 180BIZ, an auto repair shop training and business coaching company proudly serving the independent auto and truck repair owner since 2006. Rick has been acknowledged as an industry expert and has been featured in many automotive trade publications. Rick has been training and speaking at industry events across the country including AAPEX, Vision and for AASP PA just to name a few. Find all of Ricks contributions to the podcast HERE.   
Jude Larson is the Director of New Business Development for the ACT Group.  He is a frequent speaker and trainer at industry events. Jude has vast business experience including being a highly successful service advisor, the owner, and operator of a hybrid online and print marketing company, a top performer in the financial industry, and had a record-setting career in retail management.
Jude is also a shop owner, Valley Repair in Tenino, WA. Listen to Jude's Episodes HERE. Jude uses his rich experience and business success as he consults, trains and coaches results-focused solutions with clients.
Murray Voth, owner of RPM Training learned how to service and repair cars, motorcycles, and airplanes in his youth and earned his commercial pilot's license. After college, Murray was hired by a firm doing research and development in the service station industry. That led him to own and operate service stations for the next 20 years.
After receiving extensive training from a major oil company in Canada, Murray worked in service station dealer development. His experience in training and development led to an interest in how people function. He began to think about what holds them back from learning and implementing new practices in their businesses. What causes people to change?
Murray has done extensive research into human potential and has the ability to synthesize this material and make it practical to apply.  His favorite moment is when a client says, "I get it!" or "I did it!"  He is known as an implementation coach. For the last 10 years, he has been the senior trainer, coach, and facilitator for a major automotive training company in Canada, and worked part-time in the USA as his schedule allows.  Murray has worked with hundreds of shop owners helping them to be more profitable and reduce their stress levels. Listen to Murray's episodes HERE.
Bob Greenwood, AMAM (Accredited Master Automotive Manager) is President and C.E.O. of Automotive Aftermarket E-Learning Centre Ltd. (AAEC). AAEC is a company focused on providing Business Management Resources and Development for the Independent Sector of the aftermarket industry. AAEC content and technology is recognized as part of the curriculum of the Fixed Operations Diploma and the Aftermarket Degree courses taken at the Automotive Business School of Canada at Georgian College located in Barrie Ontario Canada. This school is the leader and only college in Canada that offers an automotive business education. AAEC is also recognized by the Automotive Management Institute (AMI), located in North Richland Hills, Texas USA, allowing 80 credits for successful completion of the AAEC E-Learning portion of the site towards the 120 credits required to obtain the reputable Accredited Automotive Manager (AAM) designation. Bob's previous episodes are HERE.
Key Talking Points:
Know the capabilities of your techs. Their gifting.

If they enjoy the work they do, they will be efficient

Have the right  people do the right work

Find obstacles that are in the techs way of efficiency. Don't hold up your technician

IDEA:  Open parts boxes before the job is started to prevent the possibility of delay because of wrong parts

Create a shift in attitude of inclusion to improve processes

Are the techs able to do their jobs?

Build a team so each other has their back.

They need to know what the billed hours objective is as a team

They need skin in the game

If vacation the hours will not change. The costs continue

The techs keep finding ways to get things done faster and the owner finds ways to give it away. The pencil is hurting efficiency and billed hours.

Don't penalize yourself for getting competent and the years of wisdom and knowledge your team has. Bill correctly. No shortcuts.

Shop owners and technicians do not understand their worth.

Charge for your education and tools.

Rick White: The Curse of Knowledge. Charge for your value.

You've got to bill for the time you invest in test dries, cleaning up the bays, putting tools away. If you had no work you would not be doing these jobs. Don't be afraid to charge

Jude Larson: May a man prosper as his soul prospers. A person's capacity of their success is limited to their capacity for success.

Some techs won't let their service advisor undercharge for him/her

Understand the value each team member brings to the table

We are a professional and must run our business, train our people and charge according.

Carm's pyramid concept. The Charge for Repair (on top) comes with a big investment in Training, Equipment, continuous Process Improvements, Pay/Benefits, and Experience/Knowledge, among others. Don't forget what your fees are built on. This shows support for using all tools available to improve efficiency and earn a strong profit.


Stop treating our techs like grease monkeys. They are professionals. Does service, ownership, and techs all have each other's back? This is worthy of a discussion.

The entire team understands the entire functionality of the business and what is holding them back.

Discover your bottleneck. Team meetings will help understand them. Then create new policies and procedures around new processes.

Discuss the "Why Not's"

Regular communications

The coaches have varying ideas on when to have meetings, however, they are important to the flow of information and constant improvement

If you believe you can't, you can't.

Everyone needs to discover if the processes continue to work and add value. If not stop and discover, at the moment, if improvements are necessary.

Encourage your team to bring solutions to their problems or issues for improvement. Listen completely to the ideas

The service advisor is responsible to be sure the techs are efficient. They need to provide everything to make their techs productive.

The shop owner does not have all the answers. Encourage your team to contribute and use their ideas.

Having goals will help with efficiency

Job descriptions for every position

Bob O'Connor :

You can't run your business from a creeper

You can't run your business from the front counter

The value of shop tours to discover improvements in efficiency

Amateurs create, professionals steal

Study the processes  

When you travel to conferences go a day early and visit shops. Call first and do discovery

You may be a kinesthetic learner and shop tours gives you the visual immersion  

Be open to new ideas, if not you'll never get any

Change is not an option. This won't work in my community or in my business is an unacceptable excuse.

Cecil Bullard: Many problems that exist are not with tech but with processes of the business.

Don't interrupt your tech and pull him off his job and/or thought process. It takes so much more time to get back on task.

Murray Voth: We typically use the oil change/maintenance as a 'draw'. Consider doing maintenance or oil change while vehicle is in for repairs.

Rick White: When you hear an orchestra warming up it is like nails on a chalkboard. When playing with the conductor, together, is music.

Don't underestimate cleanliness.
Resources:
A special thanks to  Cecil Bullard, Bob Greenwood, Rick White, Murray Voth and Jude Larson for their contribution to the aftermarket.
Books Page HERE
180Biz Website HERE
RPM Training website HERE.
ACT Group website HERE.
Institute for Automotive Business Excellence website HERE.
Automotive E-Learning Center website

HERE

.
Leon Martin Episode as mentioned by Jude and Carm

HERE

.
Micromanaging episode as mentioned by Carm

HERE

.
Leave me an honest review on iTunes. Your ratings and reviews really help and I read each one of them.
Facebook   Twitter   Linked In   Email
---
This episode is brought to you by Jasper Engines & Transmissions. When a car's engine or transmission fails, it's

not the end of the road. A remanufactured drivetrain product from Jasper Engines & Transmissions will give your car a new lease on life. JASPER has over 2000 Associates, three manufacturing facilities, two distribution centers, and 45 branch offices across the country. They're all working to produce, transport and deliver the perfect product. That's what they do best… keep customers happy. Visit jasperengines.com
---
Subscribe to a mobile listening app HERE.