THA 119: Improving Employee Loyalty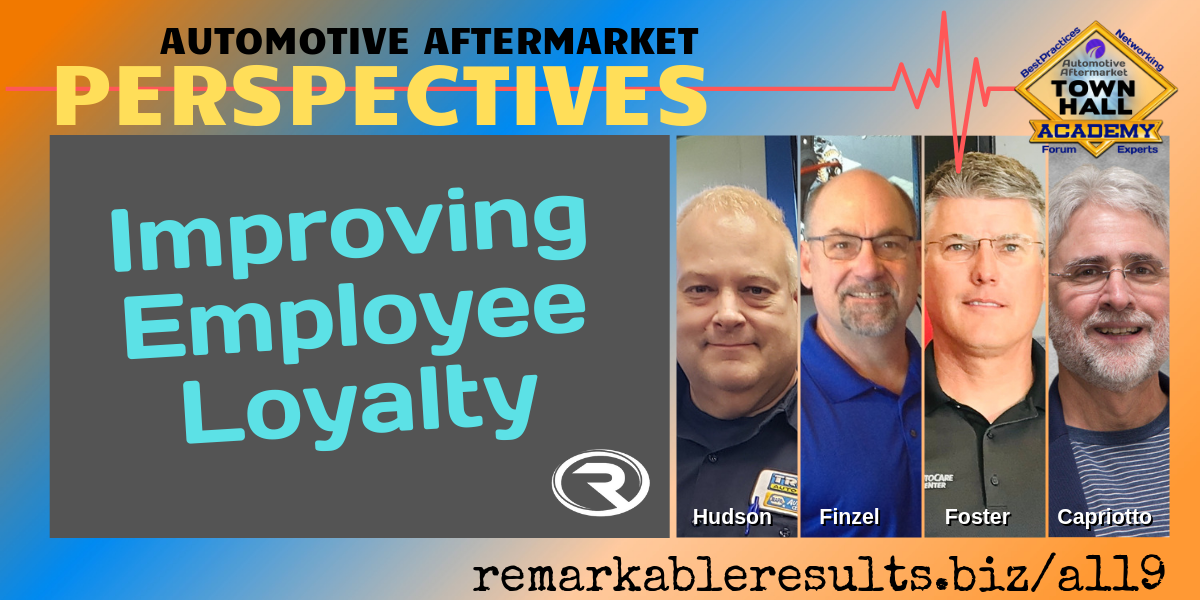 The Panel:
Donnie Hudson, Troy Auto Care, Troy, MI
Roy Foster, Roy Foster's Automotive, Reno, NV
Steve Finzel, Finzel's Master Tech, Terre Haute, IN
Key Talking Points
Donnie Hudson
Communicate with your Team! Weekly! "They Want to be Involved" Feel like they have a say.
Keep It Fun! Think outside the box! Set Weekly Sales Goals! "Don't Get Complacent"
Offer Paid Training Classes / Tuition Reimbursement /
Simple IRA / Tool Credit / Health Care Allowance
Donnie says a solid pay program is very important but it is not necessarily about the money. It is family time and benefits that drive employee loyalty.
Listening to your people is an important rule of leadership.
Fact Finding Friday's meeting.
He offers paid time off to do something in the community for his people. Something charitable of their choosing.I'm here to support you.
He takes a portion of his team and families to Las Vegas for AAPEX
Roy Foster
He has a 4 day work week for most on his team who want it. Retirement plan, health and dental, ongoing training both in house and AutoTech Training, bonus programs.
Weekly Team Meetings: Council together, listen to their input and let them help make policies and procedures, set goals together, regularly share KPI's, share successes, address their concerns and discuss safety.
Create a culture: Get buy-in from employees through success, share customer reviews, cleanliness and organized, let them know when they are doing a good job, share in the vision and mission.
State of the Art Equipment: have the best tools and equipment, information systems, have the right tools for the job, equipment training videos and manufacturer training clinics with lunch.
He cultivates an environment where his team wants to be there. Acknowledging a job well done.
Invest in state of the art tools, equipment and software.
Steve Finzel
Employee loyalty is about the relationship. Through the use of one on one meeting, monthly team meetings that include total shop performance and key indicator numbers, and Friday casual lunch meetings, employees feel connected to the business and each other. As shop owners, it is part of your responsibility to nurture this. MOP bucket meetings to get anything off your chest. No names no rebuttal. Honest and transparent.
Using outside of work experiences like summer family party, Christmas party, Happy hour, out of town training and sporting events helps to create the bond.
Providing training, healthcare, simple IRA and an above average compensation package tell the employee you care about the well being of them and their family. Providing training lets them know you care as much about their success as yours.
Steve closes the shop between Christmas and New Years.
Benefits require the growth of your business and profits.
Leaves a skeleton crew at the shop and takes most of his team to Vision.
Resources:
A special thanks to Donnie Hudson, Roy Foster, and Steve Finzel for their contribution to the aftermarket.
Books Page HERE
Leave me an honest review on iTunes. Your ratings and reviews really help and I read each one of them.
Facebook Twitter Linked In Email
This episode is brought to you by Jasper Engines & Transmissions. When a car's engine or transmission fails, it's

not the end of the road. A remanufactured drivetrain product from Jasper Engines & Transmissions will give your car a new lease on life. JASPER has over 2000 Associates, three manufacturing facilities, two distribution centers, and 45 branch offices across the country. They're all working to produce, transport and deliver the perfect product. That's what they do best… keep customers happy. Visit jasperengines.com
Subscribe to a mobile listening app HERE.