THA 123: The Power of the Supplier and Service Professional Relationship.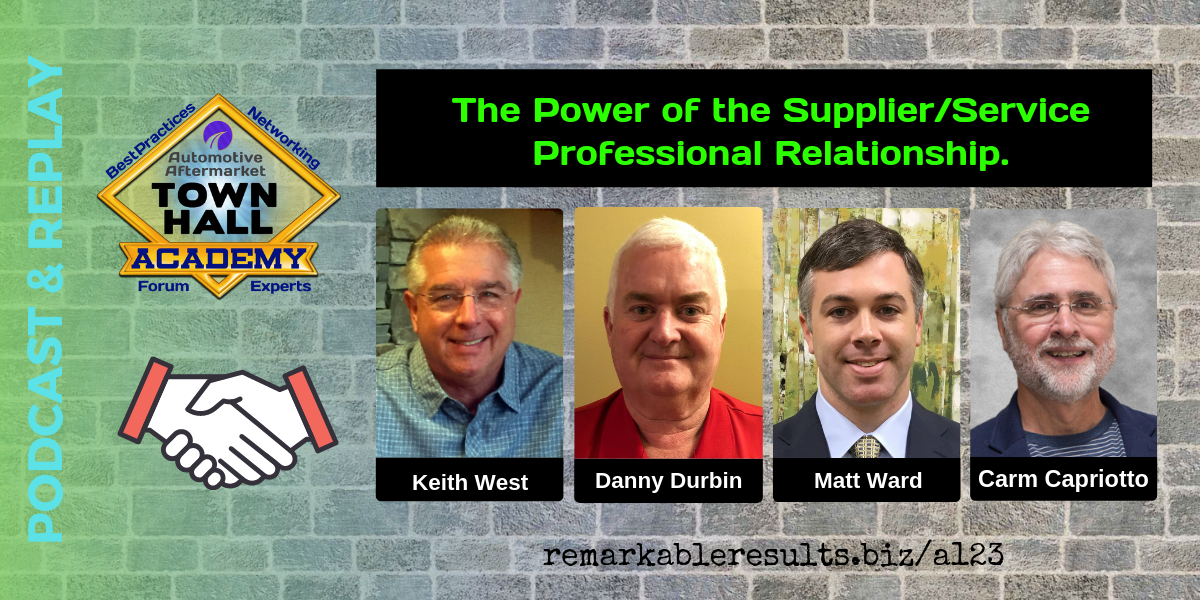 THA 123
Danny Durbin is the owner a second generation parts store, Durbin Auto Parts, in Prattville, AL. Danny is an active member of the Automotive Aftermarket Association (AAAS) and holds a seat on the Board of Directors. Danny works closely with all of the surrounding service providers and is integral to the success of many aftermarket businesses in his area.
Keith West is the Financial Controller of Auto Supply Company in Bowden, GA. Keith has been an industry leader for many years and is currently the Chairman of the AAAS Board of Directors. Keith understands the critical role that good business relationships play in bringing value to your business.
Matt Ward is the Director of Government Relations and Field Services for AAAS. Matt works closely with many organizations and AAAS members to monitor legislative issues that could have a potential impact on the aftermarket industry. One of the key legislative issues for AAAS is workforce development and the availability of training resources. Matt works closely with the AAAS Educational Foundation to award scholarships to members and their employees for technical training and the pursuit of higher education. Since inception in 2005, the AAAS Educational Foundation has awarded tens of thousands of dollars to 156 scholarship recipients.
Key Talking Points:
A key component of a strong supplier/service professional relationship is TRUST

Collaboration is critical when the pro is stuck when they need to find a solution for a part

Too many service professionals are not making money and some turn to their trusted supplier for help.

Gross margin lessons

When the service professionals are not profitable they believe they need to buy at a lower cost.

This can be an actual loser of margin

Suppliers know that the service professional doesn't have a proper labor rate

Suppliers are hearing about the skilled labor shortage

Association membership continues to be important

Suppliers encourage their customer to be involved in associations

Everyone has to win

Service professional, jobber, WD, Manufacturer

Even though e-commerce is strong and growing; knowledge,on the parts counters, continues to be important and a big challenge in the industry

Legacy parts stores have older catalogs, paper, that come in handy when looking up older applications

Inventory is a big challenge for the parts store from an investment perspective and they need to stay on top of non-movers to re-invest their dollars on parts that move

Supporting technical colleges with training and advisory support

The salesperson still holds a strong bond between the service professional and the supplier.

Personal relationships are critical to support the success of the service professional

Owner/District Manager must visit the shop owner at least two times a year.

The personal contact builds a connection to help solve problems

Technical training is being offered to the service professional from the supplier.

Many from tech college or high school vocational automotive programs can work in the distribution business
Resources:
A special thanks to Keith West, Danny Durbin, and Matt Ward for their contribution to the aftermarket.
Books Page HERE
Leave me an honest review on iTunes. Your ratings and reviews really help and I read each one of them.
Facebook   Twitter   Linked In   Email
---
This episode is brought to you by Jasper Engines & Transmissions. When a car's engine or transmission fails, it's

not the end of the road. A remanufactured drivetrain product from Jasper Engines & Transmissions will give your car a new lease on life. JASPER has over 2000 Associates, three manufacturing facilities, two distribution centers, and 45 branch offices across the country. They're all working to produce, transport and deliver the perfect product. That's what they do best… keep customers happy. Visit jasperengines.com