THA 125: Client Loyalty Programs – Do They Work?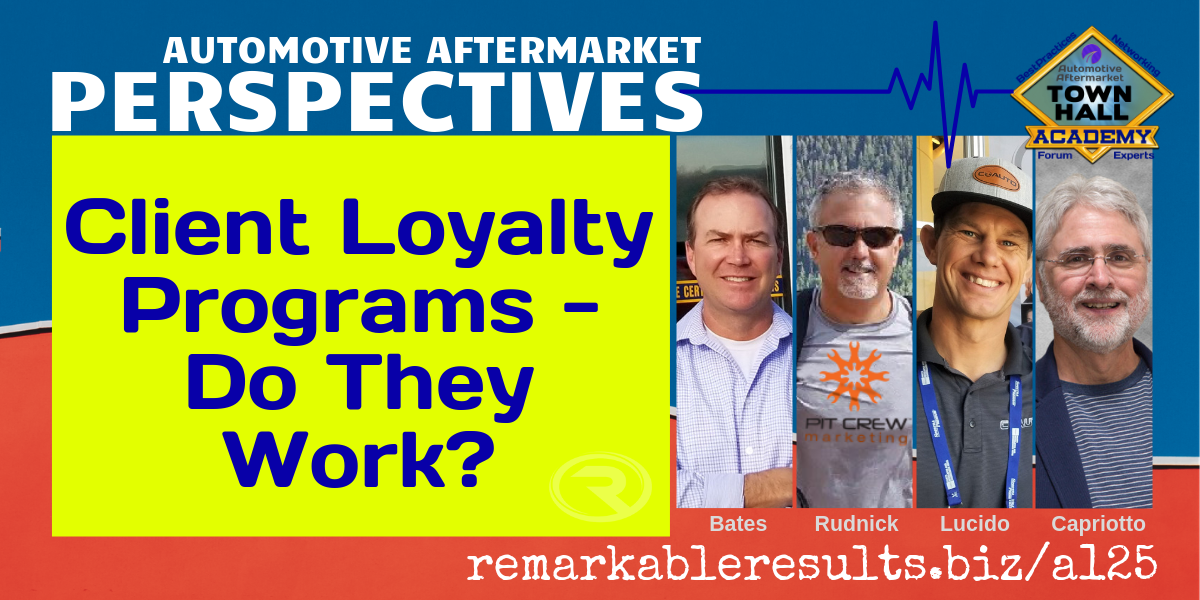 Brian Bates, AAM  is the owner of three Eagle Automotive in the Southwest Denver area. He began his career in 1996 working as a technician in a local dealership.  Brian is an ASE L1 Master Technician. He earned a BA Degree in Business Management in 2000, and bought his 1st shop in 2004. Look for Brian's other episodes HERE.
Vinnie Lucido has had his hands in the automotive industry since 1996, starting in High school as a CSR at one of the last 76 Full-Service Gas stations in Reno. He found a passion for helping people through their most prized possessions, their automobile. Vinnie and his brother Anthony partnered together & opened CoAuto in 2014 and have been nothing but success in their new undertaking. Vinnie is ASE certified and has operated in every capacity of the automotive repair field. Throughout his career, he has been a customer service representative, a service writer, a technician, a manager and now an owner. Ultimately, he finds he is happiest when he is in communication with his clients and gets the opportunity to get to know his guests. Vinnie spends his time building relationships and networking and in turn, the shop continues to grow. Listen to Vinnie's previous episodes HERE.
Jeff  Rudnick has been involved in the Automotive Industry since 1993. He spent 9 years as a Manufacturer's Representative selling Automotive Parts and Accessories to clients in the Pacific Northwest. During that time, he worked directly with dozens of Manufacturers and Importers of Parts and Accessories to find distribution across all levels of the Automotive Industry.
Jeff founded The Rudnick Group in 2002 calling directly on Automotive Repair Facilities to serve their marketing needs. Initially, The Rudnick Group focused on Reminder Mailers utilizing CustomerLink's services; this relationship continued until CustomerLink sold to Intuit. Quickly, The Rudnick Group added Brand Development, Website Design and Management, Web Marketing Services and a comprehensive Direct Mail offering. The Rudnick Group became Pit Crew Marketing in 2006 when eWardMe Auto Shop Rewards was launched.
Jeff is an avid skier, backpacker, mountain biker and traveler. Jeff's home base is currently The Big Island of Hawaii just outside Hilo.
Key Talking Points:
A client loyalty program will not fix broken systems, processes and a weak selling system

What is the end game? What are you trying to do?

Recruiting

Retention

Bring in declined work

Community fundraising

Rewards to drive down the cost of repair

Many clients are loyal. These programs wrap your arms around them.

Find every competitive edge to build a relationship with your client

What is loyalty?

People who trust you and you trust them

Ideas from this episode:

Christmas cards to 'best' clients.

Best is relevant to your situation

Christmas poem is created with a staff picture with 'cash' coupons

Vinnie sent out $160,000 in Co-Auto Cash. Good toward labor only

Different version every year to see how long they've collected

Co-Auto works with:

Military

Hippies

Art

Education

Women

He partners with a restaurant for $20gift cards for a referral program

Veterans car giveaway each year. For Vinnie and his brother, it is about how it makes them feel rather than the publicity he receives

A rewards program does not replace doing quality work. Don't include a loyalty program if you don't have great processes and system that are producing quality repairs.

We are hyperlocal businesses and you need to consider that your rewards program can have a flair of supporting the local community

Talking about your charitable programs must be talked about at the counter

People do business with people

Design your program to make a real connection

Data collection on your loyalty program is important to find out what is working and is you are getting a return

90% of Brians customers have his loyalty card

Reward for loyalty and include charitable programs in his community

Allows him to reach out to his customers through this program when he is slow

There are stakeholders that include your team members, your customer, and the business.

Team members should be involved in deciding what community organizations you will support

Involve your people to make connections with the groups you work with. Let them lead

Ask your customers what charities are they close to or involved with

Create a spirit committee among your team and decide your company events and what you community involvement will be

Customers must be reminded of their loyalty program earnings to make this effective

Research found that when a one and done customer became involved in a loyalty program they came back to the shop for a second and third time

Create a containerize loyalty program. Rewarding for taking care of their vehicle. Explain in detail how it works and benefits them.

Careful not to increase discounts or create expanding discount and not increase loyalty.

Loyalty is about giving as little as possible to get the best possible result

Do not get too complicated

This is no replacement if you don't have a good selling system

Brian started to discover why some customers don't come back

Called them. He discovered:

Bought new cars

Moved out of the area

Vinnie is texting to customers if they have not been back

He also likes to send surveys. People one on one may not tell you exactly how they feel so he believes a survey get close to the truth.

Why should someone be loyal to you?

A client loyalty program means nothing if they don't have trust and a relationship

A program will not necessarily create loyalty on its own
Resources:
A special thanks to Brian Bates, Vinnie Lucido, and Jeff Rudnik for their contribution to the aftermarket.
Books Page HERE
Leave me an honest review on iTunes. Your ratings and reviews really help and I read each one of them.


---
This episode is brought to you by Jasper Engines & Transmissions. When a car's engine or transmission fails, it's

not the end of the road. A remanufactured drivetrain product from Jasper Engines & Transmissions will give your car a new lease on life. JASPER has over 2000 Associates, three manufacturing facilities, two distribution centers, and 45 branch offices across the country. They're all working to produce, transport and deliver the perfect product. That's what they do best… keep customers happy. Visit jasperengines.com