THA 126: Firing Customers – When is it Right or Wrong?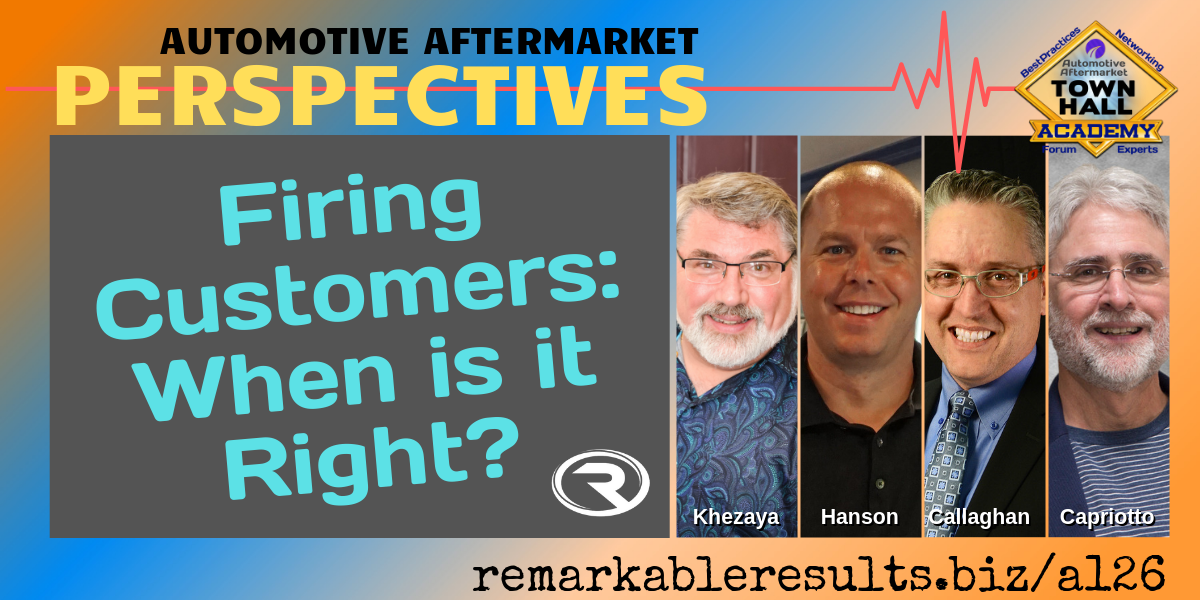 A Remarkable Results Radio episode highlighting when is it wrong or right in Firing Customers. It takes more to attract and retain a new customer. Understand the importance of every decision. 

Joe Hanson owns Gordie's Garage. Joe has attended Management Success, NAPA training, Lawrence Tech University and most recently he is a member of the RLO 20 Group 13. He has earned his ASE C1: Automobile Service Consultant Certification.  Under his father's leadership, he has seen what it really takes to make a business like this work. Listen to Joe's Episodes HERE.
Jerry Kezhaya from The Auto Shop in Plano Texas has been in business since 1981. Plano is a northern suburb of Dallas with a population on 280,000. According to Jerry, it is the top growing county in the US.  His 35,000 sq ft shop has 21 lifts with two flats per lift.
Jerry is a business coach and prides himself for getting out of the shop between 80 and 120 days a year to work with clients, attends seminars and enjoys wine. Listen to Jerry previous episodes HERE.
Doug Callaghan, CEO Vic's Service Centre in Wainright, Alberta Canada is the winner of the 2016 Auto Care Association ACE (Automotive Career and Education) award.  Doug shares his story of transformation, recognized by Auto Care, that earned him this recognition.
He made a significant decision in early 2015 when he took how his business was operating and threw it all in the garbage. He started from scratch. Everything. He says, "a lot of owners that ask for the help and invest in the outside training yet fail to provide the leadership to make those ideas and plans become reality, I was not going to let that happen. I wanted to see an increase in our net profit and a better life for myself and my team". He continues that commitment today. Doug has experience working with disaster plans with the Credit Union Board that he chairs. Find other episodes that feature Doug HERE.
LINK: Chick-Fil-A — Every Life Has a Story
Key Talking Points:
Joe Hanson
Non-Payment

If the customer stops communicating that is a warning sign

Disrespectful or mean to staff
  Other than that…you have control…
Are you bringing the best out in people? Maybe YOU should be fired!
I can be a good customer or bad customer just like anyone else

If I am having a bad day and I get bad service I could see myself becoming a customer that "they don't want"
People skills can avoid firing customers. It can turn a "should be fired customer" into a great customer
Empathy

Caring

Patience

Listening

Taking the time
 It is our responsibility to build a culture of "I don't want to fire them" customers
Are you the cheapest in town?

Do you have a "crappy" looking facility?

Do your team members portray professionalism…

In how they act

In the way they dress

How they answer the phone

The way they sell

You will attract customers who can relate to how you present yourself
Doug Callaghan
Customers that are mean or abusive to the staff and become high maintenance

Believe it is ok to price shop and demand that you meet a cheaper price, they do not value the relationship we are trying to build

Engage in or suggest that we help them complete unethical activities.

They no longer fall into our avatar client and become problem prone and complain. 

You know when a customer that knows everything and is going to tell you how to run your business is not a good fit.

The owner sets the tone on the standards of customer service.  
Jerry Kezhaya
When they cost you more then they pay.

Soliciting you to do something illegal.

Forcing you to do something that is immoral.

If the client is not respectful to you or your employees.

The customer is not always right, even though we've been taught the customer is right.

Jerry had a bad lesson with a picket for a few weeks.

We are in the service business not in the abuse business. Be respectful of each other and work to see both sides show people we care
General thoughts:
It takes more to attract and retain a new customer and we tend to hold on to every customer

The fear factor of losing a customer can prevent us from letting a 'user' go or in this sense, Firing Customers.

Some customers are not fixable and will not mesh with your culture. In retrospect, Firing Customers is the logical way to go.

If our car count dips we tend to think that the customer we let go two weeks ago is now hurting your customer.

It is rare that Firing Customers, however, it happens and should be for the right reasons
Resources:
A special thanks to Joe Hanson, Jerry Kezhaya, and Doug Callaghan for their contribution to the aftermarket.
Books Page HERE
Leave me an honest review on iTunes. Your ratings and reviews really help and I read each one of them.
Facebook   Twitter   Linked In   Email

---
This episode is brought to you by Jasper Engines & Transmissions. When a car's engine or transmission fails, it's

not the end of the road. A remanufactured drivetrain product from Jasper Engines & Transmissions will give your car a new lease on life. JASPER has over 2000 Associates, three manufacturing facilities, two distribution centers, and 45 branch offices across the country. They're all working to produce, transport and deliver the perfect product. That's what they do best… keep customers happy. Visit jasperengines.com