THA 129: Customer Financing Options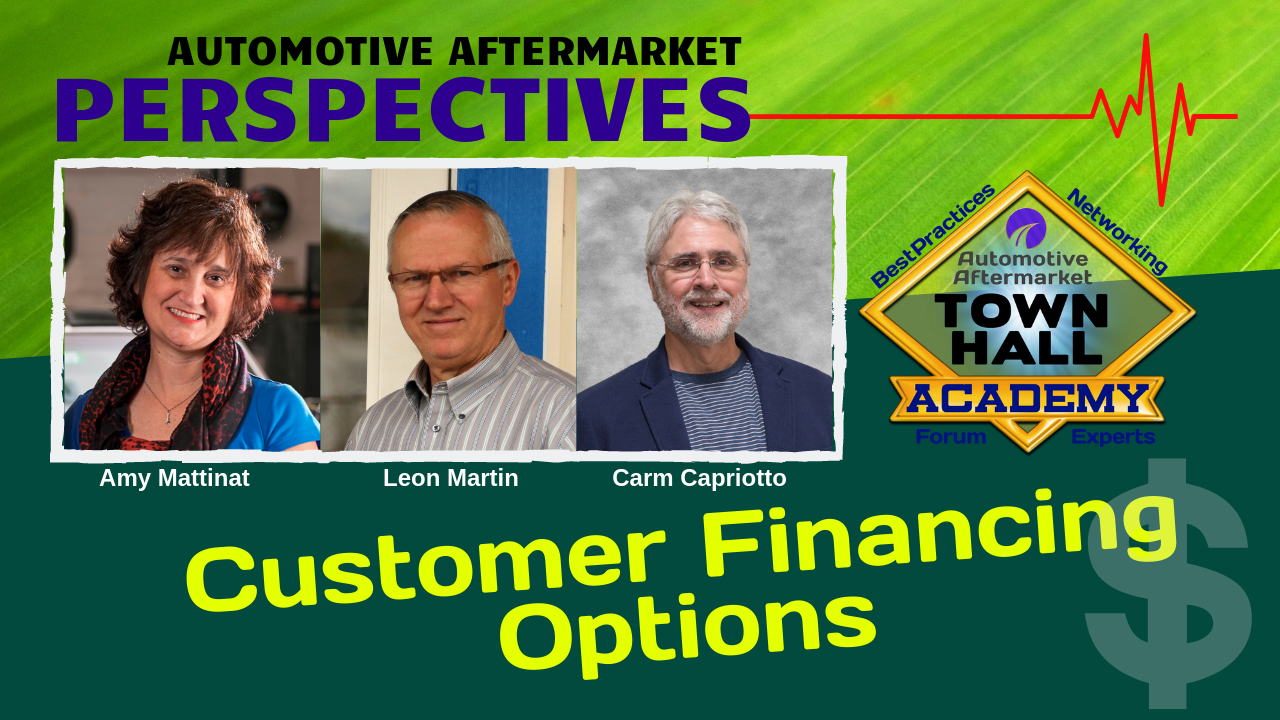 Check out this episode's Customer Financing Options.
What options do you have to help your customers with credit choices? 

There are many vendor credit options to choose from and they are great. Maybe you don't use them, maybe you should. No one wants a customer to walk out on a major purchase especially safety-related. This session is here to help you capture more of the big-ticket jobs.
You just may hear a financing option idea or two that you've never considered. And that is exactly what we do here, push the envelope on strategies and ideas to help you grow as a leader and build your business.
Hear about the acceptance rate of vendor finance programs and a few creative ideas on how to lock in customers with a pre-payment plan. Ever do a comparison of buying new or used vs fixing the vehicle that needs all the work?  Have you ever heard of the M & D loan? You are about to.
The Panel:
Amy Mattinat is the owner and manager of Auto Craftsmen in Montpelier, VT. Her shop is an ASE Blue Seal Shop, AAA approved and she is a member of ASA, SBN & WIAC.  Along with running her independent repair shop, she is able to combine her three passions: teaching small business owners how to run a successful business, teaching car care and safety to the general public and educating young people about the many career opportunities available in the auto care industry.
Amy was awarded the  2012 Top Female Shop Owner of the Year!
The award was given by the Car Care Council Women's Board, Honored as a 2014 Professional Woman of the Year by the National Association of Professional Women, Awarded the 2015 U.S. Small Business Administration's Vermont Women-Owned Business of the Year, Awarded the 2016 AAA Business of the Year in Vermont and served as President of Women in Auto Care 2014 through 2016. Listen to Amy's previous episodes HERE.
Leon Martin owner of Auto Tech Services in Rochester, WA, graduated from "corncob college" as his father would say… The School of Hard Knocks… 1st – Eighth-grade training plus self-study courses. He is just a farm boy out of southern Illinois. Leon's first formal training was by DANA and a 'Doctor of Motors' degree in September 12, 1972
Leon has been ASE certified since 1985…A1-A8 L1 C1 and his shop is an ASE Blue Seal Affiliate. He is a Management Success graduate, Repair One Graduate, E-Myth Business Mastery, AMAM Accredited Master Automotive manager and a Ned Tomarchio Supremacy Automotive Graduate. He is part of Elite Pro-service with Bob Cooper and Jim Murphy
Leon moved to Rochester, Washington in 2006.
He assist a local auto service and working out of a small 29 x 40 shop with a miniature office area. With the help of great people and dedicated techs, the sales average grew with a 20% increase per year for 8 years! Operating at a neighbor to neighbor, bumper to bumper slogan, the shop grew faster and ran out of space.
He looked for options because he needs to continue serving his customers in a timely and efficient manner.
Considering the challenges like getting permits, restrictions, zoning, costs and new building hindered their progress moving forward. His team started making plans with an existing facility and renovate to their standards. This new project ends up with six bays, additional service area which is future expansion. This also includes a very intense focus on being clean and "green" with a commitment that benefits the environment and mankind!
Providence lent his hand!
Leon and his team lease/purchase of the present location 18225 Pendleton Street, Rochester, Washington. It is a 4.4-acre property. Not only they are able to assist more clients, they actually have room to park, with all security cameras/chain link fencing in place, and protecting their client's vehicles as compared to the small 3/8 acre property they moved from.
Leon's shop offers a complete auto to light truck service
, under-hood,under-car, and bumper to bumper service! He welcomes visits anytime from clients. He even welcomes competition and calls them family. Anybody assisting in the healing world of automobiles is a part of their family. He and his team are willing to share information to assist in any way they can. They believe in the ethics of honesty and putting people ahead of the money. They want to treat all customers the way they want to be treated. This is his mission!  Listen to Leon's previous episodes HERE.
Key Talking Points:
Leon:
Uses the NAPA EZ-Pay program that is 6 months same as cash

Encourages his customers to pay the amount in less than 6 months so they do not get any surprises

Savvy with his recommendations on all his credit options

Has a 78% acceptance rate because he knows people have good credit.

The time to pay for the service is attractive

They will come back and use their card over and over to access the 6 months same as cash  

There is a minimum of $199 to finance

On his NAPA program if they use the card the warranty jumps to 3/36 on whatever was financed 

A young person who is working on establishing credit and they can get a co-signer this helps   

The time it takes Leon is about two minutes.

He does it while on the phone

Many customers say yes to invest two minutes to find out if they qualify

If he sees them waffle on 6 months he will offer one year same as cash for an additional fee. He is paying the fee to get them the extended terms which is why he charges for it.

His average RO is $900 for the last 5 years

He also uses an outside firm for financing he goes to that option one in twelve

Most vehicles are disposed of at ⅓ of their life.

The average vehicle in his shop is at 125K miles. If they are willing to go to 250K they will benefit by keeping their vehicle 
Leon's M & D loan (Mon and Dad)

Some can, some can't 

Parents could co-sign on a 6-month program

Pre-payments. Customers will pay over-time for work that needs to get done

Leon offers to leave their vehicle if they don't have the money.

He will keep the vehicle until paid

Fenced in area or drive inside each evening. You must secure the vehicle

Leon's white sheet tactic used for situations with a large expense $2,000 to $8,000

If the vehicle worth repairing.

If Leon and technician feels it is worth it

Do not spend any money on the vehicle if they don't like the vehicle. If the answer is yes then the white sheet comes out 

1. Estimate the cost of a new purchase. Estimate the sales tax for a new vehicle

2. Insurance differential on current vehicle vs the new

Look at that cost over three years. That is why you are investing in the repair of your current vehicle to get it to last another three years

3. Depreciation

If this is a go, then a full health review of the vehicle that can determine all the right moves to bring the vehicle up to spec
Amy:
She does not recommend holding paper. It will hurt your cash flow. With all the other options available you should never hold a customers debt for service rendered

If she does she makes the final decisions and would do only one or two a year

She discovered a program called VIP

People pay forward, like a budget plan.

What they wanted to pay per month, using their credit card.

They get a 10% credit.

If they pay $100 per month they would get a $10 credit on their account 

It is a budget plan with a separate bank account to protect the money

It helps build loyalty

Accounts are designated VIP. They get the best perks

They are the best advocates for the shop
Resources:
A special thanks to Amy Mattinat and Leon Martin for their contribution to the aftermarket.
Books Page HERE
Leave me an honest review on iTunes. Your ratings and reviews really help and I read each one of them.
Facebook   Twitter   Linked In   Email

---
This episode is brought to you by Jasper Engines & Transmissions. When a car's engine or transmission fails, it's

not the end of the road. A re-manufactured drive-train product from Jasper Engines & Transmissions will give your car a new lease on life. JASPER has over 2000 Associates, three manufacturing facilities, two distribution centers, and 45 branch offices across the country. They're all working to produce, transport and deliver the perfect product. That's what they do best… keep customers happy. Visit jasperengines.com