THA 131: Preparing Your Shop For the Next Five and Ten Years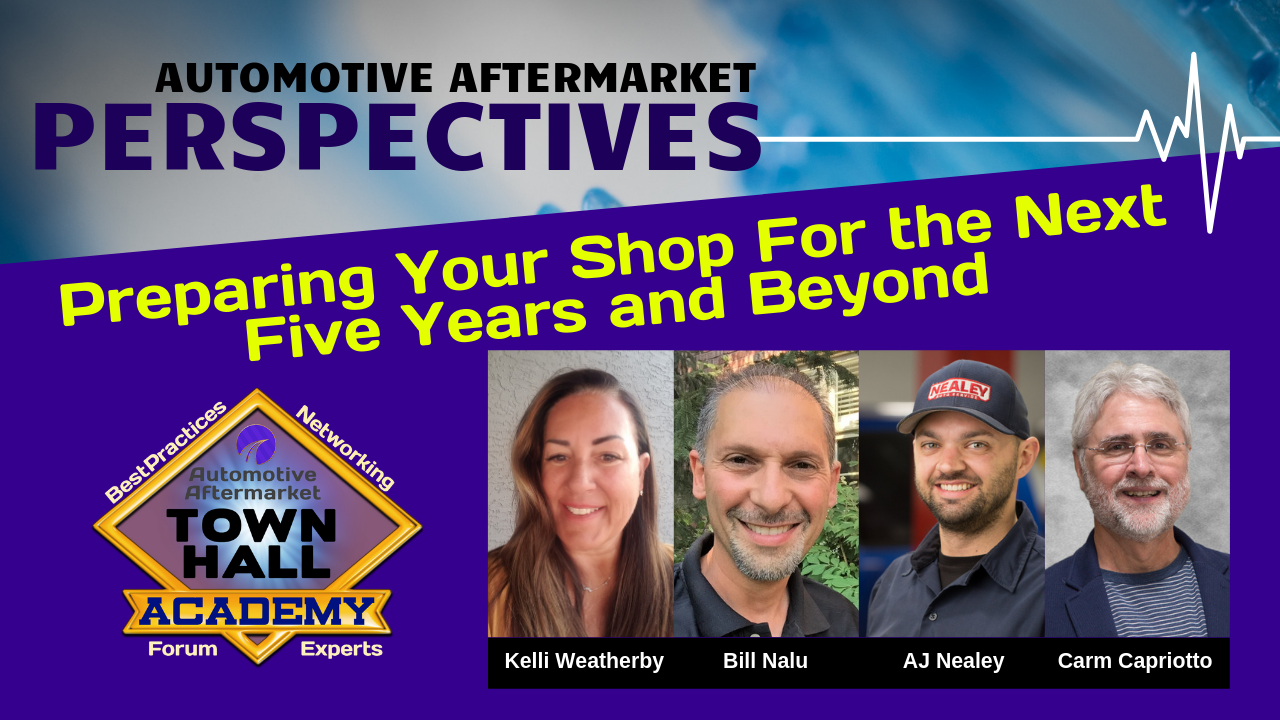 What is your future? Have you planned it? What are you doing to ensure your success in the next 5, 10 or 15 years? If you do nothing you get what you currently have and that may not sustain you to far into the future.
Your panel: Kelli Weatherby,  co-owner, with husband Lee, in Accurate Automotive, Inc. in Mesa, AZ., Bill Nalu, owner of Interstate Auto Care, Madison Heights, MI and AJ Nealey, Nealey Auto Service, Edgewater MD. This diverse group has some similar yet some different strategies for their future. It is so refreshing to hear the dialogue and then compare their tactics to your current or long term plans. 
We are in a dynamic industry that is in a heightened change curve. Keeping up at all levels will bring you spoils. And keeping your eye on your business with the future in sight is an important responsibility you have to your employees and your family.
We talk BHAG's, Debt, Branches, Succession, Training, refinancing, and SWOT among others.
The Panel:
Kelli Weatherby co-owner, with husband Lee, in Accurate Automotive, Inc. in Mesa, AZ. Accurate Automotive was founded in July 1994
Their time building Accurate Automotive, Inc. has been very adventurous. Along the way they have been fortunate to have received awards but mostly Kelli treasures her involvement in ATI and being a part of the sole all women 20 groups, Leading Ladies.
Kelli is the mother of 2. Morgan (daughter), Corbin (Son) both married now and working in their careers. Corbin is a father of 3 which makes me a Nana who LOVES to spoil her little's!!!   Listen to Kelli's previous episodes HERE.
Bill Nalu is President of Interstate Auto Care in Madison Heights, Michigan and has been in business for 30 years.  He collaborates with industry professionals, in building today's "high-tech/old-fashioned" customer service system. Bill has been a big contributor to the podcast and he currently serves on several industries and educational advisory councils including AutoValue/Bumper to Bumper, Dorman Industries, and Cardone. Listen to Bill's previous episodes HERE.
AJ Nealey got the mechanical bug at a young age playing with Legos. The bug quickly escalated to wrenching on his own car in high school, to his first full-time job as a technician and also to a racing career.
He started Nealey Auto Service, Edgewater, MD, out of his one bay garage in 2011 after his racing career came to an end. After he married his wife, Stephanie, in 2014. AJ and Stephanie decided to focus all energy and resources to grow Nealey Auto Service. It all started with taking RLO Training's Guerilla Shop Management course. Since then, they have grown to a 9 bay facility with 8 employees and have increased sales a total of 1172% since then. Listen to AJ's previous episodes HERE.
Key Talking Points
AJ Nealy: The importance of a BHAG – be a visionary – set the dream and do it

AJ: Debt reduction is an important goal so he can reach his goal of 10 shops in 15 years

 He will purchase going to profitable shops. Be a player in their succession plan

Bill is too much of a micro-manager and perfectionist and has not grown branches because of that 

Bill needs a top-quality number two in the business to take some of his focus

A large part of Bill's move forward strategy was to pay off the building and his house

Kelli has refinanced their building

Kelli is working on a succession plan with her husband Lee. They are working with their service manager and lead technician

AJ has done a SWOT analysis on his business (Strengths, Weaknesses, Opportunities, Threats) 

See Academy on SWOT Here.

Do a SWOT on each individual team members

Where do your people want to grow? Align with their gifts

Kelli and her husband did an individual SWOT because they are partners. She said it was hard to do

AJ has sent a technician for a week-long hands-on training on Hybrid and  Electrical Vehicle training.

Created a marketing campaign to promote Hybrid/EV repair capabilities

Kelli: You must keep your obligations to the government for your sales tax (if applicable) and payroll and IRS taxes. If you don't this is a burden that will hurt your future plans.

Use the Profit First strategy to keep monies available for all your obligations

Listen to podcasts on

Profit First Here

.

" If you empty your purse into your head, no one can take that away from you." Benjamin Franklin

Long term commitment to training at all levels if you want an edge; owner, service adviser and technicians

Books mentioned: Traction, Rocket Fuel, Strengths Finder. Find them on the Books Page

HERE

.

Digital Vehicle software is here to stay and turns what is wrong with the industry upside down as it brings transparency and honesty to automotive repair.

Consolidation may open opportunities. AJ is not afraid of consolidation. He is a service business and will bring that to his customer.

Consumers know the Price of Everything and the Value of Nothing

You've got to differentiate yourself and stand for what you believe in
Resources:
A special thanks to Bill Nalu, AJ Nealy, and Kelli Weatherby for their contribution to the aftermarket.
Books Page HERE
Leave me an honest review on iTunes. Your ratings and reviews really help and I read each one of them.
Facebook   Twitter   Linked In   Email

---
This episode is brought to you by Jasper Engines & Transmissions. When a car's engine or transmission fails, it's

not the end of the road. A re-manufactured drive-train product from Jasper Engines & Transmissions will give your car a new lease on life. JASPER has over 2000 Associates, three manufacturing facilities, two distribution centers, and 45 branch offices across the country. They're all working to produce, transport and deliver the perfect product. That's what they do best… keep customers happy. Visit jasperengines.com