THA 136: Branch Growth Strategy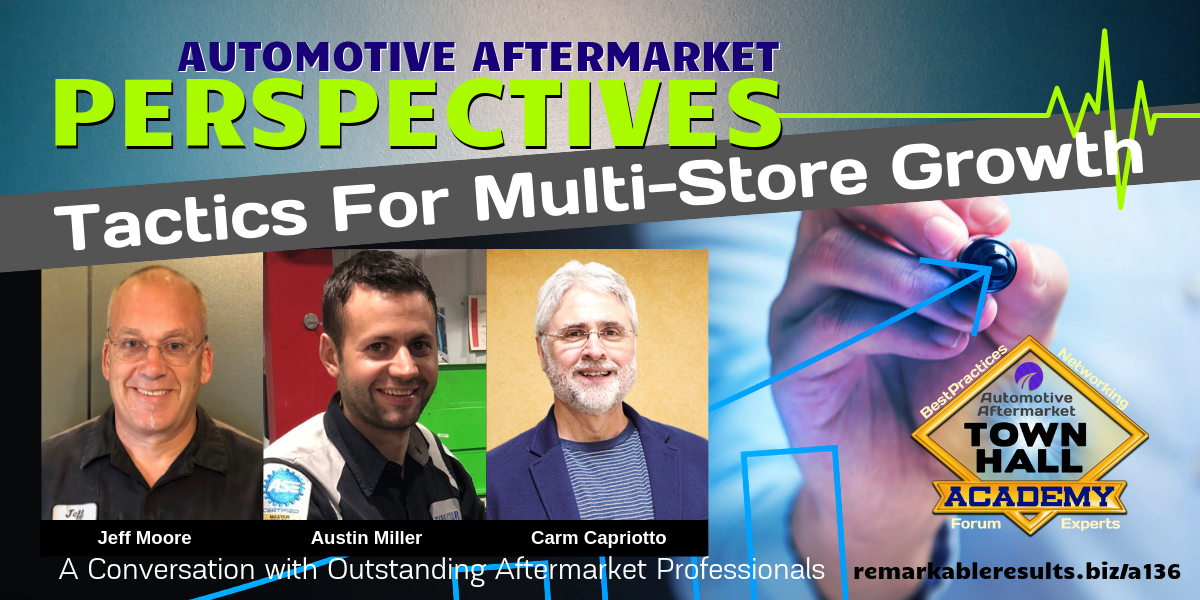 Jeff Moore – Moore Tires (5 Store) Rock Falls, IL

The story of Moore Tires started in 1991 when Jeff & Angie Moore moved to Rock Falls with nothing more than determination and a vision. They opened up their humble two-bay garage, took up residence in the apartment above the shop, and got to work serving the community's tire and automotive needs. With a foundation built upon exceptional customer service, the original location has now expanded to an 11-bay building with room to accommodate 16 cars and two semis at the same time! With the tremendous help of our partners, Brock Rude and Greg Woessner, Moore Tires has now grown to include four convenient new locations in Mendota, Kewanee, Monmouth, and Macomb, all opening with the mission of connecting more people to a rewarding tire and automotive experience.
At Moore Tires, the customer is always the highest priority as we strive to go above and beyond to meet all your vehicular needs quickly and efficiently.  Valuing transparency and honesty, we always offer an estimated time of completion and complimentary inspections to ensure your vehicle is getting the specific care it needs. With no appointments necessary, swing by any of our 5 convenient locations for us to exemplify how Moore Tires has been setting the standard in automotive excellence for nearly 30 years!
Austin Miller – Tire Star (3 Store) Wolcottville, IN

Tire Star opened the doors in 2011 in the back part of a grain elevator warehouse. Austin Miller started the business with the goal of providing trustworthy automotive repair at a fair price and timely manner. Since then Tire Star has grown to 3 locations and 40+ employees. This growth was made possible by employees willing to go the extra mile to provide a great customer experience. Austin is an ASE L1 Master Certified Technician and has received an ASE technician of the year award. Although he is not turning a wrench most days Austin is still very involved in learning about new technology and ensuring his staff gets the training they need to be successful.
Key Talking Points:
There is a misconception if you are doing great with your first store, your second store will be just as good.

Many factors are at work. 

People, Money, Processes, Culture

If you do not have store number one running with a strong net profit do not take on store number two … and so it goes

Branch or not, you must constantly be working on refining your processes and procedures

Jeff admits his first-ever branch lost him $250K in five years. It took him too long to close it. He learned a big lesson and decided to only have one store. He now has five.

The first (base store) must be a profitable store

Do not look to grow if your base operation isn't strong, that includes profits, processes, culture, and people. You will always use the base store to shore up the new 'child'

The acquisition of a going business is an option. Your ROI depends on the strength of the going new branch.

Moving to the second store without well-refined processes will put immense pressure on the new store and the base store

Groom staff in a current store before you close on your new location

Jeff's growth strategy includes partnering with two key employees in an LLC. It is like having golden handcuffs by giving equity in a new venture.

The main store is the proving ground

You may have a strong talent you do not want to lose which could entice you to find another store to promote staff. This reason alone is not a good reason to grow, but the people factor is solved as a qualification to add another store

Never rob Peter to pay Paul. Each store needs to pay its own way.

Austin would jump in to do whatever needed to be done. He now realizes that move was wrong

You must realize that you must lead the entire operation and lock yourself into a fallback role in the bays or on the counter. Those are not the CEO's role as they grow.

You must put trust your people. They are an important reason you can grow.

If you are a micromanager you must delegate

Austin believes you can no longer be the 'main guy'. The answer man. You must delegate responsibilities

Jeff gives his people the ability to satisfy their customers. They put out small fires

Jeff feels a reason that he has grown is he didn't want to do all the work. Growing stores could bring in some economies of scale which can allow you to delegate some work duties you no longer want to do

Find talent from outside the industry with talent, Jeff will teach them

Put enough cash away to cover unforeseen costs, Jeff has a $100K cushion

Austin wants to pay off store two before expanding to his fourth store. Debt relief

Jeff has a strong relationship with his banker. He offers his P & Ls on a regular basis to keep them in the loop so when you need money for expansion they are ready and can meet your timeline
Resources:
A special thanks to Jeff Moore and Austin Miller for their contribution to the aftermarket.
Books Page HERE
Leave me an honest review on iTunes. Your ratings and reviews really help and I read each one of them.
Facebook   Twitter   Linked In   Email

Subscribe to a mobile listening app HERE.
---
This episode is brought to you by Jasper Engines & Transmissions. When a car's engine or transmission fails, it's

not the end of the road. A re-manufactured drive-train product from Jasper Engines & Transmissions will give your car a new lease on life. JASPER has over 2000 Associates, three manufacturing facilities, two distribution centers, and 45 branch offices across the country. They're all working to produce, transport and deliver the perfect product. That's what they do best… keep customers happy. Visit jasperengines.com