THA 142: Business Coaches Lab – Building an Enduring Business Culture – Part 2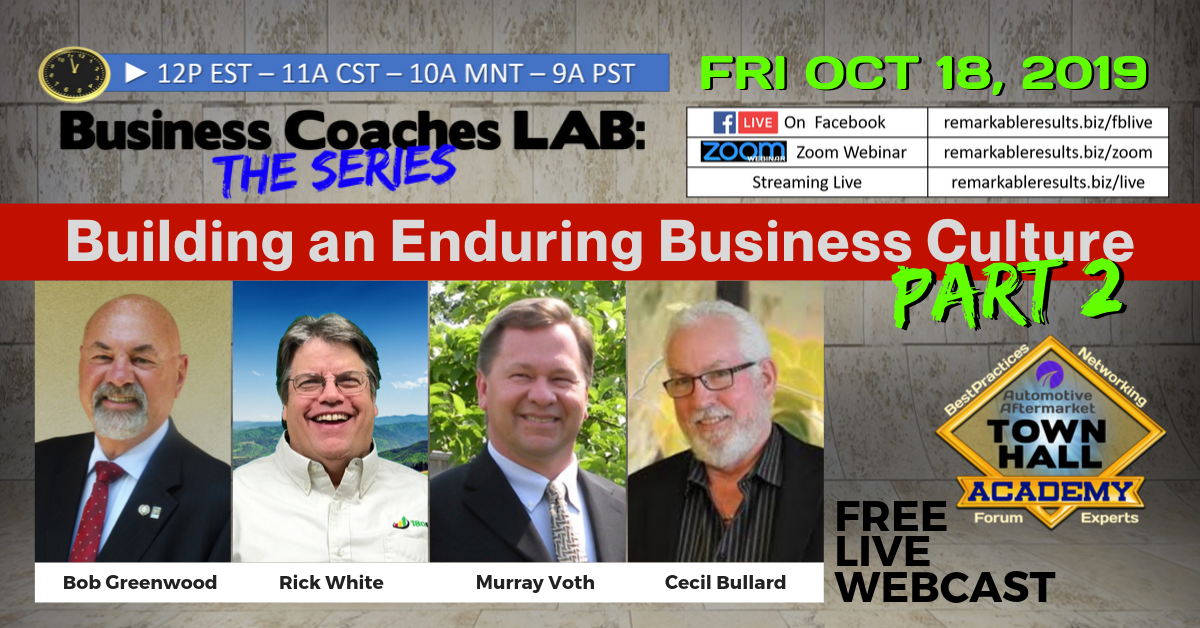 Academy Panel:
Cecil Bullard is President of the Institute for Automotive Business Excellence.
He is a trainer and business coach in the automotive aftermarket working closely with service professionals. Previous episodes featuring or mentioning Cecil, click HERE.
Rick White has been working in the automotive, software & coaching industries for greater than thirty years and is currently an AMI-approved training instructor.
He owned and managed several successful automotive repair shops. Currently, Rick is President and Lead Coach for 180BIZ, an auto repair shop training and business coaching company proudly serving the independent auto and truck repair owner since 2006. Rick has been acknowledged as an industry expert and has been featured in many automotive trade publications. Rick has been training and speaking at industry events across the country including AAPEX, Vision and for AASP PA just to name a few. Find all of Ricks contributions to the podcast HERE.
Bob Greenwood, AMAM (Accredited Master Automotive Manager) is President and C.E.O. of Automotive Aftermarket E-Learning Centre Ltd. (AAEC).
It is a company focused on providing Business Management Resources and Development for the Independent Sector of the aftermarket industry. It's content and technology is recognized as part of the curriculum of the Fixed Operations Diploma and the Aftermarket Degree courses taken at the Automotive Business School of Canada at Georgian College located in Barrie Ontario Canada. This school is the leader and only college in Canada that offers an automotive business education. AAEC is also recognized by the Automotive Management Institute (AMI), located in North Richland Hills, Texas USA, allowing 80 credits for successful completion of the AAEC E-Learning portion of the site towards the 120 credits required to obtain the reputable Accredited Automotive Manager (AAM) designation. Bob's previous episodes are HERE.
Key Talking Points:
Culture is the foundation of your business. It reduces frictionAllows your people to flourish
Perfection is not attainable. Shoot for your best with a culture of continuous improvement
People will want to work at your shop if your culture permeates
Let out your authentic you.
It starts with the owner/leader
Great culture has great standardsPeople feel it and believe in it
People are kept accountable that attract people who want to be part of thatWhen you don't hold people accountable they become unsure of themselves
Find your hidden strengthsUse your personal coach. They see more in you than you do
What are they? Find them
Strengths Finder 2.0 BOOK and Test HERE
Find your talentHire to build on your shortcomings "Hire Up"
Hire smarter/better than you with more talent than you (insecurity)
Too busy managing your tasks and not your outcomes
Culture happens. You have a culture. Does it do for the business what it needs to do? If not, you consciously need to create the one you want (enduring) Invest in building your culture
Culture is not what you talk about it is what you live
Rick White to his daughtersBoys will confuse you. What they say and what they do are different.
Always look at what they do.
Behavior Never LiesIf you act contrary to what I want to create in your business, your people are watching and will learn from your action
Consider assessments on yourself and your peopleStrengths Finder 2.0 (Discover what you are good at and what makes you happy) LINK HERE
Do what you do best. Learn more about it.
DISC – Communication behavior assessment – From Tony Robbins LINK HERE
Creating your culture is just one small part of the responsibilities of the CEO. You can't lead from the creeper or the front officeHaving structured conversations with your people
Recruiting, Marketing, Growth Strategies, Leadership are SUB-Cultures
Never assume your people know what you mean or say. Be clear communication with your teamAsk them to explain to you what you just said. Get a confirmation that the message got through
What they think they heard is more important than what you said
The accountability mirrorWe don't hold ourselves accountable to our actions, we hold ourselves accountable to our intentions. Thinking about something does not create actions and demonstrates a lack of leadership and trust
Where you put your attention and how you live and what you do creates your culture.
Focus on growth, ingenuity, invention, and productivity and hold all accountable this breeds your culture
Discipline is a good word. Hard conversations need to be had
Learn from our failures and grow from your success
Mistakes are OK. Multiple mistakes are pattern failures. Patterns need to be dealt with
You may never be happy with your facility/environment. Do not let that stop your drive for the best culture. Look for the potential in everyone and the business and move forward in building a strong culture.
Get your people to see the movement, they will get on board
Trust is one of the most important components in building an enduring culture. Trust at every level between team members
Pick important things out and work with your team to improve the company and build a culture of team, accountability, and trust
Culture is not a hard concept. It will help your people thrive. It creates standards and accountability. Easy wins will make a big difference.
The leader acts in concert with the vision of culture being created
We need more open and honest clarity and consistency from our CEO's with effective and clear communication with the team.
Talk strengths and weaknesses with the team.
Business Coaches Lab Series:
Resources:
A special thanks to Bob Greenwood, Rick White, and Cecil Bullard for their contribution to the aftermarket.
Books Page HERE
Leave me an honest review on iTunes. Your ratings and reviews really help and I read each one of them.
Facebook Twitter Linked In Email


Subscribe to a mobile listening app HERE.
This episode is brought to you by Jasper Engines & Transmissions. When a car's engine or transmission fails, it's

not the end of the road. A re-manufactured drive-train product from Jasper Engines & Transmissions will give your car a new lease on life. JASPER has over 2000 Associates, three manufacturing facilities, two distribution centers, and 45 branch offices across the country. They're all working to produce, transport and deliver the perfect product. That's what they do best… keep customers happy. Visit jasperengines.com