Are You Selling Tires? [THA 155]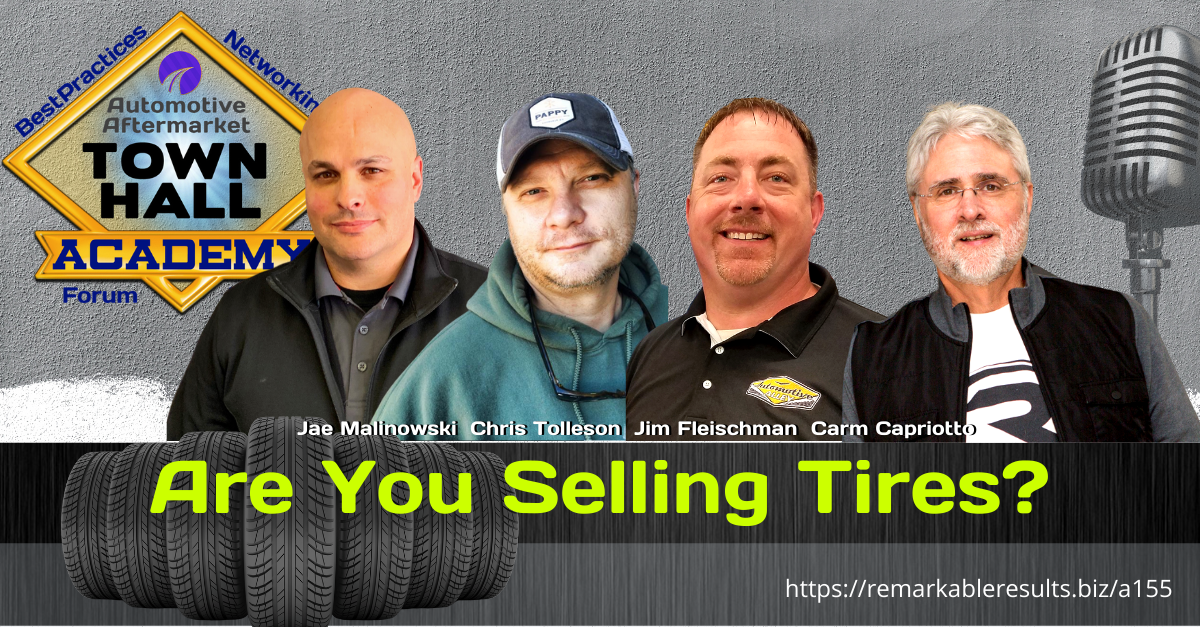 https://youtu.be/wVGKlTmEsFE
Jae Malinowski has been in the automotive trade for 25 years, starting in the auto-body industry at 18, he then transitioned to auto sales for a couple years. When a chance encounter with a headhunter introduced him to the tire industry. He started out in a management training program starting doing commercial tires to learning service agriculture, forestry and mining tires. He had opened his first shop at 28. A new startup with 4 employees after five years. They had 16 employees and 5 million dollars in sales. After parting ways with his business partners, he wasn't sure if he wanted to go back into the tire business.
After working for a couple of luxury brand auto dealers selling cars, he decided to get back into the tire industry (because no one ever leaves the tire industry). Starting his current venture Faithfull Tirecraft in 2014. Jae knew his best chance at success would be to align his new shop with a national banner brand that he knew would give him the best chance of succeeding. The Tirecraft dealer network in Canada are all independently owned making it Canada's largest dealer network of tire dealers and automotive repair facilities. He started Faithfull Tirecraft with a focus as a tire service shop, with luck with his first two hires, he was able to get two really good automotive repair technicians and immediately pivoted towards an automotive general repair facility that had a 50/50 split machinal maintenance and light-duty and commercial tires.
Chris Tolleson opened 49 Tire Pros Pros in October of 1990. Chris had been "gum dipped" as the old-timers say since birth. Bill Tolleson, Chris's father, has been with Bridgestone/Firestone since 1966. Before opening 49 Tire Pros, Chris had been employed by Bridgestone/Firestone for 7 years, the last two as the youngest manager in their 1,600 store chain, in Hattiesburg, Mississippi.
In 1990, Chris was able to move back home, to Florence and open 49 Tire Pros. The communities of Richland, Florence, and Pearl grew and so did 49 Tire Pros. In 1999 49 Tire Pros expanded from a small waiting area and 8 service bays to 12 service bays and a much larger waiting area, office suites, and doubled our warehouse space.
49 Tire Pros is one of the south's largest Bridgestone/Firestone affiliated dealers. Since 49 Tire Pros opened in 1990 Bridgestone, Firestone, and Dayton have been it's core tire lines. 49 Tire Pros also has grown to become a dealer for Michelin®, BFGoodrich®, Uniroyal®, Goodyear, and Dunlop. 49 Tire Pros also carries many other brands like Cooper, Falken, Hankook, Mastercraft, Winston, and many more. At 49 Tire Pros we like to say "We've got your size, we've got your price!"
Jim Fleischman and his wife Shelly own Automotive Alley in Arcade, NY. Jim attended Alfred State College for Automotive Tech. He went to work for a Ford Dealership as a shop foreman. Jim's racing and organizational experience came by being part of a race team that ran Busch and NASCAR. He was recruited from his alma mater, Alfred State College, and became an instructor. Jim always wanted to teach and it was fate. He spent fourteen years as an instructor. He loved building relationships with his students.
He was balancing his teaching job and owning a shop while Shelly ran the business for him. Jim ultimately left his teaching job and went to work full-time in the business. Shelly's background was accounting which was good for the business overall.
Jim believes in a strong process-driven company. He is all about improving efficiency. Saving steps for productivity gains. Anyone can study their inefficiencies and make changes to improve productivity. He templated his systems against NASCAR. Immaculate, organized and tools quickly reached and found. Jim perpetually works on streamlining to increase his productivity.
Automotive Alley also specialized in street rod, hot rods, upgrades, and restorations. For Jim, the word "can't" is not in his vocabulary. Listen to Jim's previous episodes HERE.
Talking Points:
Chris runs a 50/50 split between tires and service
Selling tires makes your shop a one-stop-shop
Many independent tires only shops are getting into the service/repair business
Tire technology will rise with the advent of sensors that will communicate with the vehicle. Traction information will help the vehicle know how to steer.It will make tires much more expensive
Tire margins are not strong. You need to accept the dollars per sale instead of the Gross Margin Percents you target for repairs.
In one hour you can mount and balance four tires.
Alignment machines and tires go hand in hand
Why send a customer to a tire store.
Small specialty shops send the 'tire guys' work. They send their customer to them. That allows the customer to find a new home for service.
Chris does not like to send his customer to another place
Being part of a banner program is a big advantageMarketing, brand access and year-end rebates
Allow you to compete a little better
Selling tires like all your services is about educating your customersGood organic social media on tires can help in education
The specialty shops advertise heavily
Selling road hazard warranties and alignments help round out the sale
Careful on getting into the tire business full boreMust be very competitive
Shops that do quality inspections should sell tires as a one-stop-shop
Some shops can't afford their A or B techs doing tires. They lack manpower and space to do tires right
Jae will install a tire not purchased from him.On-line options are big
They can become a customer long term
Resources:
Facebook Twitter Linked In Email
Join the Ecosystem – Subscribe to the INSIDER NEWSLETTER HERE.

This episode is brought to you by Shop-Ware Shop Management. It's time to run your business at its fullest potential with the industry's leading technology. Shop-Ware Shop Management will increase your efficiency with lightning-fast workflows, help your staff capture more sales every day, and create very happy customers who promote your business. Shops running Shop-Ware have More Time and generate More Profit—join them! Schedule a free live demonstration and find out how 30 minutes can transform your shop at shop-ware.com