FTR 043: Dave Hobbs – Find The Time and Make the Sacrifice to Attend Training. Trainers Do!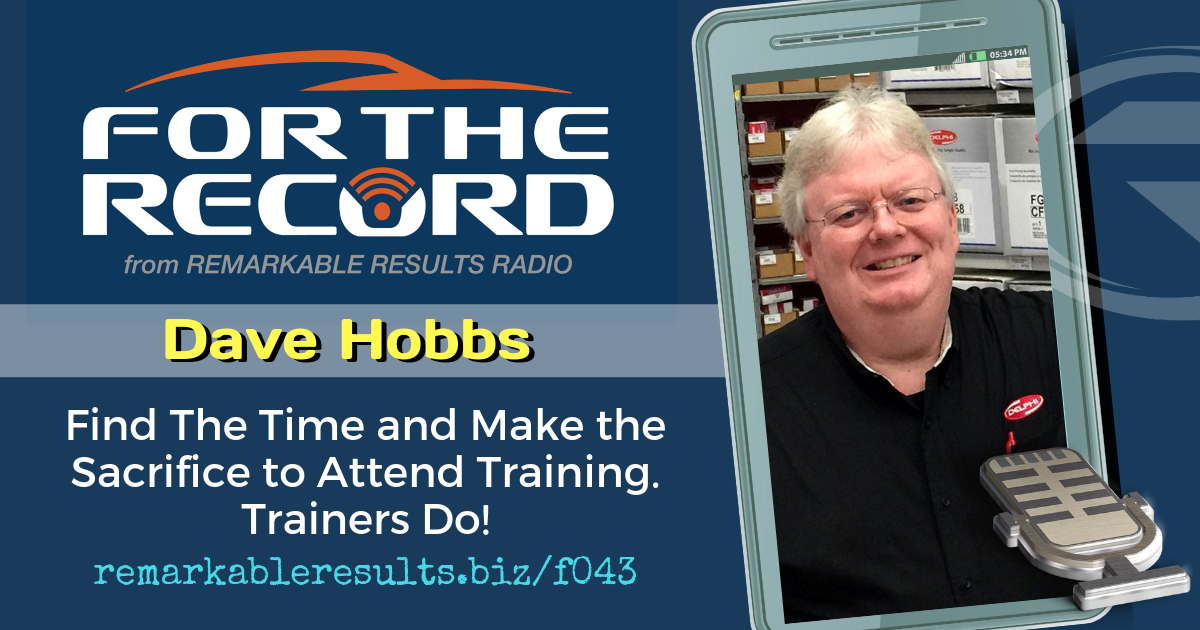 Dave Hobbs' automotive service experience spans 40 plus years in the industry, starting out as a technician and then as a service manager working in his family's repair shop (Hobbs Auto Electric) in Kokomo, Indiana.  After leaving Hobbs Auto Electric, Dave began working as a hotline advisor and field engineer at GM's Delco Electronics.  Those roles eventually led to becoming an electronics systems instructor for thousands of Delco Electronics / Delphi engineers throughout North American and Asia.
Dave Hobbs is currently the lead technical trainer and course developer for Delphi Product and Service Solutions.  In addition, he serves part-time as a contributor to Motor Age Magazine and as a field correspondent for MACS Worldwide (Mobile AC Society).  Dave's previous episodes HERE.
Key Talking Points:
Hands-on training is the best method. When you do it yourself you learn better than any other training

Techs need to find the time and make the sacrifice to attend training

There is a huge sacrifice by every training supplier to design and present great training

Use community colleges for these events vs. a hotel or restaurant

Let the college's instructors attend for free. Include their students

Stop considering the convenient place to get training and find the best place so you can do more hands-on
A special thanks to Dave Hobbs for sharing his passion – For The Record.
Books mentioned in the content library HERE
Leave me an honest review on iTunes. Your ratings and reviews really help and I read each one of them.
Email Carm HERE.

Be socially involved and in touch with the show:
Facebook   Twitter   Linked In   Email    Events   Instagram   Speaking
---
This episode is brought to you by FlexCheck Auto Digital Vehicle Inspection Software.
Savvy shop owners use vehicle inspections to find additional work on a vehicle that the vehicle owner may not know is needed. The most successful shop owners fully inspect every car, every time. It benefits the vehicle owner more than the shop because most vehicle

owners want their autos to be reliable.
FlexCheck Auto takes the power of a shop's inspection process and puts it in the palm of your technician's hand so that pictures, video and vehicle specific notes about a vehicle's condition can be shared quickly with vehicle owners. This simple, fully customizable system is designed to operate on any Android device. It improves technician efficiency in the bays, service writer efficiency at the counter, increases average repair order and builds trust with vehicle owners.
Today's vehicle owners want to receive their vehicles health status electronically, this makes FlexCheck Auto the most transparent way to do sell auto repair. Try it for free for 30 days! Go to FlexCheckAuto.com to learn more.
---

Download the Remarkable Results Radio listening APP for your smart device: