FTR 069: Matt Fanslow on Diet and Exercise – Not Necessarily a High Priority for Aftermarket Pros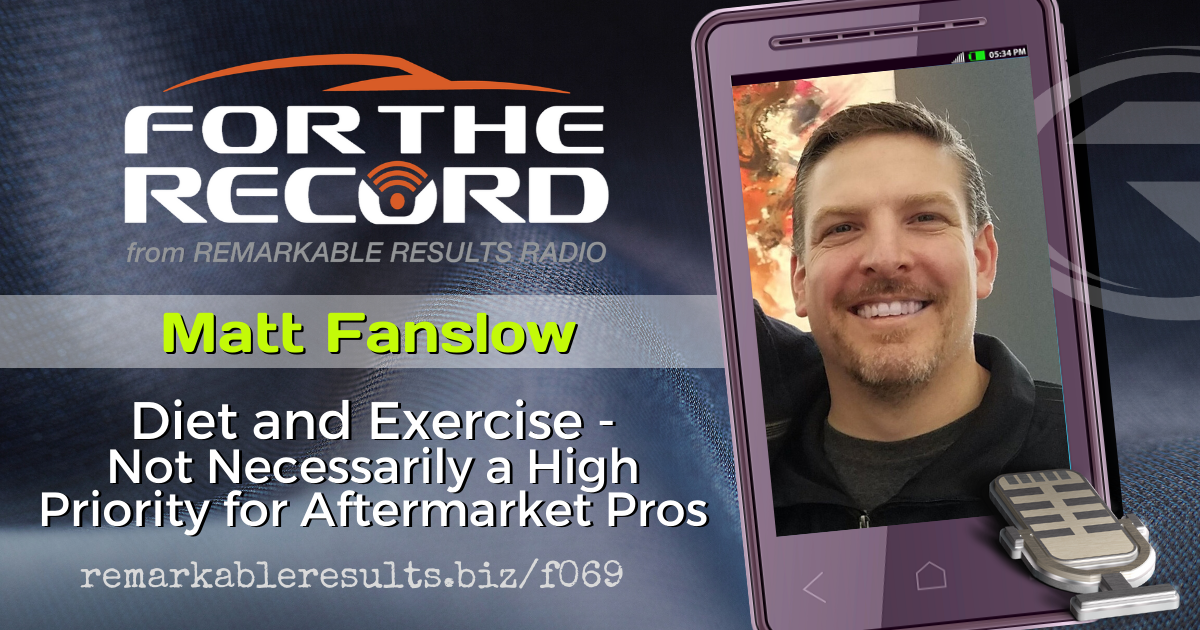 Matt Fanslow is the diagnostic tech/shop manager at Riverside Automotive in Red Wing, MN.  His primary responsibilities are to diagnose driveability and electrical/electronic issues, and perform most all programming, coding, initializing, adoptions, etc. Basically, if it needs to be figured out or has wires, it goes to Matt. He's been a tech since 1996.
Matt is also a subject matter expert for ASE and has instructed at Vision Hi-Tech Training and Expo.
Matt has participated on 18 ASE technical committees for the ASE Practice Test, A6, A7, A8, and L1 tests. He's also done case studies for Standard Motor Products.
Fanslow's goal is to do everything in his power to improve the overall level of professionalism within the automotive and light truck repair trade and also raise the level of its public image.  Matt Fanslow's Previous Episodes HERE.
Key Talking Points:
Matt Fanslow or Carm Capriotto give no advice and does not propose to be an expert on diet and/or exercise

From a weight-loss perspective, diet maybe most important

It is easier to put 1000 calories in your body than to burn it off

He has read over 200 articles on diet

He lost a lot of weight and continues to carefully watch his weight through diet

We have too many in our society that are walking around feeling hungry, but they have energy stored as fat. They can't access it.
---
A special thanks to Matt Fanslow for his contribution to the aftermarket.
Books mentioned in the content library HERE
Leave me an honest review on iTunes. Your ratings and reviews really help and I read each one of them.
Email Carm HERE.


Be socially involved and in touch with the show:
Facebook   Twitter   Linked In   Email    Events   Instagram   Speaking
Subscribe to a free mobile listening app HERE.
Love what we do? Love what you hear? Buy Carm a cup of java. He loves his coffee.

---
This episode is brought to you by FlexCheck Auto Digital Vehicle Inspection Software.
Savvy shop owners use vehicle inspections to find additional work on a vehicle that the vehicle owner may not know is needed. The most successful shop owners fully inspect every car, every time. It benefits the vehicle owner more than the shop because most vehicle

owners want their autos to be reliable.
FlexCheck Auto takes the power of a shop's inspection process and puts it in the palm of your technician's hand so that pictures, video, and vehicle specific notes about a vehicle's condition can be shared quickly with vehicle owners. It improves technician efficiency in the bays, service writer efficiency at the counter, increases average repair order and builds trust with vehicle owners.
Today's vehicle owners want to receive their vehicles health status electronically, this makes FlexCheck Auto the most transparent way to do sell auto repair. Try it for free for 30 days! Go to FlexCheckAuto.com to learn more.