Succession With a Family Member [THA 188]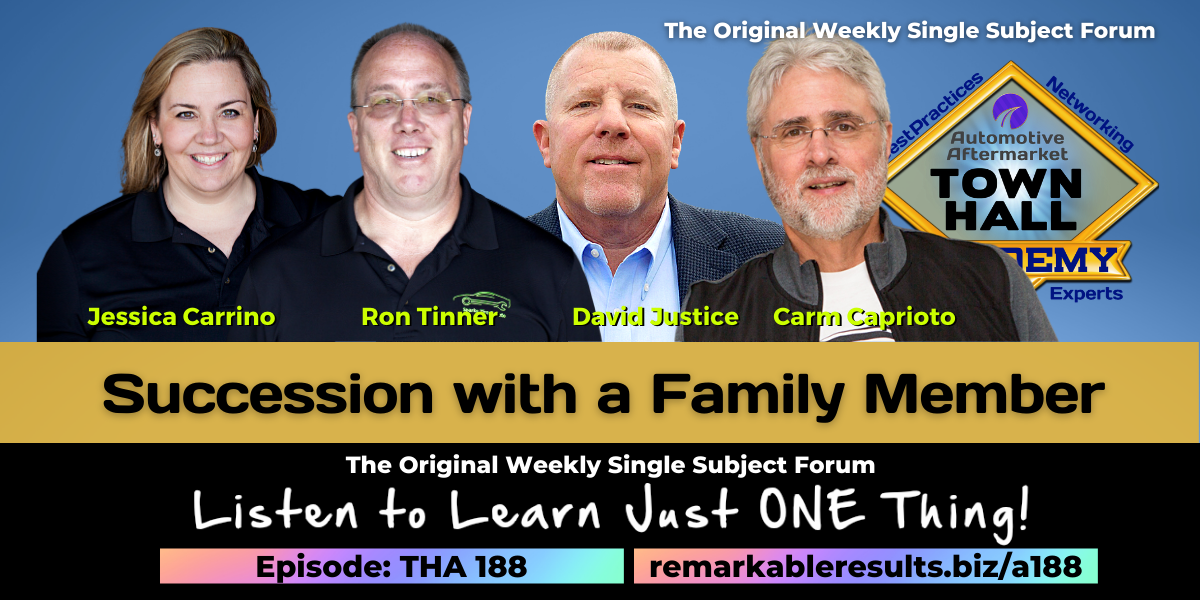 Jessica Carrino grew up in the St Charles, MO area as the only child to Ron and Sonja. She graduated from Western Kentucky University with a Bachelor's of Science degree in Geography and Architecture. She decided to come into the family business and has now taken on the role of Back office manager for Sparks. When she is not working, she likes to spend time with her husband Mike and daughter Lana. She loves watching Lana at gymnastics and horseback riding. She hopes to one day design and build her own home on private land. Listen to Jessica's Previous Episodes HERE.
Ron Tinner from Sparks Tire and Auto, St. Charles, MO a NAPA CarCare Center. Listen to Ron's Previous Episodes HERE.
David Justice has been an auto care professional for over 30 years. He grew up in the family business working for his father. At, a young age David purchased his father's business and went on his own. Over the years David had multiple Shell Gas stations. Find David's other episodes HERE.
Key Talking Points:
Jessica Carr and Ron Tinner from Sparks Tire and Auto. Daughter and Father. Ron is also a part-time coach with Repair Shop of Tomorrow
David Justice, Repair Shop of Tomorrow
The intentions of the owner and son or daughter need to be known to each other
Teaching/training of all aspects of the 'business' is a long term job. Give plenty of time for the transfer of knowledge to happenNever assume that a sibling will learn it all through osmosis
Knowledge transfer needs to be planned and deliberate
If more than one sibling each should know their roles and the parent/family leader must pick a final decision maker in the absence of the dad or mom
Parents with family in the business need to pay attention to their desires and input into the business.
Succession only happens when you take action. Look to your family and/or team to find a candidate you feel will continue the business.
It is difficult for many to talk about succession. A mentor or coach can help you
If you start to talk about selling or succession some on the team may think, 'the end if near' and consider leaving you. Looking for an internal candidate must be done in confidence.
If other family members and only one will succeed with the business, there is a problem with others that may not be in the business, but consider having a right to the business valuation within the parents estate.
Owners want to see their business succeed and must pick their successor carefully no matter family or internal candidate.
Consider putting money into special accounts for the eventual time when there is cash needed for a buy out especially with a family member to buy into the transaction
Ron, Jessica and David speak highly to the 'Profit First' strategy by putting money into separate accounts 'silos'. Find a podcast episode with 'Profit First' author Mike Michalowicz here: https://remarkableresults.biz/e421/
There are many creative ways to put money aside. Could be part of a compensation package to earn equity.
You need advisors to help you. Attorney, accountant, consider the impact on a trust, if you have one. Insurance agents, for key life insurance on each other. Consult your business coach. Business evaluation.
Ron had a huge transition when he learned to work on the business than in it (E-Myth). Listen to episodes on the E-Myth: https://remarkableresults.biz/captivate-tag/emyth-story/
Ron is enjoying helping other shop owners as a business coach as his second career.
Jessica is doing things for the business that Ron always wanted to delegate. An example is marketing. She is also very organized and knows her numbers and SMS inside and out.
A smart move is to require your successor to have a business coach.
One important tactic is to create a critical playbook for the business. A thorough standard of operating procedures.
Equity needs to be transferred.There are many elements to consider.Money down, insurance, current profits
Setting a timeline
Open and transparent discussion
Reduction of principle hours worked
A general rule is 5 – 7 years to reach a conclusion for the transaction
Jessica admits she did not understand the business numbers and she committed to learn them if she was going to become the owner. She watched her dad work in the business and will not have that happen to her.
95% of shop owners are technicians and must understand how to start working on the business. Once they realize they can make more money doing that than working in the business.
In Ron's case, Jessica put money in an account and the business matches it, so when the day comes that money can be used for a down payment and/or for a monthly payment
Ron only needs to be at the business now about 2 – 3 hours a day because of how he has transitioned Jessica, however, he still puts in a lot of hours. As his coaching responsibilities increase he will work less at the businessRon is not mentally ready to step aside or slow down.
Get a professional evaluation on the property and the business
You can set the selling price on a multiple of your EBITA as of today. The contract could state that the final value could change over the term of the contract when the business is totally sold.
Selling your business to an outsider, cash flow is critical.
Ron says that cash flow is not that important, with a family member. He continues to invest in the business to make it as big as possible for her
A family transaction will differ than an outsider candidate because it is family
Resources:
Facebook Twitter Linked In Email
Join the Ecosystem – Subscribe to the INSIDER NEWSLETTER HERE.

This episode is brought to you by Shop-Ware Shop Management. It's time to run your business at its fullest potential with the industry's leading technology. Shop-Ware Shop Management will increase your efficiency with lightning-fast workflows, help your staff capture more sales every day, and create very happy customers who promote your business. Shops running Shop-Ware have More Time and generate More Profit—join them! Schedule a free live demonstration and find out how 30 minutes can transform your shop at getshopware.com

This episode is brought to you buy Shop Marketing Pros. Your guides are Kim and Brian Walker with a rich history as shop owners and industry veterans. When someone searches for a shop, who are they finding? Your competitors? It should be you! The good people over at Shop Marketing Pros know how to drive website traffic and make Google work for you! www.shopmarketingpros.com