Tires as a Profit Center [THA 219]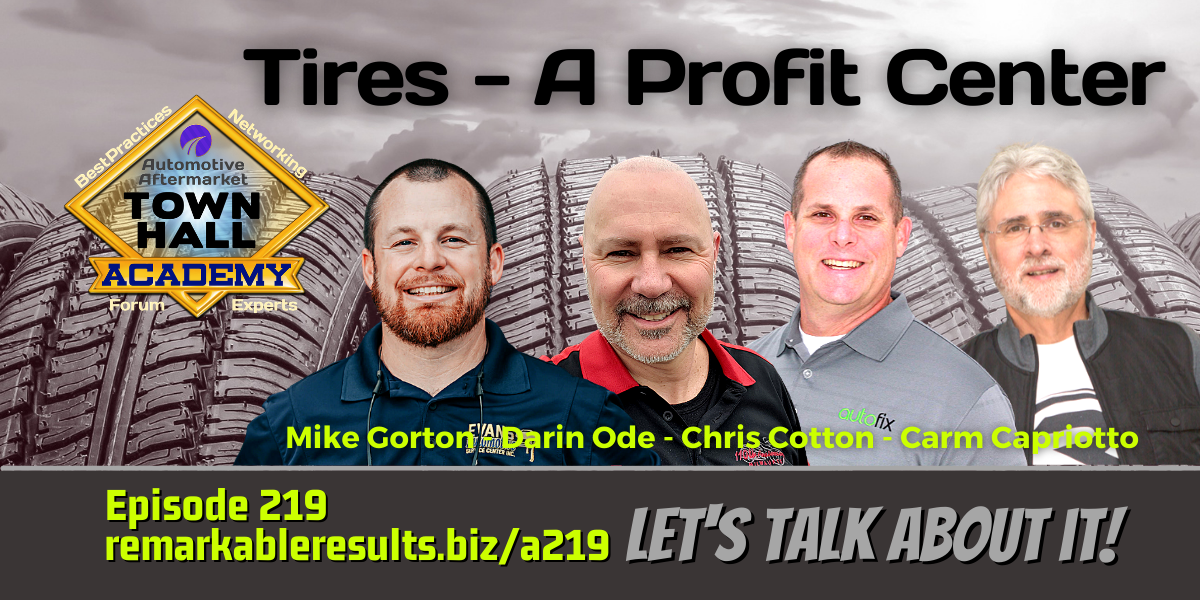 Mike Gorton, Evans Automotive, Pensacola, FL
Darin Ode, Ode Auto Repair and Tire, Warren, MI- Darin's goal is to build a successful repair facility built on compassion for customers and employees by treating them like family. He plans on passing his company to its 3rd generation, his stepson Armando. Darin started working in the family business when he was 14 years old.
Chris Cotton, Auto Fix SOS, Business Coach- Chris Cotton has been in the customer service industry for over 40 years and has been in the auto repair industry for over 25 years. He is a former shop owner that has dedicated his life to helping YOU to get your business where you want it to be and helping you FOCUS on the things that matter to you. Find Chris' previous episodes HERE.
Key Talking Points
Tires-33% of the tires coming through your shops need to be replaced
Keep the customer in your shop and doing business with you
Marketing- advertising on all platforms
Communication- ask the customer about their vehicle needs
Shop competition and keep their websites queued on the computer for comparative to gain trusts of new customers
Margins
Tire matrix- mounting/balancing, road hazard
Price everything upfront
Starting tire program
Focus on your customers first then build on that
Process- identifying tires that need to be replaced, DVI, lean on technology to scan tires (tread depth/rotation/alignment) Tool- Tire Profiles about 3K to purchase and will print out a detailed rundown of each tire scanned
Road hazard package- 15% off tire purchase is the cost of warranty A small percentage of comebacks- only around 3% of road hazard income is used to support the program
Make tire wholesalers compete with each other to find a supplier
Product knowledge to educate customers about the tires, banners/marketing tools, rebates
Seamless communication with customer with their tire experience and an update if the tire fits their needs
A special thanks to Mike Gorton, Darin Ode and Chris Cotton for their contribution to the aftermarket.
Books Page HERE
Listen to all Remarkable Results Radio, For The Record and Town Hall Academy episodes.
Facebook   Twitter  LinkedIn   Instagram  Youtube   Email  
Join the Ecosystem – Subscribe to the INSIDER NEWSLETTER HERE.

This episode is brought to you by Shop-Ware Shop Management. It's time to run your business at its fullest potential with the industry's leading technology. Shop-Ware Shop Management will increase your efficiency with lightning-fast workflows, help your staff capture more sales every day, and create very happy customers who promote your business. Shops running Shop-Ware have More Time and generate More Profit—join them! Schedule a free live demonstration and find out how 30 minutes can transform your shop at getshopware.com

This episode is brought to you by Shop Marketing Pros. Your guides are Kim and Brian Walker with a rich history as shop owners and industry veterans. When someone searches for a shop, who are they finding? Your competitors? It should be you! The good people over at Shop Marketing Pros know how to drive website traffic and make Google work for you! www.shopmarketingpros.com