EOS Part 3: People with Barry Barrett [RR 631]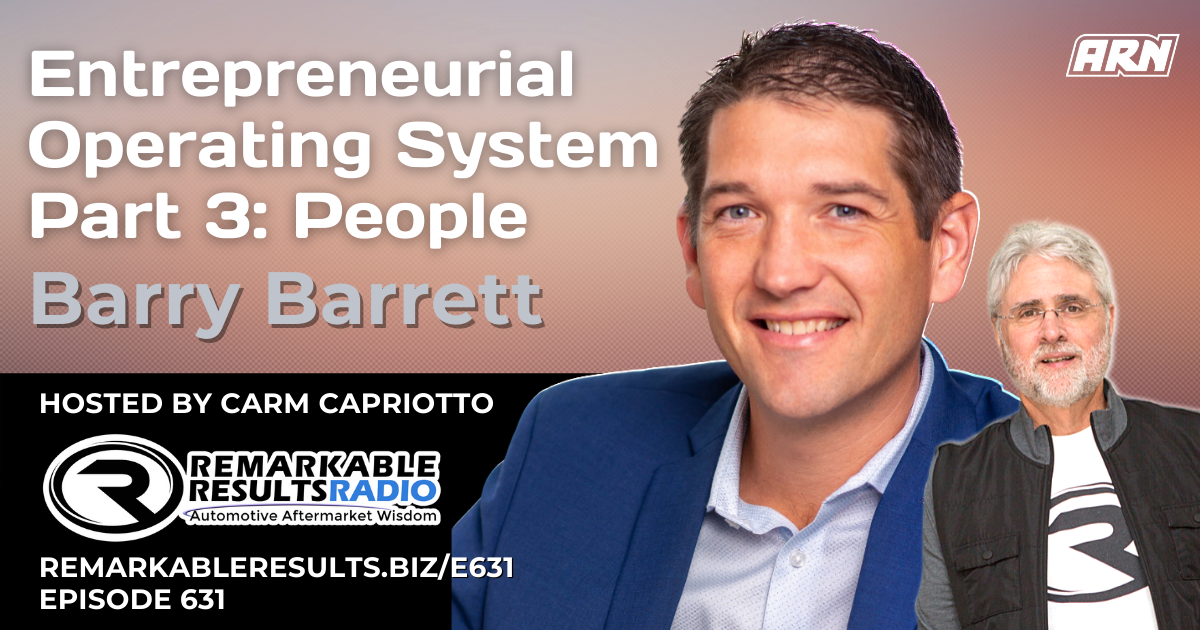 Barry Barrett, a Certified EOS Implementer
As an EOS Implementor in his company, Business With Purpose brings dedicated support to Leadership and Sales teams in all types of organizations, helping them structure the six key components of their business to make it operate with the best processes for their specific industry, using the EOS Model.
Barry's energy is contagious no matter if he is in a session with a client, giving a keynote address, or rolling up his sleeves in a workshop. Barry is a business coach with his positive mental attitude, incredible work ethic, and determination for excellence, his results-oriented approach is matchless.
Barry is driven, caring, and passionate; traits that he uses to help his clients grow their businesses in a positive way. Find Barry's other episodes HERE.
Key Talking Points
People- 80% of business issues stem from85% of the world lives in the quadrant "good at their job, but don't like it."
Find people that share your core values- everyone values things differently, if they don't share the same core values it doesn't make them a 'bad person.'
Kicking vs pulling back- would you rather have an employee you need to pull back vs someone you have to 'kick?'
Discovering your core values- pick 3 people you admire most in your organization (if you had 100 of them you could take over the world), if not in the organization then 3 people in your life you admire. If you cannot choose 3, then really consider who you surround yourself with and who you hire in your business.
RPRS- right people, right seat
Right people- fit the culture and share core values
Right seat- get it (born to do the job), want it (want to come to work every day), and have the capacity to do it (tools, time and training)
Wrong person, right seat/right person wrong seat
Being the right person to implement EOS- love people (if you don't love people then you can't lead, abundance minded, more afraid of status quo than change
Expectations
Unmet expectations lead to frustration
Most owners aren't clear about their expectations
How is overrated, who is underrated
Completing and working a job is easy, finding the right people is hard
Having the right people at your business means you can teach them the "what."
"Who Not How" by Dan Sullivan If you have enough money you don't have a problem
If you don't have enough time you won't have enough money
You can't make more money by spending more time doing the "what"
People that have freedom of time generate more money
Thanks to Barry Barrett for his contribution to the aftermarket's premier podcast.
Link to the 'BOOKS' page, highlighting all books discussed in the podcast library HERE. Leaders are readers.
Listen for free on Apple Podcasts, Google Podcasts, Spreaker, iHeart Radio, Spotify, Podchaser, and many more. Mobile Listening APP's HERE
Find every podcast episode HERE.
Every episode is segmented by Series HERE.
Key Word Search HERE.
Be socially involved and in touch with the show:
Facebook Twitter LinkedIn Instagram Youtube Email
Join the Ecosystem – Subscribe to the INSIDER NEWSLETTER HERE.

NAPA AutoCare's PROimage program makes it easy for you to make the most of the NAPA brand. A PROimage upgrade lets you maintain your shop's identity as a reliable, locally-owned business while letting your customers and potential customers know you're partnering with NAPA, the most recognized and trusted name in the automotive aftermarket. AutoCare Centers that have completed a PROimage exterior upgrade enjoy an average 23 percent sales increase during the first year. You can also choose to go PROimage on the interior and transform your customer waiting area from merely utilitarian to warm and welcoming. You can even get a free look by visting www.NAPAAutoCare.com and clicking on the NAPA PROimage link under the NAPA PROimage tab. Of course, the AutoCare site is also the place to go to find out about all the advantages being part of the NAPA family has to offer.